August 03, 2020
Local economies leaning into sustainability
Japan Times Satoyama Consortium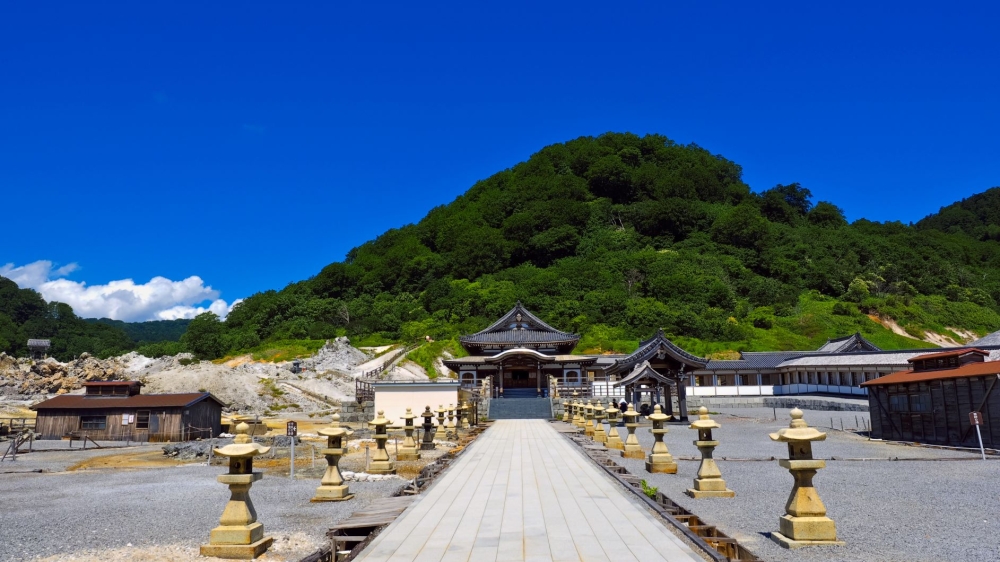 The city of Mutsu in Aomori Prefecture manages a circular regional economy using existing resources. Activities and projects to realize such an economy have accelerated since Soichiro Miyashita became mayor six years ago.
"It is important to think how to include the whole region in the circulation and how to promote what we do," Miyashita said during an online symposium organized by the Japan Times Satoyama Consortium on May 31.
The event was to commemorate the publication of "Shinkasuru Satoyama Shihonshugi" ("Evolving satoyama capitalism") published by The Japan Times Publishing Ltd. Satoyama capitalism is a new take on capitalism that was introduced in a book published in 2013 that shares the concept's name and is based on creating sustainable and circular regional economies that utilize existing natural resources. Satoyama refers to mountains and woods used and maintained by area residents, while satoumi refers to marine and coastal environments where people work to maintain biodiversity.
Mutsu was featured in Chapter 4 of "Shinkasuru Satoyama Shihonshugi" as an advanced example of municipal-level efforts to revitalize rural communities.
The city, which is 1.4 times larger than Tokyo's 23 wards, is blessed with rich nature and tourist destinations that include Osorezan, which attracts around 200,000 visitors annually. However, Mutsu is facing a decrease in its population that stands at around 56,000.
Keeping land and sea resources
Forests make up 80 percent of the land of the Shimokita Peninsula where Mutsu is located. Melted snow seeps into layers of nutritious leaf mulch and into the ground before running into rivers. The marine environment of Mutsu Bay and the neighboring fishing grounds, known for high-quality marine products such as scallops, salmon, squid, sea cucumber and cod, rely heavily on this mineral-rich water.
Selective cutting of trees allows enough sunlight to reach the ground, keeping forests healthy.
"In Mutsu, thinned wood is made into charcoal, which is used by fishermen to warm themselves on fishing boats in winter," Miyashita said.
Natural blessings do not just go one way. The residue from aquaculture such as seashells and sea anemones is made into compost. This compost is used to grow grapes for making wine — Mutsu's local specialty. In addition, fishermen in Mutsu plant trees in the forests every year to maintain this cycle of resources.
Miyashita also explained that it is important to let younger generations see the regional circulation of resources firsthand so that they will take part in cultivating their hometowns in the future. He aims to maintain the circulation by creating and supporting businesses that make effective use of satoyama- and satoumi-related resources to create a society where everyone can enjoy full lives without leaving anyone behind.
"Young people leave the city saying they cannot find jobs here. So I encourage them to create their own jobs here," Miyashita said.
He added that now is the chance to shift the way of thinking from leaving rural areas for work to making jobs in rural areas, especially as people may be learning from experience that living in cities is not always beneficial for everyone, and starting to look for something they can do to adopt to new lifestyles in the face of the coronavirus crisis.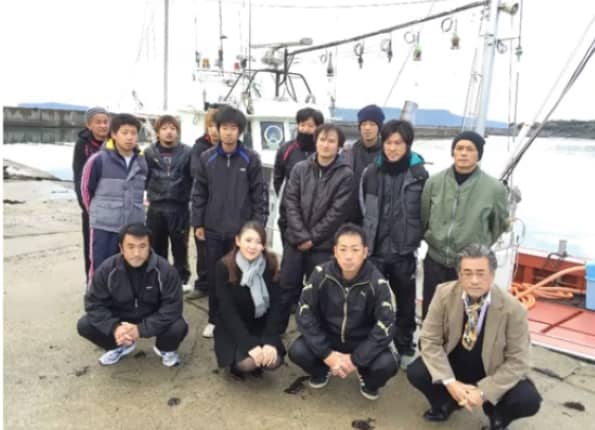 Support for citizens in crisis
Various efforts have also been made by the city to support its citizens during the crisis. These include providing financial support for accommodation businesses, collaborating with an underwear factory based in Mutsu to make and distribute masks to citizens and creating a system to certify shops that take necessary measures to protect their customers and workers from the infection. Additionally, the city is allocating a budget to send boxes of locally produced food to students who are from Mutsu, but are studying outside Aomori Prefecture, and running some city hall operations remotely.
"We are now given a chance to combine our experience to think how we can create our new future," Miyashita said.
While Miyashita shared various local and municipal efforts, Naoto Akagi, president of the Ashitaka incorporated association in Maniwa, Okayama Prefecture; Chika Tsubouchi, CEO of Ghibli who operates Hagi Oshima Sendanmaru fleets in Hagi, Yamaguchi Prefecture; and Takuo Matsuzawa, president of Joboji Urushi Workshop Co. in Morioka, Iwate Prefecture, spoke about sustainable and effective use of local resources from a business owner's point of view on June 7 as part of the same symposium.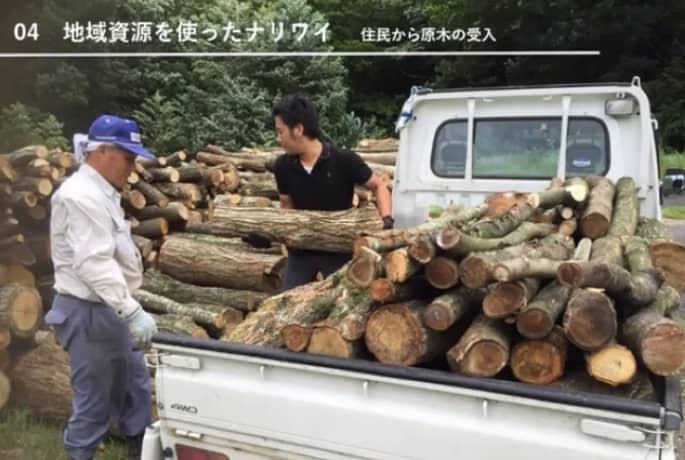 Benefits of small businesses
Akagi of the Ashitaka incorporated association lives in and runs 14 small businesses in Maniwa's northeastern rural district of Chuka.
"The businesses can be divided into three categories: activities that make use of local resources, jobs that lead to local autonomy and projects that connect the region with other areas or people," Akagi said.
Some of his businesses are matching a public onsen (hot spring) lodge and local mountain owners in supplying firewood for the lodge's boiler, making seasonal delicacies from local plants and vegetables, maintaining vacant houses for new residents moving to the area, teaching elementary school students how to insert rice husks into bamboo tubes that are burned to heat water, managing an outdoor park and conducting educational tours.
"The reason why I carry out so many small projects is because we can avoid exhausting a particular resource by using a bit of everything and by using each resource only at its best season," Akagi said.
Tsubouchi of Ghibli, a company that provides consultation services to fishing fleets and fishers across Japan, said that managing resources is the key for sustainable business in the fishing sector as well. The fishing boat workers of Hagi Oshima Sendanmaru fleets led by Tsubouchi sell part of their catch directly to hotels and restaurants instead of bringing everything to fishing cooperatives. This allows fishermen to price the fish themselves and increase profit rather than leaving it up to the fish market.
"This method helps raise awareness among fishermen that catching more is not the way to improve profitability and that they need to protect marine resources for the sustainability of their own business," Tsubouchi said.
Even amid the coronavirus crisis, orders from individual customers have made up for the loss of sales to hotels and restaurants in Hagi Oshima Sendanmaru fishing fleet's case. "But many other fishing fleets are struggling. A shift to new sales channels and management skills are needed to continue business and protect Japan's fishing culture," Tsubouchi said.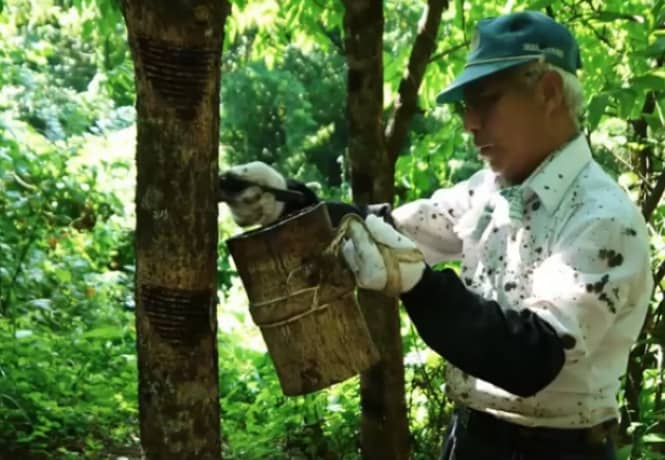 Preserving culture
In terms of protecting culture, the business of Joboji Urushi Workshop represented by Matsuzawa, is directly related to the survival of Japan's urushi (lacquer) tradition. The company engages in the sale and promotion of urushi, as well as research and development related to its production.
"About 97 percent of urushi used in Japan is imported from abroad. Only about 3 percent is domestically produced, 75 percent of which is made in Iwate," Matsuzawa said. To meet the increasing demand for domestically produced urushi, especially for repairing the country's important cultural properties, Matsuzawa is testing the use of shock waves to compress cells of urushi trees to extract lacquer even from young trees that are not ready for urushikaki (the conventional tapping process of collecting urushi sap by cutting notches in the bark).
"Urushi is as strong as plastic, but it can be dissolved by ultraviolet rays. I hope that the value of urushi will be reviewed as an environmentally friendly material that can be used for many purposes," said Matsuzawa.
The discussions highlighted that sustainable progress is being made in the areas of satoyama and satoumi, but that further efforts are needed to spread the practices.