October 06, 2019
New ideas for local rejuvenation, livelihoods
Japan Times Satoyama Consortium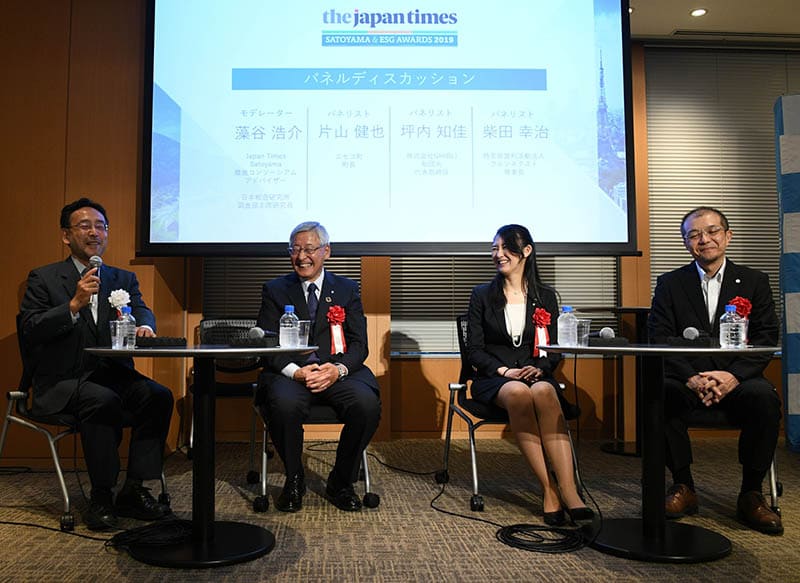 At an inaugural awards ceremony recently hosted by the Japan Times Satoyama and ESG consortiums to recognize parties for their activities in their respective fields, three winners in the satoyama category shared their efforts with the audience.
Satoyama refers to rural mountains and forests tended by residents for the sake of the sustainable use of existing natural resources. A similar concept relating to the ocean is known as satoumi.
Participants at the panel discussion were Grand Prize winner Kenya Katayama, mayor of the Hokkaido town of Niseko, Excellence Award winners Chika Tsubouchi, CEO of Ghibli-Sendanmaru, and Koji Shibata, president of nonprofit Urushi Next.
The panel, held in Tokyo on Sept. 6, was facilitated by Kosuke Motani, chief senior economist at the Japan Research Institute Ltd., who served as a judge in the satoyama category.
Katayama discussed some of Niseko's efforts and characteristics. Niseko is famous for its quality powder snow, perfect for winter sports, but it is not just ski resorts that characterize the town.
One example is a roadside rest area or michi no eki that is fully run by local farmers and the regional tourism association.
"Many agricultural cooperative officials were against the idea of leaving everything up to local residents, but the locals were far more serious and enthusiastic about the planning and management of the place," Katayama said.
At first the rest area consisted of only a toilet and benches, but then seven farmers started to sell their crops at the site.
"Now there are about 70 farmers participating in the shop and total annual sales are over ¥400 million," the mayor noted. "As the locals run the place by themselves, the whole town started to change."
Katayama used to work in the private sector, but he wanted to change local government attitudes where following precedents, preserving government organization status quo and doing as little as possible to avoid criticism were the norm. He ran in the mayoral election in 2009 — and won — and is now in his third term.
Katayama has had nothing but passion when it comes to nurturing the locals' power to self-govern, increasing transparency and bringing politics back to the people who live in Niseko.
Tsubouchi, who has been leading dozens of fishermen in Hagi, Yamaguchi Prefecture, since 2011, said that she wanted to preserve the lives of the fishermen and Japan's fisheries.
She helped the local fleets enter into the so-called sixth industry — a combination of the primary industry with processing and selling directly to restaurants and hotels, as well as individual customers, without going through fishery unions.
Tsubouchi thinks that fishermen in the areas where fishery is declining can make a living by catching natural — not farmed — fish, if they can determine prices and provide consultation to other fishing fleets across Japan.
Sustainable fishery can be possible if fishers can continue their business and maintain the balanced marine ecosystem by following various rules regarding closed periods, fishing and non-fishing zones and restrictions on fishing methods.
"People are sensitive about what is happening on the land, and tend not to focus enough attention to the value of the sea," Tsubouchi said. "But the sea is also right next to you. It is Japan's important asset."
She continues to raise people's awareness toward the value of the sea and help transform the country's whole fishery industry.
Based in Morioka, Iwate Prefecture, Urushi Next aims to preserve domestically produced urushi (lacquer).
"There is demand for Japan-made urushi for repairing the country's cultural assets. I thought that we should not just let the old and valuable things decay in spite of the efforts of the people of the past to preserve them," Shibata said.
However, around 98 percent of urushi used in Japan is imported from abroad. About 70 percent of domestically produced urushi is made in Iwate.
"Recently, there are more areas that are interested in planting urushi trees, so we are collaborating with seven seedling suppliers across Japan, and providing various support for those who newly engage in growing urushi trees," Shibata explained.
It takes about 15 years for urushi trees to be mature enough to collect the sap, but a new technology to extract urushi from much younger, 5-year-old trees is currently being developed by some.
Shibata noted that urushi is a light and hard material but it decomposes when exposed to ultraviolet light.
"So, I think it can replace plastics in some cases as it's a more environmentally friendly option," he said.