December 21, 2021
On Shimokita Peninsula, geopark dining and robot tours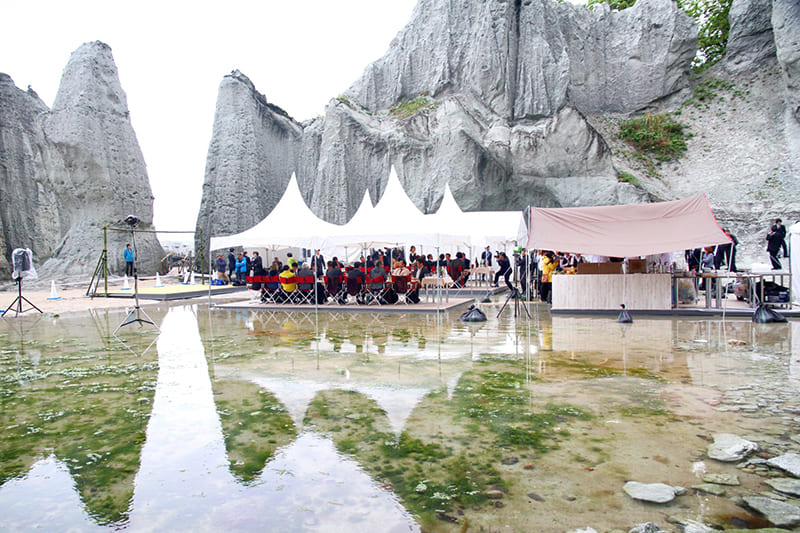 Enjoying beautiful views and eating local delicacies are the best parts of traveling for most people. Now there is a series of gastronomic events held on Aomori Prefecture's Shimokita Peninsula, the northernmost tip of Japan's main island of Honshu, that allows guests to appreciate both scenery and cuisine at the same time.
The events are called Shimokita Geo Dining because they take place in various locations offering unique landscapes within Shimokita Geopark, one of 44 areas certified by the Japanese Geopark Committee.
Executive Director Takashi Sakai of Shimokita Tabi Assist, a nonprofit dedicated to promoting the area by running tourism projects and organizing events, including Shimokita Geo Dining, spoke in a recent online interview with The Japan Times about their achievements since the first event in 2018 and how they intend to evolve it in anticipation of the revitalization of tourism.
The first event was held at an outdoor venue at Hotokegaura, a coast with huge whitish rock formations and cliffs, inviting four chefs: three local and one from Tokyo. Three other locations have hosted feasts served by various chefs: in a vast field of blossoming rapeseed in the town of Yokohama, on the western base of the peninsula; at the foot of the oldest brick lighthouse in Shiriyazaki, on the peninsula's northeastern edge; and in the fishing village of Kazamaura, where the lights of fleets of squid fishing boats can be seen on the horizon at night starting at the beginning of summer. Sakai explained that there was also a plan to hold one in October in a vineyard in the city of Mutsu, at the tip of the peninsula, with the aim of promoting the city as one of the major wine-producing areas in Japan. Unfortunately, this was postponed until next year due to the COVID-19 pandemic.
Some of the events were funded by the government for regional branding and promotional purposes. However, Sakai said they are working to make this project profitable and self-sustaining.
Among the new ideas are offering tickets for the gastronomic events as gift incentives of the furusato nōzei (hometown tax donation) program, which gives taxpayers the ability to pay part of their taxes to other localities of their choosing, and collaborating with luxury cruise ships that stop at the ports in the area.
"This year, we carried out a so-called workation project on a trial basis," Sakai said. It sounds very much like an idea coming from the city that achieved the target of having more than 70% of city officials work remotely during the pandemic. "The combination of workation and Geo Dining could be another possibility," Sakai added.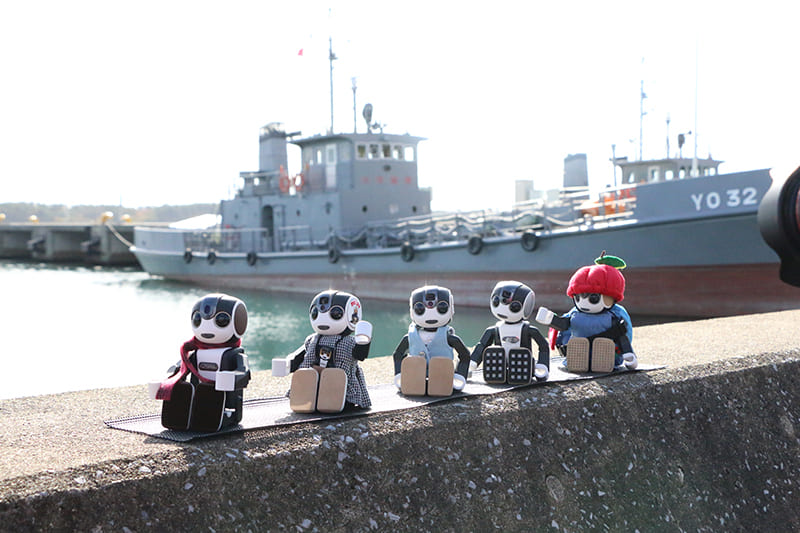 They are also keen to get more people to stay longer in the area. "More than 70% of the visitors to the Shimokita Peninsula stay only for less than two days," Sakai said, blaming this in part on a lack of transportation from one destination to another. Therefore, they also plan to look into the possibility of involving rental car and car-sharing services in their tourism promotion projects, in addition to resuming loop bus services for tourists, which connect multiple spots of interest but are currently suspended due to the pandemic.
In a bid to showcase the area and attract visitors, online tours have been conducted featuring local people such as the wife of a retired fisherman. Mutsu Mayor Soichiro Miyashita, who in previous interviews with The Japan Times has commented that people are what count, said people-to-people interactions are the most important. In a separate online interview, he said, "The communication between scenery or space with a person is one-way, but it becomes two-way when there is another person talking about the place," potentially making for a once-in-a-lifetime moment.
Referring to a 2019 event in which 50 Sharp RoBoHoN robots made a tour around Mutsu not only to broadcast the tour live to their owners but also to bring home memories to share with them, Miyashita said: "People even want to communicate with robots to see and experience through them. Communication is what people really need, which is something we have become increasingly aware of through the pandemic."
A follow-up trip to Mutsu for the robots' owners that the city planned has been postponed to a later date, but Miyashita looks forward to the time when travel becomes part of people's lives again for a chance to offer each visitor a moment that will never recur.