Hard-won eatery specializes in local dishes
September 01, 2019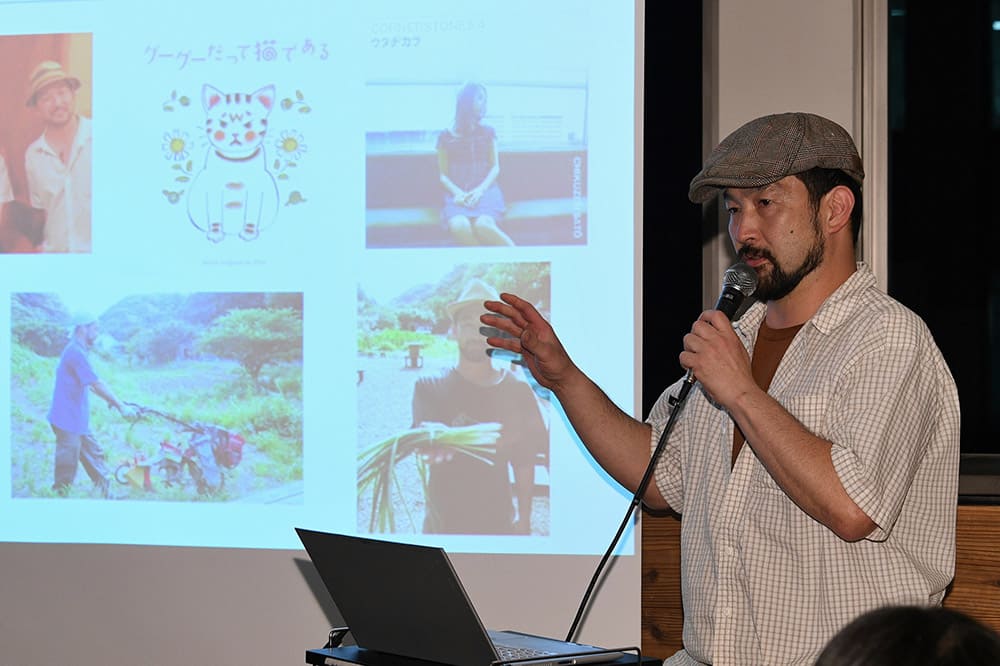 In a once-abandoned rice paddy at the foot of Yokosuka's Mount Ogusu in Kanagawa Prefecture stands the result of one man's ambition — a restaurant that is a marriage of farm-to-table practices and preserving tradition.
Located on the Miura Peninsula, Yasu Manaka's restaurant pairs the vegetables grown nearby on the same plot of land with seasonings and spices from across Japan.
Manaka named the place Syoku-Yabo, a combination of the Japanese words for "food" and "ambition," his goal being to preserve and promote the richness of local food cultures from across the country.
He shared his thoughts and undertakings at the 10th Satoyama Cafe on July 16 in Tokyo. The event was co-hosted by the Japan Times Satoyama Consortium, the Chiiki Ouen (regional support) Bash community organization established by Gaiax Co. and Ouen Fes.
Born in 1969, Manaka spent his 20s traveling and taking the kinds of jobs that not many people would want to do, such as collecting garbage and driving septic tank trucks after graduating from music school in the United States.
His trips to various places in Japan yielded many personal discoveries, including local food that he had never seen or tried before.
"I think I was able to find value in those things because I had lived and traveled abroad," Manaka said, stressing the importance of an outside perspective to discover what is unique and worth preserving.
During his 30s, he pursued work as a rock musician while also producing and arranging music. At the same time, he worked as a coordinator tasked with traveling and researching local food and seasonings for print media. Through these experiences, his passion for food culture kept growing.
When he was 38, a friend of his who worked for a developer asked him if he knew anyone who wanted to start farming an abandoned rice paddy surrounded by forest.
The developer initially planned to reclaim and develop the land, but the neighboring community fiercely protested against the traffic caused by large trucks used for construction. The developer gave up, leaving the site deserted for as long as 15 years.
Manaka thought that the land was exactly what he needed to turn his passion into reality, and started cultivating the deserted farm in 2009.
However, when he began formulating a plan to build a restaurant on the premises, he faced a critical problem. The land had strict limitations regarding the construction of new buildings.
"I tried to get around that by setting up a mobile shop using a car, which actually never moved at all," he said. Still, there were many regulations standing in his way.
Step by step, he solved each problem with the help of some local government officials and a former mayor of Yokosuka. The first step was to register as an agricultural production corporation.
"It was such a cumbersome process," Manaka said. "I insisted on what I wanted to do logically while I also listened to what others had to say to gain support from everyone, including the ministry officials who were in charge of evaluating the incorporation application."
He then applied for a certification by the agriculture ministry as a business operator that contributes to the promotion of a so-called sixth industry. The aim of the certification was to support primary industry workers who try to not only produce, but also process and sell directly to end consumers, enabling local production and consumption. The certification helped loosen some of the restrictions, allowing him to start building.
There were still many more challenges such as the improvement of road, water and sewage systems, but he managed to overcome them with the support of those who saw the value and possibility of what he wanted to do. Manaka believes that the key was to build relationships based on honesty and respect.
After extensive development and construction to meet various legal standards, Syoku-Yabo, which had been operating as a food truck since 2010, reopened in 2014 as a permanent building constructed beside his vegetable farm. This culmination of his efforts means visitors now have a space to fully appreciate the area's refreshing nature, produce harvested directly from the farm and a wealth of recipes collected from all over Japan.
"In terms of just miso soup alone, you can choose from 34 kinds," Manaka said.
He is now trying to reach out to more people by organizing music and art events, food education programs for mothers and children, and rustic weddings, among other projects.