November 17, 2019
Beekeepers, farmers aid forestation efforts
SPONSORED CONTENT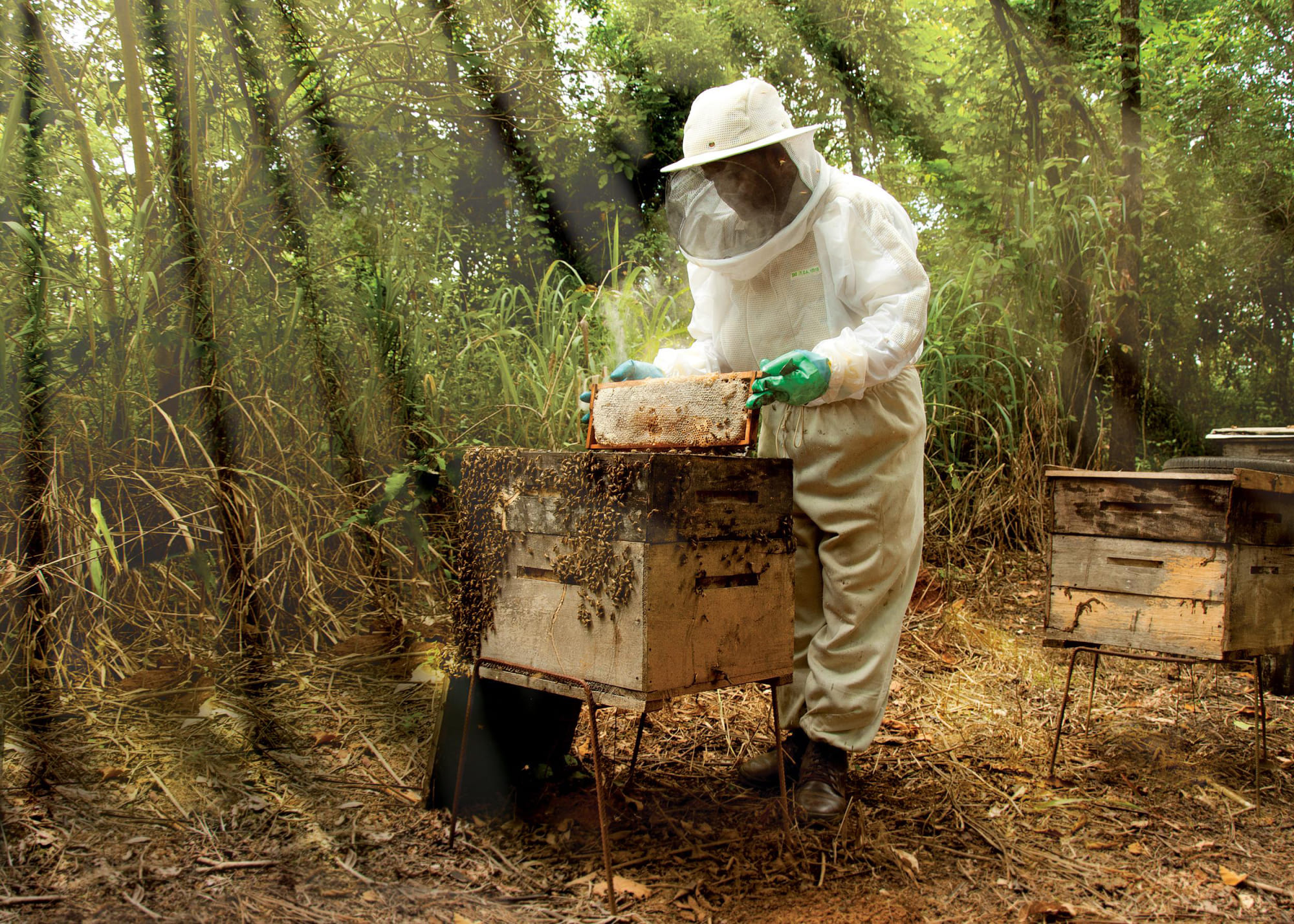 Oji Group, established almost 150 years ago, is one of the world's major pulp and paper producers. While its headquarters is based in Tokyo's Chuo Ward, its business and forestation activity extend to the global stage.
In addition to the 190,000 hectares of corporate-owned forests Oji Group is responsible for in Japan, the firm oversees about 250,000 hectares of global forest plantations in Brazil, New Zealand, Indonesia, Vietnam and other countries.
Celulose Nipo-Brasileira S. A. (CENIBRA), based in Brazil, is one of Oji's overseas entities that not only engages in forestation but also pulp production and sales. It works to contribute to the local economy by offering jobs to communities in and around its forest plantations, while also collaborating with locals working in other industries such as agriculture and beekeeping.
CENIBRA allows more than 320 local farmers to use flat plots on its land that are suitable for crop production. "We do this to help the farmers stabilize their income and gain their understanding of our forestation activity. Of course it would be easier for us to use flatlands as well as sloped land to plant our trees, but one of our top priorities is gaining local people's understanding and trust," said Kenji Kusuhata, general manager of Oji's Forest Business Department.
CENIBRA also encourages farmers to plant eucalyptus trees on their unused land, providing them with seedlings and sharing forestation know-how. Mature trees are purchased by CENIBRA. "This scheme also supports the locals' livelihoods and helps Oji to build a cooperative relationship with them," Kusuhata said.
About 200 honey farmers keep bees in forests owned by CENIBRA. Kusuhata revealed that one of the main purposes of this collaboration is to increase security. "Our forest plantation is so vast that it is impossible to monitor the entire area. By letting bee farmers use our land, we have more eyes to watch out for fires or intruders. In return for the land use, we also receive 5 percent of the total honey produced. Oji uses this as souvenirs and gifts for visitors," he said.
Another way in which CENIBRA contributes to the local community is through its training center for young entrepreneurs, which was established in August last year. CENIBRA collaborated with the city of Belo Oriente and a local nonprofit that supports small business owners. The training center provides free lectures and training, textbooks, meals and transportation for 80 local residents between the age of 18 and 25 who aim to start their own businesses.
New Zealand-based Oji subsidiary Pan Pac Forest Products Ltd. (Pan Pac) also supports local communities. The areas where its forest plantations are located are remote and no high-level medical services are available. Pan Pac therefore cooperates with several other companies in the area to provide support for a medical helicopter for the local community.
"In cases of severe illness or injury, patients need to be taken to one of the general hospitals, which are hours away by car. In emergency situations, the helicopter not only has the potential to save the lives of our workers, but also that of the local people," Kusuhata said.
Pan Pac also makes donations to environmental organizations to help protect endangered species such as the kiwi that live near its forest plantation. "The company also donated to a local school so it could build a kitchen facility in its assembly hall," he said.
Oji's local entity in Indonesia, PT Korintiga Hutani, provided relief supplies to local communities in Kalimantan when the area suffered severe flooding in December 2018. The company, which manages forestation in the district, also supports local festivals and medical checkups.
Quy Nhon Plantation Forest Company of Vietnam Ltd., an Oji subsidiary in central Vietnam, sends doctors to remote areas and has also installed toilets and gates at local schools.
A cooperative relationship with local communities is fundamental to the sustainability of Oji's business, resources and environment. "We will continue to learn about the needs of the communities in and around the areas where we conduct our business operations and provide necessary support to where it is needed," Kusuhata said.