November 19, 2021
Papermaker Oji forms solutions to environmental, social needs
SPONSORED CONTENT
The 2021 U.N. climate summit, COP26, closed with nations that are accelerating their measures against climate change announcing new and renewed targets for reducing emissions. Such measures ought to differ from country to country, industry to industry and company to company. The global community should appreciate diverse paths toward achieving the common goal of making the world sustainable.
Oji Holdings, one of the world's major pulp and paper producers, headquartered in Tokyo's Chuo Ward, has its own ways of reducing carbon emissions while still contributing to meeting new needs from society amid pandemic conditions.
During a recent interview with The Japan Times, Oji's Sustainable Management Office General Manager Yoshimasa Tanaka explained that Oji is taking two major approaches to achieve its ambitious 2030 target of reducing greenhouse gas emissions by 70% compared with 2018 levels: 20% through switching to renewable energy and increasing energy efficiency, and 50% through absorbing and fixing carbon dioxide.
Black liquor produced during the papermaking process is used as fuel at Oji's own biomass power generation facilities. Oji also treats the water used during the paper making process. This treatment is done as dewatering the pulp sludge by dehydrating and concentrating the used water. The treated pulp sludge is also used as biofuel for power generation, and the treated water is reused for paper making process again.
The company is also looking into various other possibilities for reducing dependency on coal, such as solar power, hydropower, mixing wood chips with coal, gas and the potential for using ammonia.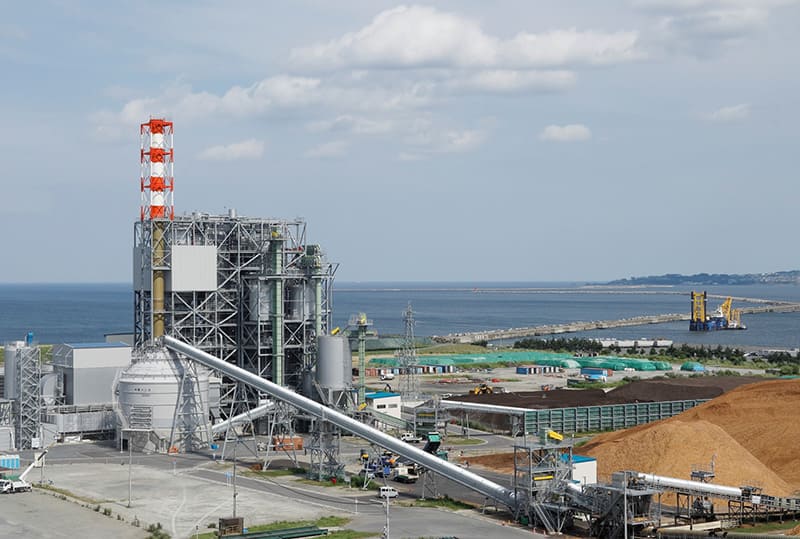 Although Oji is also making efforts to further increase energy efficiency, it is already extremely efficient because it uses the heat left over from burning fuel to generate electricity for the drying process of paper production.
One of the main ways to absorb and fix carbon dioxide is, of course, planting trees. Oji has been engaging in sustainable management of forest resources for more than a century. It has about 580,000 hectares of forest in Japan and abroad, which last year absorbed as much as 9.5 million tons of carbon dioxide. About 450,000 hectares is managed to produce mainly timber, and the rest is protected for the sake of biodiversity and the environment.
"We partition production forests and conservation forests," Tanaka said. "While we continue the cycle of planting, growing, using and then planting trees again in our production forests, we conduct water quality and biological surveys in adjacent conservation forests to make sure that the ecosystems are unharmed." Such efforts by Oji keep both kinds of forests healthy, and also protect them from pests and disasters such as forest fires.
Oji's forest management also contributes to increasing employment opportunities and improving infrastructure in the many regions of the world where it owns forests. "We are trying to keep our forests healthy from all aspects, including those that are hard to evaluate or measure," Tanaka said.
These efforts may have been overlooked for many years in the long history of Oji's sustainable forest management, but investors and shareholders are becoming increasingly sensitive about companies' achievements in ESG (environmental, social and governance) factors in recent years. Public Relations and Investor Relations Department General Manager Kazu Ikeda pointed out that investors from Europe are especially interested in environmental topics. "There are also Japanese investors and shareholders who ask us to set up meetings to discuss only ESG topics," Ikeda said.
She also indicated that it is becoming increasingly necessary to involve the entire supply chain in the company's sustainability efforts. "Some companies in our supply chain are asking us questions like how much CO2 is emitted or fixed in production and logistics by the time our products reach them," Tanaka said. Ikeda explained that customers are also keen to know information such as to what degree carbon emissions can be reduced by replacing plastic packages with Oji's paper ones, or how much carbon dioxide is generated or fixed during the process of manufacturing certain products.

Oji also considers it important to quickly react to extreme situations such as the COVID-19 pandemic and meet the needs of society. When medical clothing and face masks were most needed, it managed to increase its production capacity of nonwoven fabrics to make isolation gowns and to convert and enhance its clean rooms in order to produce face masks. It also catered to the rising need for cardboard boxes in online shopping by launching Oji Flex Pack'age, a system that can automatically make cardboard boxes in various sizes to suit their contents. After receiving a request from Airweave Inc., Tokyo 2020 official bedding partner, Oji also co-developed the cardboard bed used in the Olympic Village this year. The beds can be used in temporary shelters in disaster-hit areas as well.
Oji, a company with almost 150 years of history, will continue to commit to sustainability and the changing needs of society in its own ways for the next century to come.