Green Tokyo can lead Japan and the world: Koike
May 29, 2021
Yuriko Koike
Governor of Tokyo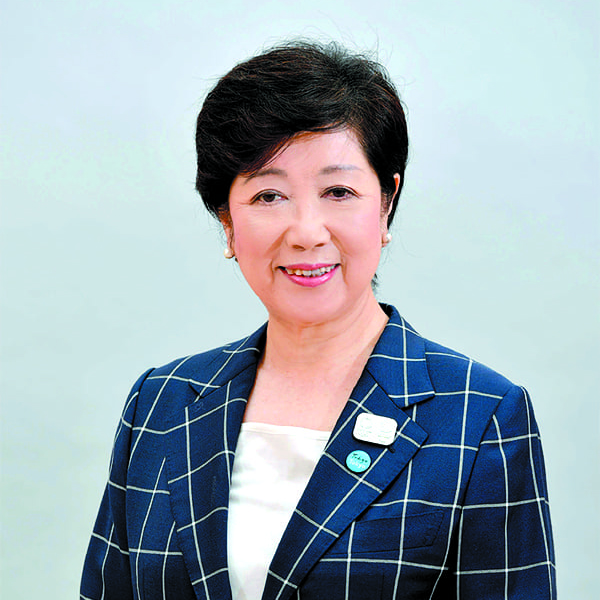 At the opening of the recent online symposium on ESG (environmental, social and governance) management and investment organized by the Japan Times ESG Consortium, Tokyo Gov. Yuriko Koike spoke in a video message to share her views on economic development and sustainability, and the efforts that the Tokyo Metropolitan Government has been making in this area.
Koike began with a powerful statement: "Now is the time to act to address the escalating climate crisis." She said that the notion of a trade-off between the environment and the economy is outdated, and that the only way for an economy to maintain its viability is to take into account environmental elements — something she had reaffirmed through a conversation with the renowned French economist Jacques Attali, who advocates an "economy of life" that places emphasis on life-oriented industries, including those that preserve the environment. The online dialogue was conducted in February for an article on sustainable recovery, diversity, ESG investment and innovation for a major economic magazine.
Koike described how, in the face of the two urgent and critical issues of climate change and the pandemic, the metropolitan government is pursuing its policies toward a sustainable recovery from the impact of COVID-19. Most members of the international community share the perspective that neither issue should be put off, and Tokyo is no exception.
Judging that the key to a successful and sustainable recovery is finance, and that great expectations are being placed on green finance — financial activities that ensure sustainability and make a positive impact on the environment — Koike revealed that the metropolitan government is deepening discussions on its plan to establish the Tokyo Green Finance Market (tentative name), in which capital from both home and abroad can be gathered in Tokyo. Her government is also launching a sustainable energy fund (tentative name) that utilizes a partnership between the public and private sectors. Through this fund, as much as ¥1 billion ($9.2 million) will be invested in facilities such as hydrogen stations during this financial year, according to Koike.
"To further accelerate this approach, Tokyo needs to flourish again as a financial center of Asia," she said. As part of the efforts to realize that, Koike noted that FinCity. Tokyo, an extensive public-private sector partnership aimed at making Tokyo the world's leading financial city, was launched in April 2019 based on the "Global Financial City: Tokyo" vision. The vision, an initiative of Koike's, was published in November 2017 shortly after her inauguration as governor. FinCity.Tokyo provides one-stop solutions for foreign companies planning to start businesses in Japan and for financial instrument businesses.
"The personal financial assets of Japan amount to about 1,900 trillion yen, most of which is dormant in the form of cash or savings. What is important is how to match these domestic assets — as well as the international assets that we intend to attract — with the funding needs of companies in Japan's growing industries," Koike said.
She went on to explain that the metropolitan government has already started to discuss revisions of the "Global Financial City: Tokyo" vision that are necessary to keep up with drastic changes in the global economic and political landscape of recent years, such as the United Kingdom's withdrawal from the European Union and the enactment of a national security law in Hong Kong. "We will come up with a draft next month and enhance the effectiveness of related measures," she said.
In conclusion, Koike assured her listeners that the metropolitan government will continue its multifaceted efforts in collaboration with the national government and the private sector to make Tokyo the global financial leader, and expressed her belief that this will eventually lead to the growth of Japan as a whole.
Koike's speech delivered a clear and forward-looking message that environmental and economic efforts can work as one to achieve the sustainable development of Japan, and was an encouragement to the symposium's speakers and audience — enthusiastic drivers of ESG management and investment.
For more information, please visit: https://fincity.tokyo/aboutus/ and https://www.metro.tokyo.lg.jp/tosei/governor/governor/goaisatsu/index.html
Click the link below to watch the interview