June 28, 2021
Rivals become partners tackling environmental issues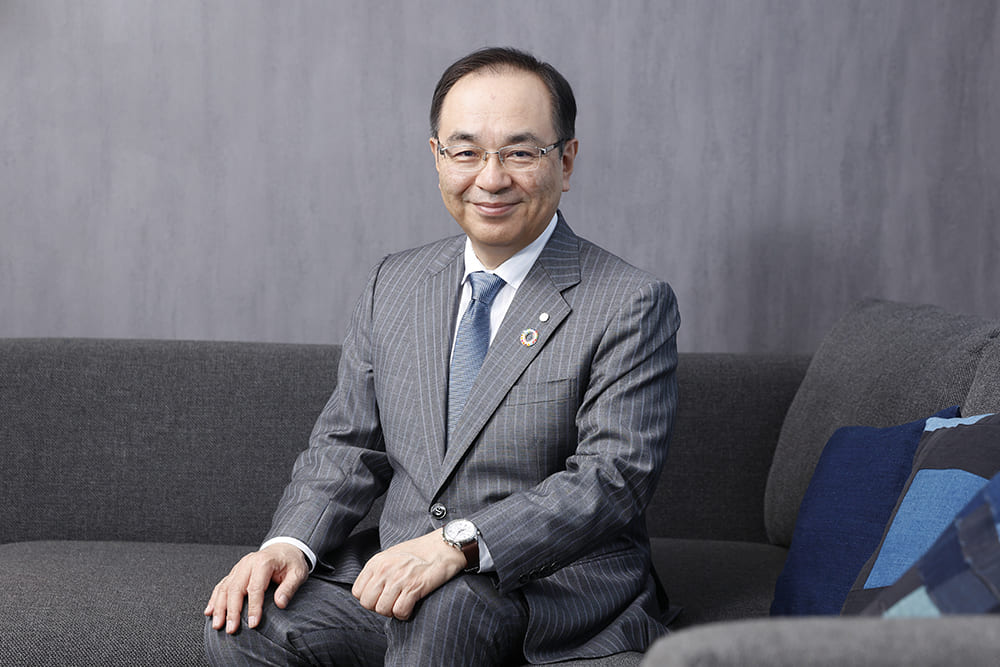 Kao, a major Japanese maker of home products and cosmetics, announced its medium-term business plan at the end of 2020. Environmental, social and governance activities — collectively known as ESG — feature prominently in the plan, which aims to both contribute to creating a sustainable society and achieve business growth. Yoshihiro Hasebe, who this past January became president of Kao in the first year of the plan, has promised to lead the company to become a "presence essential for our society as a company that protects lives in the future."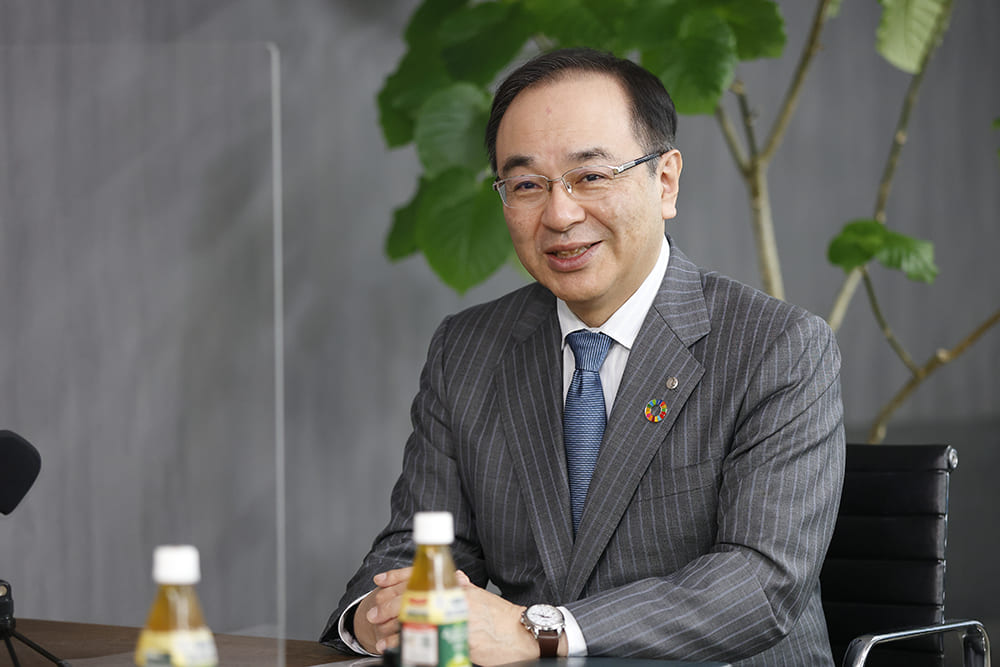 "My top priority as president is to make Kao into a company that embodies what an ESG-aware company is all about," Hasebe said.
Founded in 1887, Kao has offered suggestions for new lifestyles throughout its long history of product development. Many of its products have anticipated today's increased awareness about ESG. One is Attack, the world's first compact-box powder laundry detergent, introduced in 1987, which Hasebe says he is proud of for "taking Kao the farthest forward" as a company. The product is claimed to require only a "spoonful," or one-fourth the amount of conventional products, to wash a load of laundry. It realized the convenience of a box of detergent that lasts a long time. Kao was also able to make the product's box less than one-fourth the size of conventional products, radically altering the image of detergent boxes as heavy and bulky. It significantly reduced the stress of doing the laundry. "It made people feel much less reluctant to do the laundry and, ultimately, changed the way of overall Japanese culture," according to Hasebe.
After the debut of Attack, compact-box detergent products came into wide use in the United States and Europe. Such smaller, lighter products also had a significant impact on the reduction of carbon dioxide emissions associated with their transportation.
---
Advances in detergents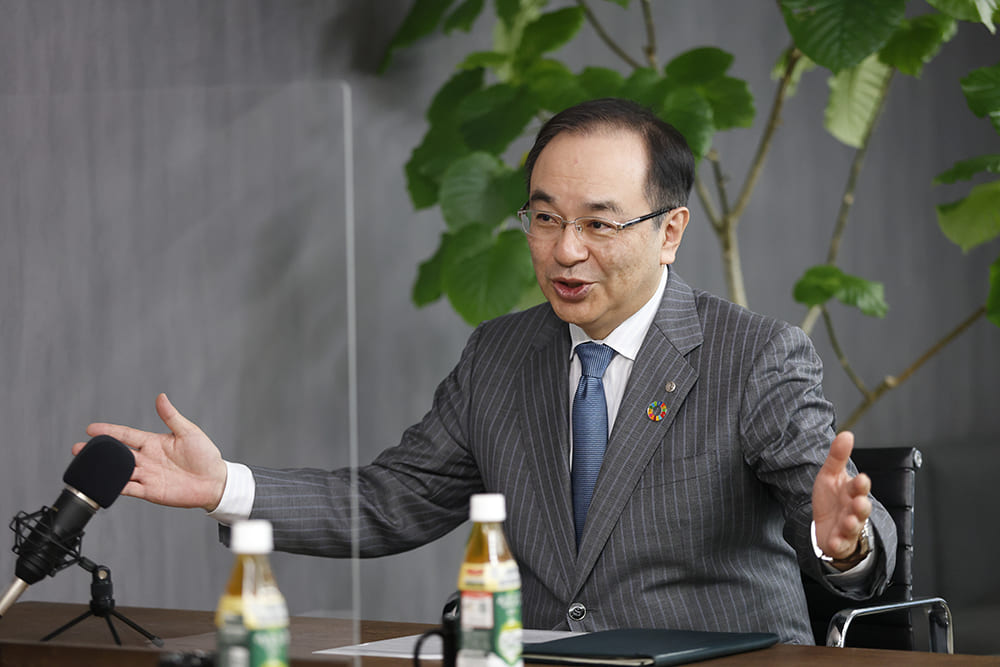 Kao has continued to improve on Attack, which has maintained the top spot in Japan's laundry detergent market for over three decades. Attack Neo, an "ultra-concentrated liquid laundry detergent" introduced in 2009, comes in a bottle smaller than existing products, achieved by increasing the liquid's concentration. This helped reduce the amount of plastic used for the bottles. And thanks to a newly developed cleaning agent, laundry washed with Attack Neo requires only a single rinse cycle. The product thus enabled less water to be used in washing and, ultimately, significantly cut emissions of carbon dioxide. Attack Neo was well received by consumers for its potential to reduce water bills and for its touted image of allowing "anyone to take part in efforts to conserve the environment," Hasebe said. Endorsing this, appliance makers started introducing washing machines with settings that have only a single rinse cycle, rather than two. Such a feature is now standard in virtually all models on the market.
Hasebe, who was involved in the development of Attack Neo from the initial planning phase, said he had a strong sense of crisis about the environment at the time. The innovative product was born through a process of trial and error, he said.
"What we need to do is envision the future," he said. "I think what we should do is the things only Kao — not any of the global giants — can do, either working with other companies or leading them by example."
---
Recycling PET bottles
Kao, like many consumer product manufacturers, uses large amounts of plastic in containers and packaging materials, which is why the company sees helping create a plastic-recycling society as an especially important mission. A recent example is its use of 100% recycled polyethylene terephthalate (PET) for the bottles of its Attack Zero detergent, launched this April. The company has begun increasing the use of recycled plastic in earnest and plans to switch all of the PET bottles for its home products that are used in large quantities in Japan to recycled PET by 2025.
Kao is not averse to working with rival manufacturers if it is good for the environment. This past May, the company announced a deal with Unilever Japan on the separation and collection of waste plastic containers for home products, including detergents and shampoos. Kao also began working with Lion Corp. in 2020 on a similar initiative for refill containers. "Rivals that are making great products are our best partners," Hasebe said. "Recycling and environmental issues are something manufacturers must deal with, but there's only so much a company can do by itself. Rivals may compete with each other in terms of what's inside the containers, but it's 'no side' when it comes to containers after the product has been used up, to use a rugby term. There is a growing view that we will be better off if companies across the industry work together."
Kao is also working on a project to recycle contaminated or colored PET materials, which are difficult to recycle into packaging materials, as an asphalt modifier. Added in very small amounts, the material improves the durability of asphalt pavement. It can make asphalt, which typically requires repaving every decade, last five decades, according to Hasebe. It has the added benefit of reducing the amount of microplastic released from paved road surfaces and, therefore, their impact on the sea. The asphalt modifier has already been used in the paving of parking lots and repaving of roads controlled by local governments, according to Hasebe.
"We have worked with many partners to get (this technology) to be introduced more widely, and we have made a proposal for a technology-sharing structure to the Ministry of the Environment," he said.

---
Fast health checks via skin oil

Hasebe, who has worked in technology fields for many years, says he is now particularly excited about a Kao technology called RNA monitoring. A Kao researcher found that sebum — skin oil — contains RNA. Analysis of sebum rubbed onto a blotting film can reveal the status of a person's health and immune functions, as well as enable detection of signs of diseases such as Parkinson's, diabetes and infections. "It's not sufficient for an elderly person to undergo health checks only once a year if that person's healthy life expectancy is to be extended, but with this technology you can look into the health status easily and at low cost," Hasebe said. "I hope to make this technology widely available to the general public before my term as president expires."
Hasebe says he is also excited about Japan's technologies for frozen food and fake meat, although they are not Kao's. "I think it would be great if Japan's technology to restore frozen foods in a short time and its food culture could serve as catalysts for changing the environmental and waste issues of the world," he said, pointing out that these technologies enhance the enjoyment of eating and reduce food waste at the same time. The potential for new lifestyles from Japan is growing, starting from a no side to an initiative transcending industry boundaries.
Click the link below to watch the interview