November 04, 2022
How electronics giant NEC turned a crisis into society-leading strategy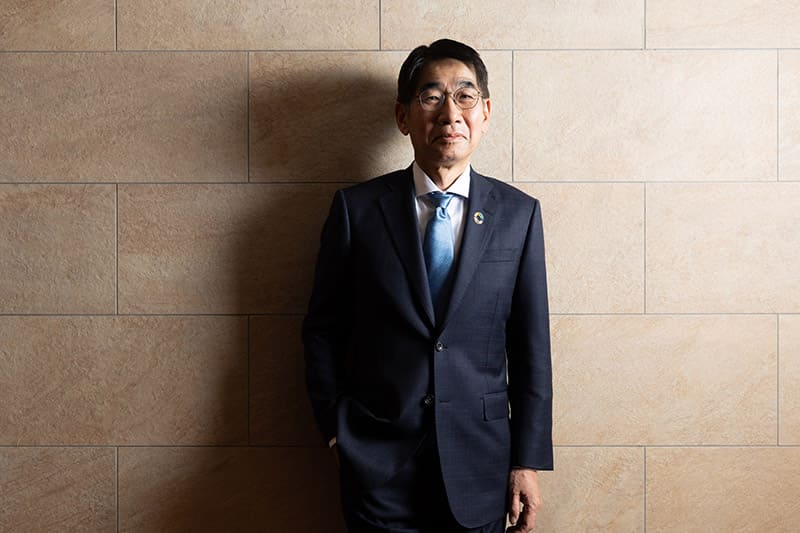 Facing crisis a decade ago, electronics giant NEC Corp. sought once again to define the social significance of its business. Since Japanese firms' top market shares in the fields of computers and semiconductors were gradually being eroded in the 1990s and the 2000s by their rivals in South Korea and Taiwan, NEC was forced to restructure itself by slashing its workforce, pulling out of its personal computer and smartphone business and making its chip sector a non-consolidated unit.
"We eventually reached the conclusion that the reason why our company exists is to transform our technologies to social values, not just to pursue technological evolution," said NEC President and CEO Takayuki Morita. "That's where our values originate, and we were convinced we could do that after looking back at what we had done."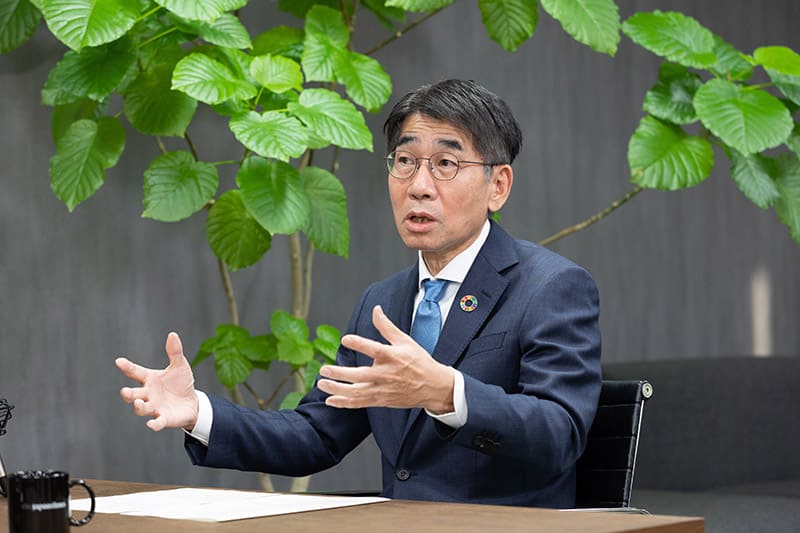 Founded in 1899, NEC has seen the rise and fall of the Japanese electronics industry. The country's postwar rapid economic growth in the 1960s and the following economic and financial boom pushed NEC and other Japanese electronics makers to top global companies. In 1977, NEC's then-Chairman Koji Kobayashi expressed the new concept of "C&C" (computers and communications) for the first time at a telecommunications conference in Atlanta. The two kinds of business had not yet been integrated in the world technology industry, as they are today. Experts in the U.S. and elsewhere highly evaluated NEC as a good example of corporate strategic management with "core competence." In 1990, only NEC was ranked within the global top five in sales in the three fields of communications, semiconductors and mainframe computers.
But after achieving record sales of ¥5.4 trillion ($50 billion at that time) in the business year to March 2001, NEC found its balance sheets hit by a series of negative factors, including the bursting of the internet bubble in 2001 and the emergence of global competitors in the computer chip industry. As computer technology evolved, NEC and other Japanese electronics giants were defeated in the global competition with the U.S., South Korea and Taiwan in the fields of semiconductors and home appliances. In the business year to March 2013, NEC's sales had dwindled by nearly half to about ¥3 trillion.
The turning point came in 2013, when NEC declared it would transform itself into a company creating social values. Ahead of the proclamation, the management team, including Morita, defined the corporate purpose as "creating the social values of safety, security, fairness and efficiency to promote a more sustainable world where everyone has the chance to reach their full potential."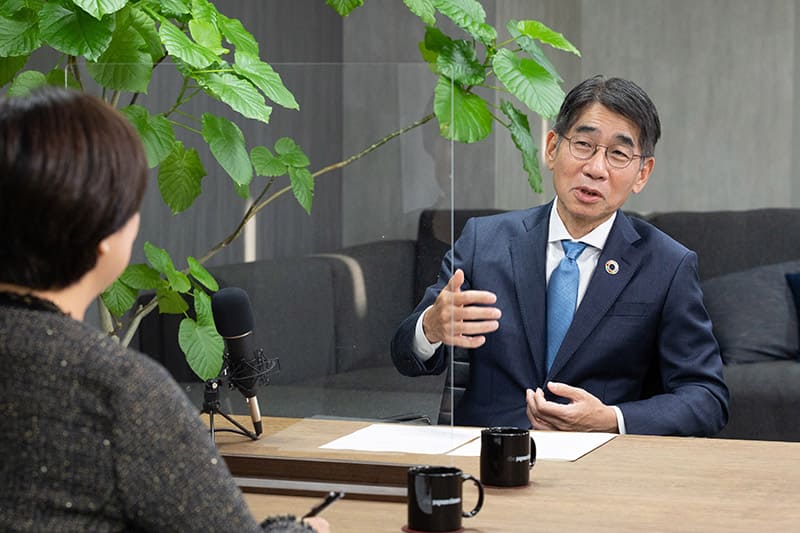 Morita, who was appointed to CEO in April 2021, said he has confirmed the rightness of the corporate purpose, particularly for the past year, when society experienced increasing uncertainty caused by the pandemic, climate change and geopolitical risks caused by the Ukraine-Russia war.
Morita said that since technology is coming to play a huge role in our daily lives, information technology companies with ample expertise like NEC must point people in the right direction on how to make proper use of technology and how to protect privacy rights by contributing to global rule-making. Morita mentioned privacy rights because NEC has a global competitive edge in biometric authentication — technologies based on personal data such as facial or iris recognition, fingerprints and palm prints, voice recognition and the new technology of ear acoustic authentication based on the unique shape of each person's ear canal.
"Technology doesn't have colors. So how to use it depends upon us — human beings who have both goodwill and bad will," Morita said. When setting up rules on how to handle private information, it is crucial to introduce "opt-in" and "opt-out" policies because individual users must be the ones controlling their own private data, not the companies that provide platform services, he said. Big Tech companies and social-media platform providers should need to get prior approval for collecting users' private data and then return control of the data to users afterward. "Technological advancement will probably make it possible in the future. Global rulemaking will be more and more important on what kind of data we use, when we use them and whether individuals approve them or not," Morita said.
To take the initiative in the rulemaking, what is necessary is "thought leadership" with expertise and insights in a certain field, the CEO said. Corporate leaders are responsible for guiding people with such leadership in the technology fields, where it often takes about 50 years for one technology to evolve, change the educational and social infrastructure, and have the maximum effect on society. "We need to support the movement and help to accelerate it," Morita said.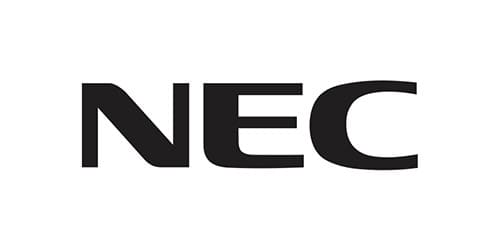 The role of technology in our society has widened in the decades since the advent of the internet. Telecommunications technology has advanced to next-generation 5G wireless and will reach 6G in the future. Home appliances can now be connected to the internet, creating new services through the Internet of Things. Moreover, the internet enables us to make virtual copies of physical systems or products, called "digital twins."
In such a technology-driven society, Morita believes, it is important to have all kinds of stakeholders understand the shared vision about the future that NEC has outlined. He called such understanding "a shared vision about the future." In a world of increasing uncertainty, what makes NEC different is people's appreciation that it is a company working for a better future for society based on goodwill, not one ignoring human rights to maximize its profits. "It will eventually lead to a difference in consumers' support and the outcome of business," Morita said. Sharing its vision of the future is important when NEC makes a long-term alliance with a business partner. Morita said his company's commitment to investment, research and development in the information technology field, as well as its stance not to harm society and human rights, was one of the keys to its tie-up with the world's largest global airline alliance, Star Alliance. In November 2020, they kicked off biometric self-service touch points at the airports in Frankfurt and Munich.
NEC also has made efforts to transform itself by integrating businesses and workers with diverse backgrounds. Since 2018, NEC has acquired three companies — British IT service provider Northgate Public Services Ltd., Danish IT firm KMD A/S and Swiss financial software company Avaloq Group AG — to further develop digital transformations for governments and financial services. Mergers and acquisitions also aim to take advantage of fresh ideas that contribute to innovative products and services. "Japanese companies tend to think of M&A as something special. But in global business, M&A is one of the options that companies always have to consider," Morita said. In December last year, he told media outlets that it was possible for his company to invest ¥500 billion through March 2026, and this total includes M&A. "While we have to align with our partners in terms of a sense of values … the reason why we buy out these companies is not just to increase our resources or technologies but to make the best use of their fresh ideas in diverse perspectives," Morita continued. "Without that, it's not worth making an alliance." The policy on diversity also affects top management and recruitment. For the past several years, NEC has hired top executives from foreign firms. It also aims for 20% of its board members to be female or non-Japanese. Unlike traditional Japanese companies that recruit a large number of college graduates every year, Morita said the company already has started doing midcareer hires as well in a similar way, and starting from 2024 will make half of its hires among new graduates female.