August 30, 2021
For NRI Group, ESG awareness starts with whole staff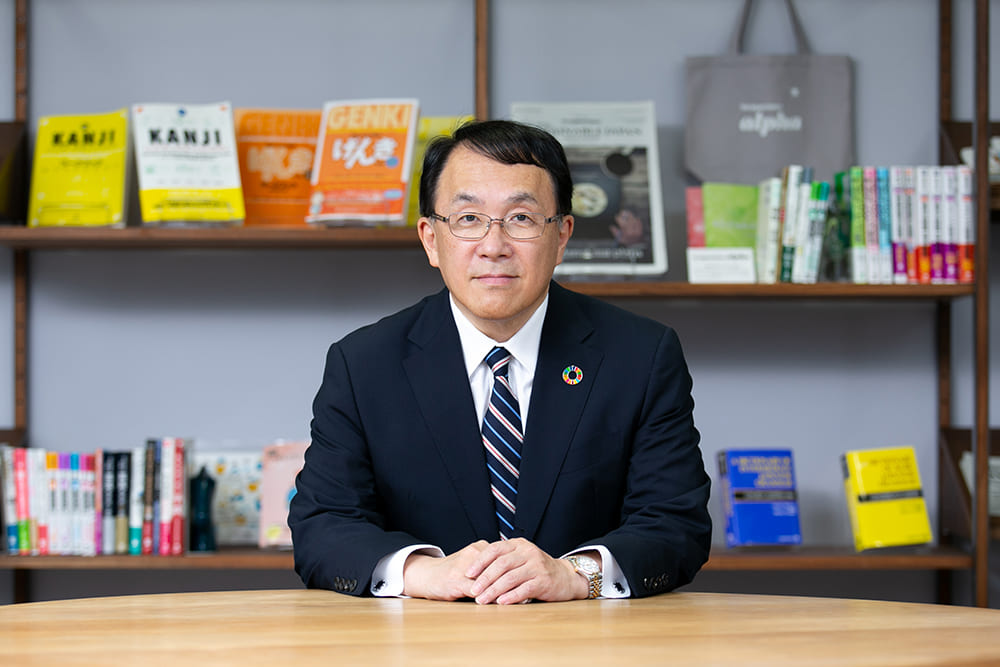 In 2019, Nomura Research Institute Ltd. formulated a medium-term business plan through fiscal 2022, pledging to promote "sustainability management policy" to achieve growth for the group and at the same time help create a sustainable future society.
The company aims to become a "presence that is indispensable to our society" through its work by experts in wide-ranging fields, including science, technology and economics, to resolve issues that society faces. To achieve this, NRI Chairman and President Shingo Konomoto said, "It's important to raise the awareness of each employee about issues." NRI puts a lot of effort into communicating information on its environmental, social and governance (ESG) efforts both to its members and to the public.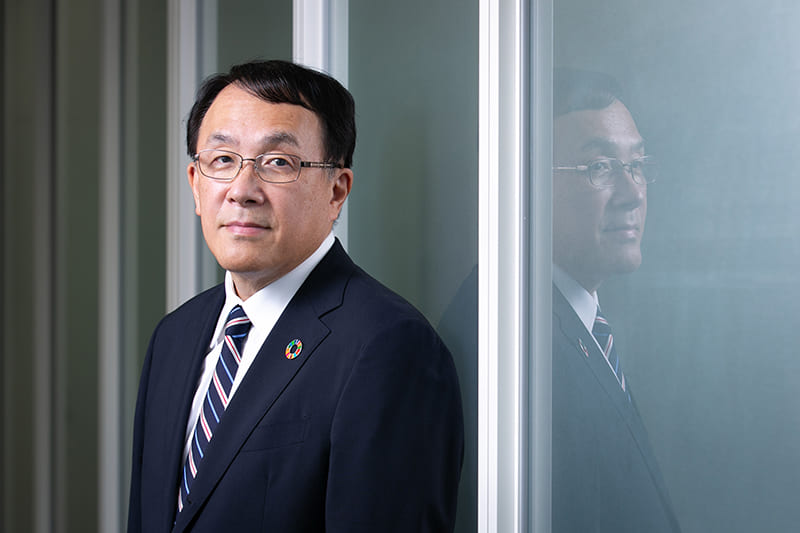 NRI was established in 1965 as Japan's first private comprehensive think tank. Having merged with Nomura Computer Systems Co. Ltd. in 1988, NRI's strength lies in its ability to provide a one-stop service covering everything from consulting to IT solutions. Domestic deals make up about 90% of NRI's IT solution business, which generates 90% of its overall revenue. It plans to step up efforts to expand business overseas, which it began in earnest four to five years ago.
NRI's founding prospectus in 1960 states at the beginning its goal of "revitalization of industry and the economy through study and research and contribution to society at large." Konomoto said: "Current trends such as ESG and SDGs (U.N. sustainable development goals) describe in different words the hopes we had at our foundation. We have passed on that hope for more than 50 years."
Konomoto said his assignment in Taiwan in the 1990s made him realize that stakeholder-centric thinking, which is gaining currency around the world, had already taken root among many Japanese companies, including NRI, many years ago. Being outside his home country and looking at it from the outside also made him realize some things. One was that Japan was behind in promoting diversity in workplaces, especially including female empowerment. The work environment has since improved for women, but he thinks the social infrastructure supporting women's employment remains inadequate. According to Konomoto, an internal survey NRI conducted on the impact of promoting women to managerial positions highlighted many cases indicating that female managers excelled at increasing staff engagement and motivation. "The company cannot maintain competitiveness unless staffers feel their work is rewarding," Konomoto said. He showed enthusiasm for building on track records of improving his company's work environment and promoting female empowerment.
The COVID-19 pandemic has brought many changes to society, including accelerated digitalization of work and services. Konomoto says the "consolidation of business and IT" is certain to happen. "The new coronavirus pandemic hit just as technologies, including artificial intelligence and algorithms, were advancing and expanding, and this abruptly accelerated digital transformation," he said. "We're going to continue to put efforts into offering ideas that take advantage of our knowledge in both business and IT. In the meantime, there is the need on the customers' side to train personnel who can think of both aspects at the same time." There are often conflicts of interest when business and corporate cultures are reformed, and in order to solve them, he said, it is essential for the top management to show their vision.
Konomoto said he has a strong sense of crisis about environmental issues and that the key to resolving them is to "promote provision of services through digital platforms and shift to a sharing economy." If the use of online services increases and a sharing economy is adopted more widely, it will reduce energy usage and environmental load. "Unlike China and the United States, which can produce unlimited amounts of renewable energy, Japan has limitations — it has severely limited in terms of locations for installing solar panels, for example," Konomoto said. "We have to find ways to live a satisfying life without using (large amounts of) energy, by cleverly using digital technology."
NRI is leading the way in efforts to offer measures for this. For example, it recommends financial institutions use shared services. Analysis by the company has suggested that securities brokerages using such services, rather than developing and operating their own trading systems, can reduce energy usage and cut carbon dioxide emissions by over 70%. The goal for the Nomura group as a whole is to achieve a cut in emissions of carbon dioxide of over 70% from the level in fiscal 2013 by the end of fiscal 2030. NRI has been working to install energy-conserving equipment and reduce the energy consumption of computer servers at the five data centers it owns. It has already successfully cut emissions by 49%. The company also set a target of raising the use of renewable energy to 70% at its data centers and expects to achieve that ahead of time, within several years.
NRI is also suggesting ideas to its client companies. In the logistics field, it has worked to use technology to optimize customers' transportation routes and learned that they can, in theory, use just seven trucks to handle an amount of freight that previously required 10. Konomoto thinks Japan overall can improve efficiency of energy use if there is a structure in place to encourage the use of technology for the entire country, which he believes will allow new ideas to be gathered from wide-ranging areas.
NRI was relatively early to start efforts to disclose ESG information under international standards, participate in the Japan Climate Initiative and obtain certification from international frameworks, including the Task Force on Climate-Related Financial Disclosures. The message sent from such efforts reaches NRI's employees, totaling nearly 13,500. "I want each of our employees to be aware of how their daily work creates value for our society and contribute to solving issues," Konomoto said. "We will continue to put efforts into activities to ensure that."

Click the link below to watch the interview