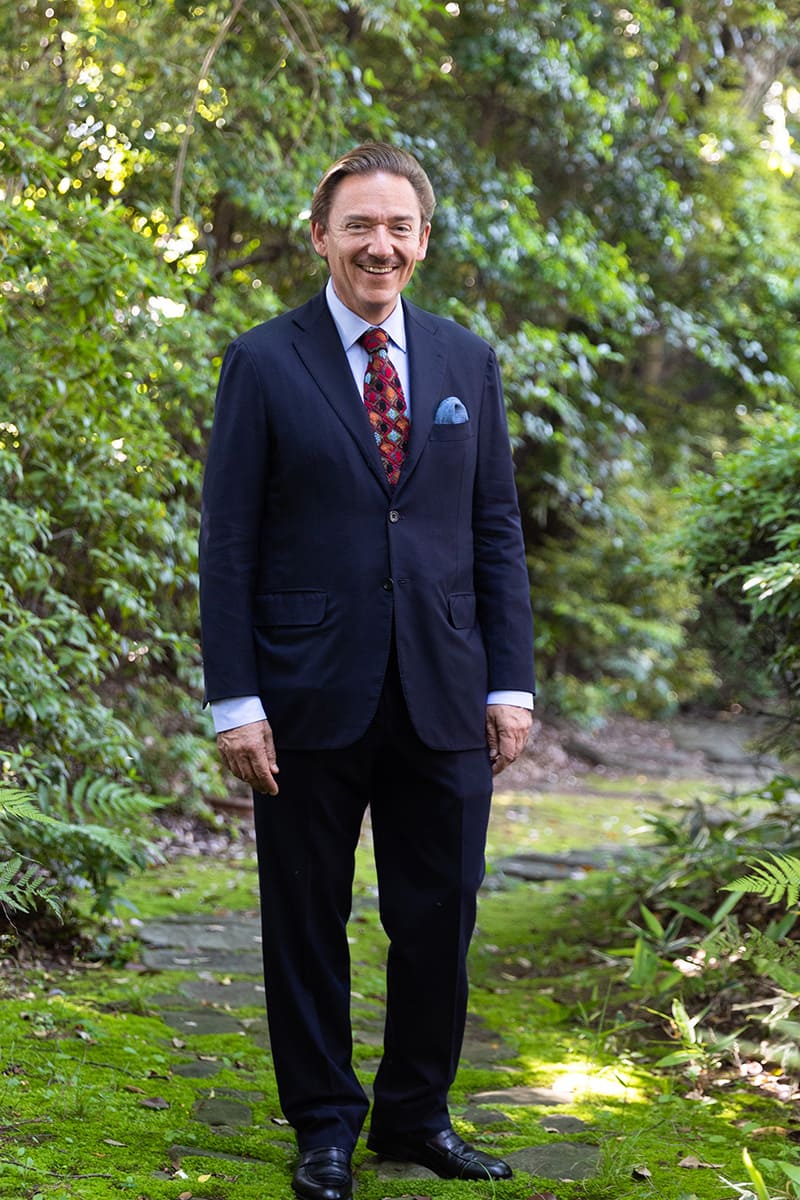 June 03, 2022
Swiss envoy 'creating value together' with Japan
Andreas Baum works toward environment, network for innovation
Name: Andreas Baum
Title: Ambassador of Switzerland
Hometown: La Tour-de-Peilz, Switzerland
Years in Japan: 1 year and 9 months
With a career that spans three decades and which has taken him to Canada, the United States, Nigeria, Israel and India, Andreas Baum is delighted to now find himself in Japan. He took up his role as the Swiss ambassador to Japan in October 2020.
"Usually we move on every four years, and you get a list of available postings for which you can apply. If you're lucky, you get one of the postings on your list, and Japan was on mine, so I was fortunate," he said. "I have been in diplomacy for 30 years, and now they call me a 'seasoned diplomat.' But I am still enthusiastic and, I hope, young at heart!" he added with a smile.
In his youth, Baum originally studied medicine but says that his heart wasn't in it and that the role of medical doctor was not a good fit for him. After completing his training, he moved to the United States in 1988 to pursue a graduate degree in international relations and realized he had found his calling. "It was a very exciting time, with the fall of the Berlin Wall, and we thought that anything was possible. I have great memories," he reminisced.
---
Successful presidential visit
Baum and his team recently hosted Ignazio Cassis, the president of the Swiss Confederation, along with a delegation of leaders from Switzerland's political, economic, business and scientific communities.
"Switzerland and Japan share common values and are looking for solutions to the same challenges, such as climate change, digital disruption and aging society. After a lack of opportunity for contacts during the pandemic, the first thing is to re-establish people-to-people relations," said Baum.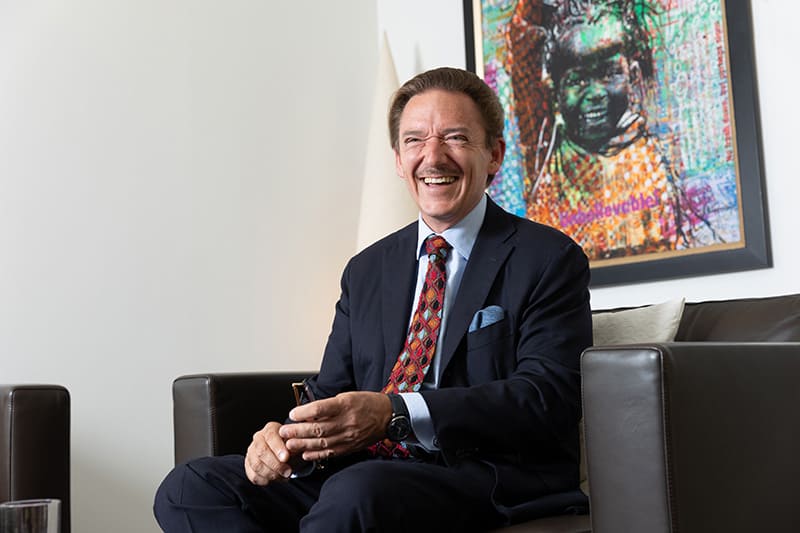 The issues of international security, bilateral trade and science were high on the agenda during the presidential visit. "Needless to say, the war in Ukraine was an important topic of discussion," he continued. "Both Japan and Switzerland have condemned Russia's aggression and taken sanctions. The presidential visit offered an important opportunity to exchange views on the way forward."
Both nations are candidates for the United Nations Security Council and are applying for a seat on the council, with a view to serving a two-year term in 2023 and 2024. With more than 150 years of bilateral trade, Japan ranks as Switzerland's second-largest trading partner in Asia, while Switzerland is the sixth-biggest investor in Japan. A free trade agreement has been in existence since 2009.
Cassis and his delegation traveled to Osaka, where he broke ground for the new Swiss Consulate location there. "This goes beyond your classic model of a consulate. It will be part of a network we call Swissnex, and will focus on research, innovation and education. We have identified Kansai as a focus region of great promise, in terms of all the academia, industry and many startups there," Baum explained. Osaka will be the sixth location to join the Swissnex network, after Boston, San Francisco, Rio de Janeiro, Shanghai and Bangalore.
---
Green tech for better future
Baum and his team are looking forward to preparations for Expo 2025 in Osaka, with Switzerland planning a pavilion focusing on life sciences, artificial intelligence and environmental protection.
As countries lacking in natural resources but rich in innovative ideas, Baum pointed out, Switzerland and Japan share an interest in initiatives that will safeguard the environment. They have both committed to a goal of zero emissions by 2050. Swiss companies in the fields of transportation, energy or decarbonization, for example, are actively developing innovative solutions that embrace green technology, and it is hoped that some will come to fruition in time for presentation at the Osaka expo, such as zero-emission hydrofoil boats.
As a major global financial center, Switzerland is actively engaged with the topic of transition finance. This refers to framework conditions that, among other things, help drive high-carbon companies toward net-zero emissions, and support them as they start to implement long-term changes to go greener.
"In some cases the transition technology is not here yet, so how do financial institutions help companies make these transformations? Moreover, how do you choose which industries to invest in?" Baum pondered.
---
Creating connections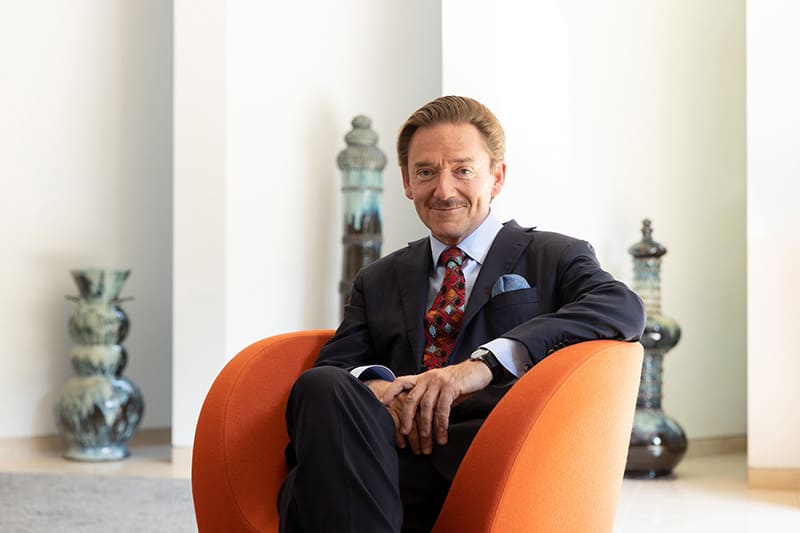 Baum has been making the most of opportunities to develop his relationship with Japan on both a personal and professional level. "My answer is probably a common one, but I enjoy the traditional aspects of Japan, such as the aesthetics, the philosophy, the sense of nuance, the harmony and the work ethic. Then in my professional life, I have come to connect with the modern side of Japan," he noted.
"I like that we can learn from each other, building bridges and connections around commonalities and differences. That is really the core of diplomatic work — creating value together," Baum said.
Reading is one of his favorite pastimes, and he mentioned a book that recently made an impression on him, "Four Thousand Weeks: Time Management for Mortals" by Oliver Burkeman. "Four thousand weeks is an average lifespan — it isn't that long! It talks about the brevity of life and the limitations of the human condition. Life is not a dress rehearsal," Baum pointed out.
Baum has never lost the passion for international relations that he discovered more than 30 years ago. "I still love the job, and in these difficult times I think diplomacy has become even more important. You get to go to places and meet people that you wouldn't in other jobs, and sometimes you get to witness historical events. Every day brings surprises and the opportunity to — modestly — change things for the better and try to help those in need."