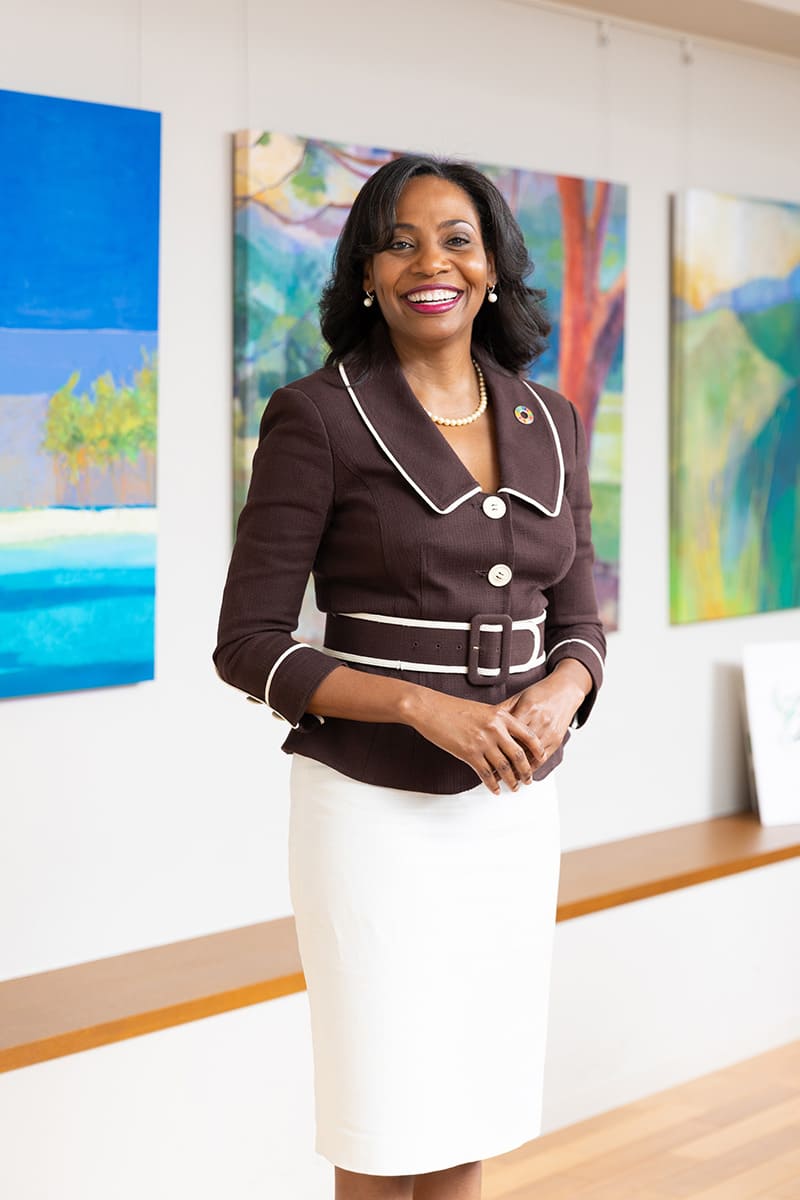 August 19, 2022
Fulfilled destiny, leveraging diplomacy for development
Nations partner on tourism and development: Ambassador Richards
Name: Shorna-Kay Richards
Title: Ambassador of Jamaica
Hometown: Kingston, Jamaica
Years in Japan: 2
The island nation of Jamaica is best known for its Blue Mountain coffee, reggae music, fastest runners, scenic waterfalls and cool laid-back vibes — but as an advocate of righteous causes around the world, Jamaica is also a nation that punches well above its weight. Whether advocating for human rights, the regulation of the trade in small arms, the elimination of nuclear weapons, or dealing with sustainability, Jamaica has been championing issues of international significance since its independence in 1962.
"A mosquito might be small, but if it stings, you will know about it," explained Shorna-Kay Richards, Jamaican ambassador to Japan. Having been personally invested in many of Jamaica's vital causes over her diplomatic career, she knows the power of that sting.
---
The invisible hand of destiny
Richards always felt her appointment as ambassador to Japan was destiny. After completing a Spanish major at The University of the West Indies, Richards attended the University's jobs fair, and a position with the foreign service was the only job she ended up applying for, becoming one of only four women eventually recruited. Years later, when she looked at her high school yearbook, she saw that in answering a question about her future, her classmates had predicted she would be Jamaica's first female ambassador to Spain. Jamaica did not then have an embassy in Spain, but she was nonetheless on a career path to bigger things in the diplomatic service.
As a young diplomat in 2005, Richards visited Japan as part of a group on a United Nations Disarmament Fellowship program, which included study visits to Nagasaki and Hiroshima. She had an opportunity to have a briefing from one of Japan's nuclear bomb victims, or hibakusha, an experience that left an indelible impact. On the final day of the study visit, Richards was asked to make a speech on behalf of the group, and in her speech she promised to take the appeal of the hibakusha if she ever had a chance to work at the United Nations and said she would take every opportunity to work on the cause of nuclear abolition, which she did. Years later, Richards had the good fortune to return to Japan as ambassador and was able to visit Hiroshima on the 76th anniversary of the bombing, having kept her promise to the hibakusha.
"I've come full circle," she mused. "I never imagined when I came here in 2005 that I would one day be ambassador to Japan. I cannot tell you how emotional that was for me that it happened — I made that promise, and now I am ambassador. There is an invisible hand, a destiny."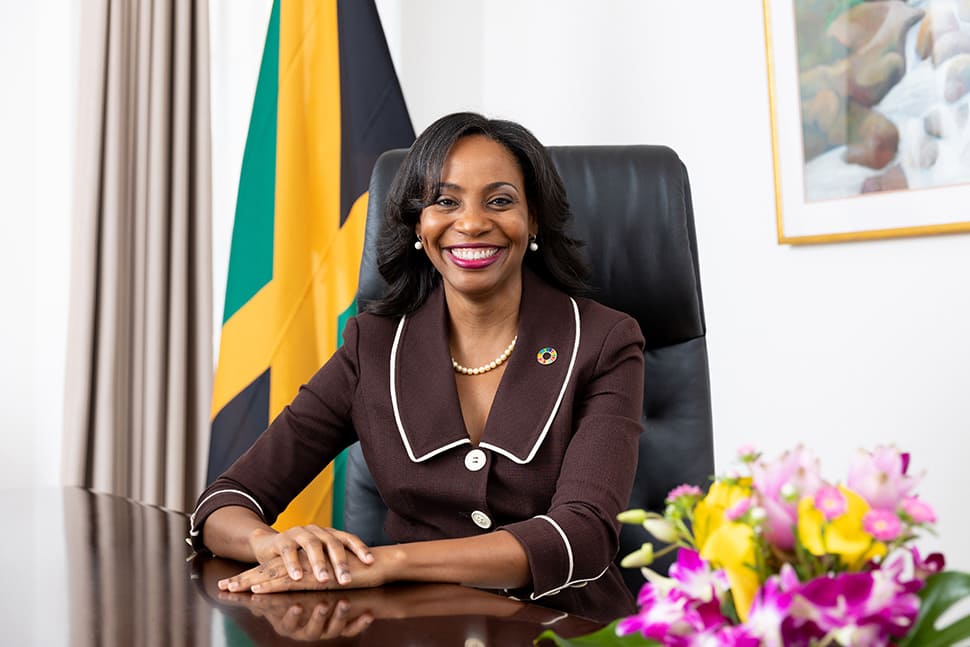 ---
Partners in sustainability
With tourism accounting for a large portion of Jamaica's economy, the island was hit hard by the COVID-19 pandemic. Since fully reopening in June 2020, Jamaica is now creating a tourism resilience plan with the rest of the Caribbean, guided by the recently created Global Tourism Resilience & Crisis Management Center at The UWI.
Jamaica has been leading the charge in its hemisphere and globally to try to build sustainable tourism and manage future crises. Jamaica is now working with Japan, through the Japan International Cooperation Agency (JICA) to shape best practices in tourism management and share them with the rest of the Caribbean. Partnering with JICA, Jamaica is now building back its tourism sector better and stronger, putting particular emphasis on ocean health and sustainability in areas such as ocean plastic, sea life and rising sea levels, as well as looking at ways for tourism to lessen its environmental impact. Measures include banning disposable plastics, transitioning to green energy and partnering with JICA on the transfer of technical skills with regard to waste management.
Japan, as a member of the G7, has been a particularly important friend to small island developing states (SIDS) like Jamaica and middle-income countries by providing financing for the transition to green energy and resilience to climate change. Japan uses its own Vulnerability Index to assess the needs of countries most at risk from natural disasters and climate change.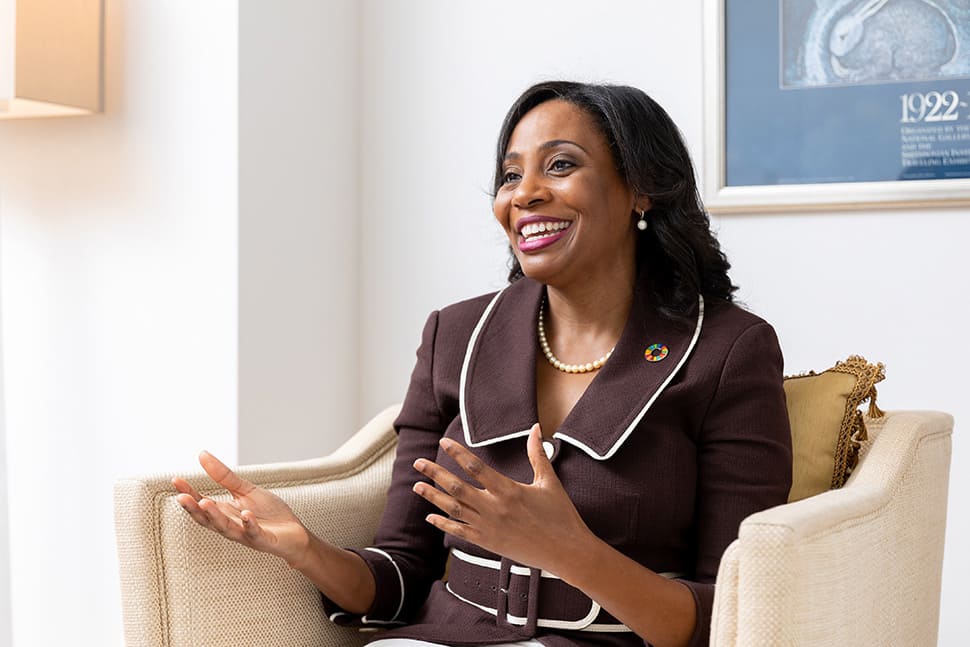 ---
Investment OpportunitieS
"Japan and Jamaica may not be privileged by geographic proximity," Richards explained, "but we are privileged by trade, and we see Japan as a strong, reliable, supportive and good friend to Jamaica." One area for investment that the G7 nations have identified to support low and middle-income countries such as Jamaica is infrastructure. Jamaica has a dynamic culture and is home to the International Seabed Authority and the seventh-largest natural harbor in the world.
Richards highlighted Jamaica's strategic location as a logistics hub offering opportunities in the recently created low-tax special economic zones. Shipping and port-facility companies can set up operations as developers or occupants in the zones for warehousing and distribution centers to benefit from Jamaica's near-shore advantage vis-a-vis North America and our capacity to accommodate Panamax-sized vessels. . And it is not just physical infrastructure that advantages Jamaica as an investment opportunity. Richards explained, "Jamaica is a stable democracy, we have an English-speaking population, high levels of education, we've been ranked very highly for ease of doing business, and the government is putting in all sorts of incentives for investment."
---
What's the next port?
After nearly 30 years as a diplomat, Richards isn't certain what will be next. For the moment, she is still working on what she terms her "J-J garden," a fusion of Jamaica and Japan, growing mosses, tulips and her beloved Bougainvilleas, and is focused on her carrying out her duties as a member of the the U.N. secretary-general's Advisory Board on Disarmament Matters to which she was appointed recently. After so many years as a diplomat, Richards is still a confident believer in the power of culture. "Everyone is using soft power nowadays," she said. "We just have to rely on it more."