April 28, 2022
'Colony' preserves art and architecture for future
YAMANASHI
By ARINA TSUKADA, TRANSLATOR:EDAN CORKILL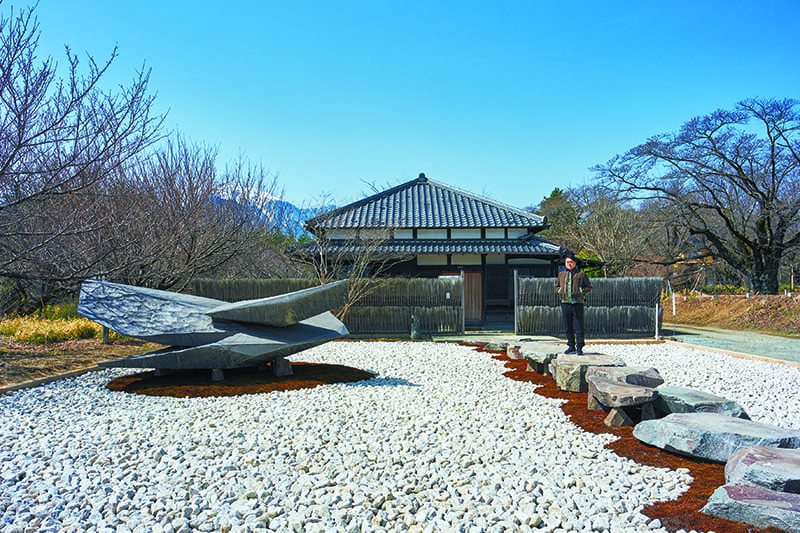 Hiromi Yoshii
Hiromi Yoshii is the director of Kiyoharu Art Colony. He established the gallery Hiromiyoshii Roppongi in 1999. In 2016, he established the art and science gallery Axiom. He serves as general director of the Hokuto Art Program, an art project in the city of Hokuto in Yamanashi Prefecture. Recent publications include "Art Thinking Starting from Questioning" (Kobunsha).
As city centers throughout Japan are redeveloped, countless famous works of architecture and public art face the threat of demolition. Stemming that tide is Hiromi Yoshii, a leader of Japan's contemporary art world who has followed in his father's footsteps to try to ensure that culture and art are preserved for the future.
Fifty years ago, in 1981, the Kiyoharu Art Colony was born on the site of a disused elementary school in the Yamanashi Prefecture city of Hokuto. It was the brainchild of Hiromi's father, Chozo Yoshii, who ran art galleries in Tokyo's Ginza area and Paris and had a dream of creating a "colony for artists" stemming from his interactions with the influential modern Japanese literature movement known as Shirakaba-ha (White Birch Society).
Kiyoharu Art Colony
An arts and cultural facility boasting several museums and tea rooms. Five minutes by taxi from Nagasaka Station, which is a two-hour trip from Shinjuku Station.
● 2072 Nakamaru, Nagasaka-cho, Hokuto-shi,
Yamanashi Prefecture
Tel: 0551-32-4865
Open hours: 10:00 a.m. – 5:00 p.m. 
Closed on Mondays and New Year's holidays
Admission: ¥1,500 for adults,
¥1,000 for high school and university students
https://www.kiyoharu-art.com/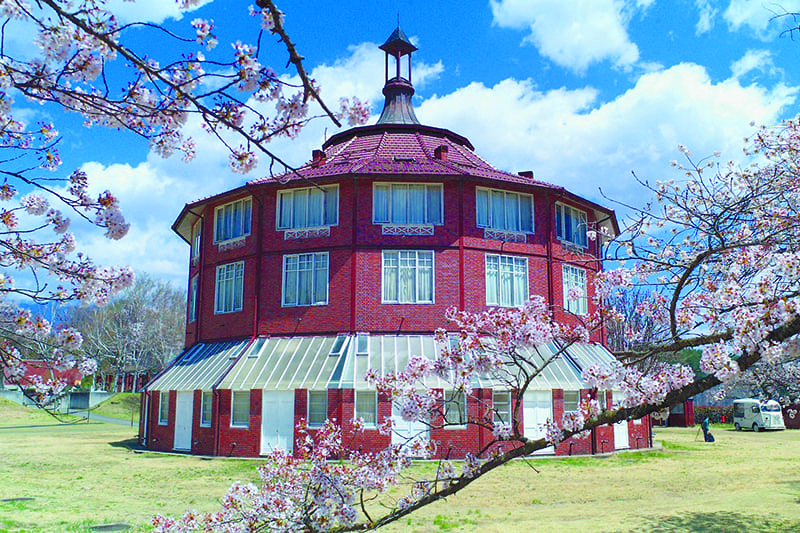 The elder Yoshii's first project at the site was to build a perfect reproduction of La Ruche, the atelier frequented by Chagall and Modigliani, which was also used a pavilion at the 1900 World's Fair in Paris. To build it he purchased the original blueprint by its architect, Gustave Eiffel, famous of course for designing the Eiffel Tower.
Then in 1983 the Kiyoharu Shirakaba Museum, designed by architect Yoshio Taniguchi, was completed, and works by Rodin, Ryuzaburo Umehara, Ryusei Kishida, Bernard Leach and others who had laid the foundations of modern art were exhibited. In 1986, the Rouault Chapel was added to the collection to commemorate the religious painter Georges Rouault, and it too was designed by Taniguchi. In 2006, architectural historian Terunobu Fujimori designed the tea room Toru using 80-year-old cypress trees that had collapsed in a typhoon, and in 2011, Tadao Ando built his Museum of Light.
But in addition to these new buildings, Kiyoharu Art Colony also has relocated ones. Among them is the former atelier of Umehara, a Western-style painter, which was designed in 1951 by Isoya Yoshida and was originally located in the Shinjuku area of Tokyo. At Umehara's own suggestion, it was donated and relocated just as he had left it.
Meanwhile, the restaurant Stove, which sits adjacent to Kiyoharu Art Colony, once was the residence of the literary artist Isamu Kobayashi and had been named Touseian by the literary master Koda Rohan. Built in 1941, this beautiful Japanese-style house was relocated from Kamakura and renovated by the architectural unit New Material Research Laboratory, consisting of contemporary artist Hiroshi Sugimoto and architect Tomoyuki Sakakida. Sugimoto's aesthetic, which is deeply enmeshed with traditional Japanese art, has given birth to a fresh space that retains the texture and structure of the old days.
So in this way, Kiyoharu Art Colony, with its mix of old and new buildings, became a base for sustainably preserving cultural heritage. And last year, a brand-new work was added. It had been decided that the former Dentsu headquarters building, which was completed in 1967 by modern master Kenzo Tange, would be dismantled, and a sculpture by Seiji Shimizu, which had been commissioned for the building's entrance, was also due to be demolished. Rie Shimizu, the eldest daughter of the late sculptor, learned about this on social media and, in the course of trying to have the work preserved, wound up proposing to Yoshii that he might relocate it to Kiyohara Art Colony.
"After hearing about it, I visited the building site the very next day in my car. Shimizu-san's work is powerful, and I just knew I couldn't let it be destroyed," Yoshii remembered.
From that decision, things moved quickly. To relocate the sculpture, it would take a huge amount of effort even just to pause the building's demolition work for half a day. But after desperate negotiations by the sculptor's family, they managed to secure time to have the sculpture relocated. Yoshii consulted with Sugimoto and Sakakida, who were already frustrated with the dire fate of many of Japan's most famous buildings, and they agreed to help with a pedestal for the relocated work. As a result, it was soon set up in the garden of Stove, which they were renovating.
"Similar things are happening all over Japan now. Actually succeeding in relocating an artwork like this is a very rare case that came about only by a series of miracles," Yoshii said. "And it's not just artworks, but buildings too. It costs less time and money to build a new building from scratch than to relocate an existing building. But in order to realize a sustainable society in the future, instead of destroying everything, we need to preserve cultural heritage for the next generation. And we need to keep on doing it."
Yoshii says he is starting to consider a new project specifically for rescuing cultural properties like public art and architecture.
"I believe that preserving cultural heritage like public art and architecture could be a symbol of a sustainable society in the future," he said. "But it takes not just a love for old culture but people like Sugimoto-san, who in this case was able to connect the old to the contemporary. Artists and architects can breathe new life into historic culture, creating something new in the process. That's the kind of cycle I hope we can establish."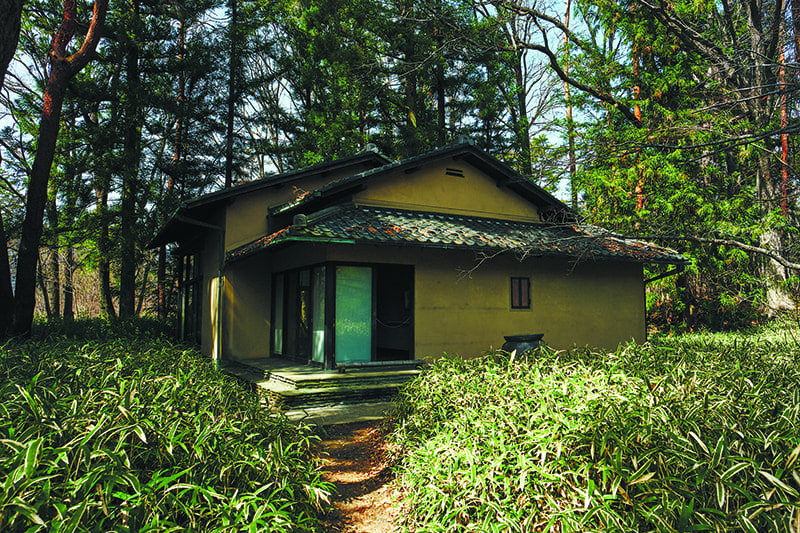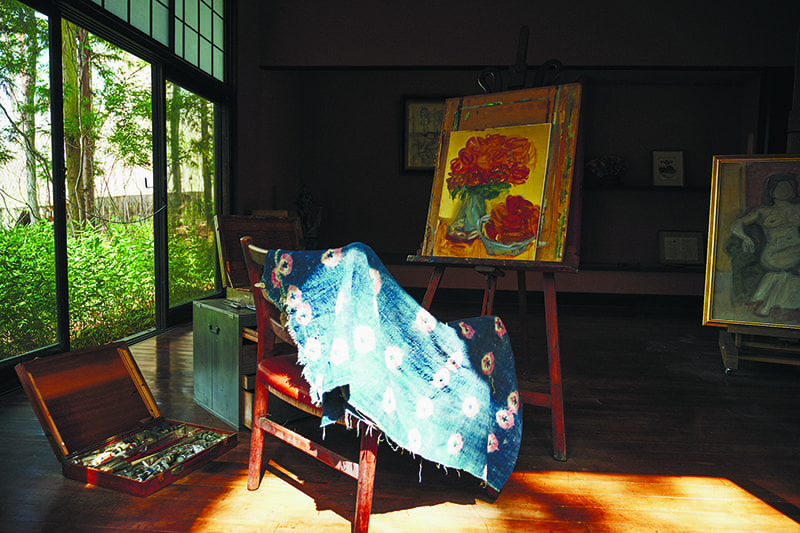 ---
アートと建築を次世代に継承する文化拠点
日本の現代美術を牽引する吉井仁実は、父の代から長らく文化保全に取り組んでいる。始まりは1981年、山梨県北杜市に〈清春芸術村〉が誕生した。吉井仁実の父・吉井長三は、「白樺派」との交流から、彼らの夢だった「芸術家のための村」の建設に注力していく。
そこではアトリエ兼住居をはじめ、美術館、礼拝堂や茶室などが続々と建設されていく。また隣接する「素透撫(stove)」は、文人画家・小林勇の旧宅を移築し、杉本博司と榊田倫之による建築事務所「新素材研究所」が改修したレストランだ。この前庭に、昨年、彫刻家・志水晴児の彫刻作品が設置された。その背景には、丹下健三が設計した旧電通本社ビルの解体に伴い、入り口にあった志水の作品も撤去されるという状況があった。吉井のもとに作品存続の相談が舞い込み、翌日から作品の移築作業が実施された。吉井は語る。「いま、似たような状況が日本各地で起きています。しかし持続可能な社会を目指すうえでは、古き文化を残し、次世代へ継いでいく循環が必要だと思っています」。
Return to Sustainable Japan Magazine Vol. 11 article list page