September 22, 2022
Fishmonger, chef collaborate on kaiseki cuisine
Destination Restaurants 2022
By TAEKO TERAO, TRANSLATOR:WINIFRED BIRD
With the local food movement as popular as ever these days, forgotten regional ingredients are in the spotlight, and chefs are usually the ones responsible for pulling them onto the gastronomical stage. Chefs have been nurturing producers in this way since the end of the 20th century. Gradually, however, producers have also begun taking the lead in educating and nurturing chefs. Sasue Maeda Fish Shop is a prime example. Located in Yaizu, Shizuoka Prefecture, the fishmonger receives orders from famous chefs throughout Japan but also supplies fish to several local chefs. Daigo Sugiyama, proprietor of Chakaiseki Onjaku, is one of them.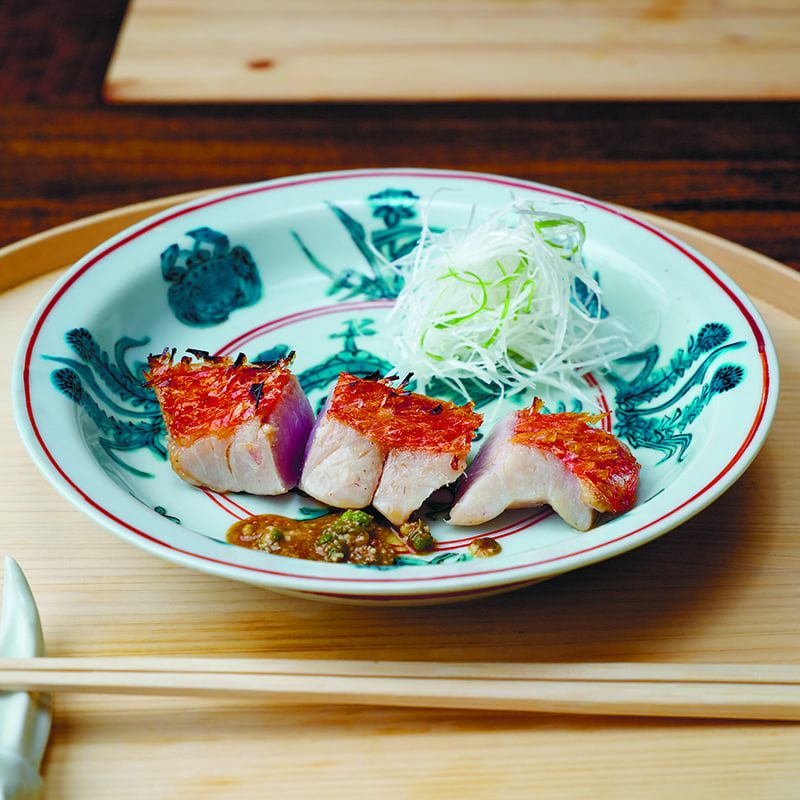 The Sugiyama family's history in the restaurant business goes back to Sugiyama's grandfather, who established a soba shop in Yaizu. Later, his father trained at Wako, a restaurant in Tokyo's Mejiro district known for incorporating the spirit and techniques of the tea ceremony into its chakaiseki cuisine, then went on to establish Chakaiseki Onjaku. Like his father, Sugiyama trained at Wako before returning to the family business eight years ago, where he became his father's right-hand man in the kitchen.
"Even after I was back here working in Yaizu, I thought it was no match for Tokyo," he said. He changed his mind, however, after observing the experience of the Yaizu tempura restaurant Naruse, which became one of the most heavily booked restaurants in Japan after joining forces with Naoki Maeda, owner of Sasue Maeda Fish Shop.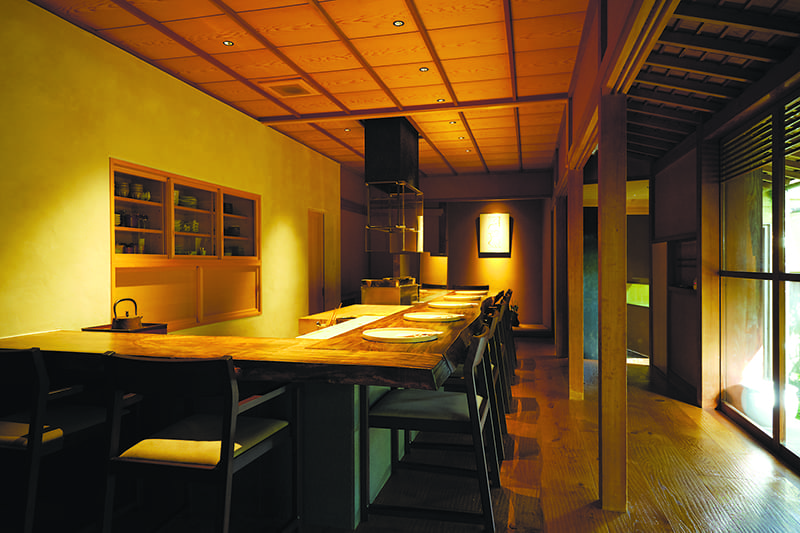 In fact, the Sugiyama family has been sourcing fish from Sasue Maeda Fish Shop for three generations. What is more, according to Maeda, the family has been buying from his shop longer than any other restaurant. As Sugiyama began frequenting the fishmonger, he gradually came to view Maeda as his teacher of all things fish. Maeda selects and supplies fish to the restaurant depending on how Sugiyama wants to prepare it: as sashimi, in soup or grilled, for example. Then, based on what Maeda tells him about the fish, Sugiyama decides how to cut it and how long to cook it to best bring out its flavor.
For ¥16,500 ($115), guests receive a multicourse meal that respects the chakaiseki tradition of hospitality without clinging to its formalities. At one meal, high-quality aji (horse mackerel) that had grown plump on sakura shrimp — itself a specialty of Shizuoka as well as an important marine resource — was served in a cucumber roll flavored with pickled plum. The itoyori tai (golden threadfin bream) was simmered in a light broth; Sugiyama said he intentionally used a smaller-than-usual amount of katsuobushi (bonito shavings) and seasonings to allow the flavor of the bream to shine. Tsuruna (New Zealand spinach) harvested wild from the Yaizu coast contributed a refreshing note. The jindo ika (Japanese squid) served with colinky squash owed its sweetness to being extremely fresh. The kinmedai (splendid alfonsino) had been unloaded at the dock just that afternoon, and its eyes really did glitter like gold, as its Japanese name suggests. Sugiyama served it grilled with its scales on, the skin crackling crisp. His restaurant's outstanding reputation, he said, comes "thanks to the fishermen who risk their lives out on the ocean to catch fish for us, and all our forebears here in Shizuoka." His own search for delicious flavors, he added modestly, is "still a work in progress" that will surely continue in the years to come.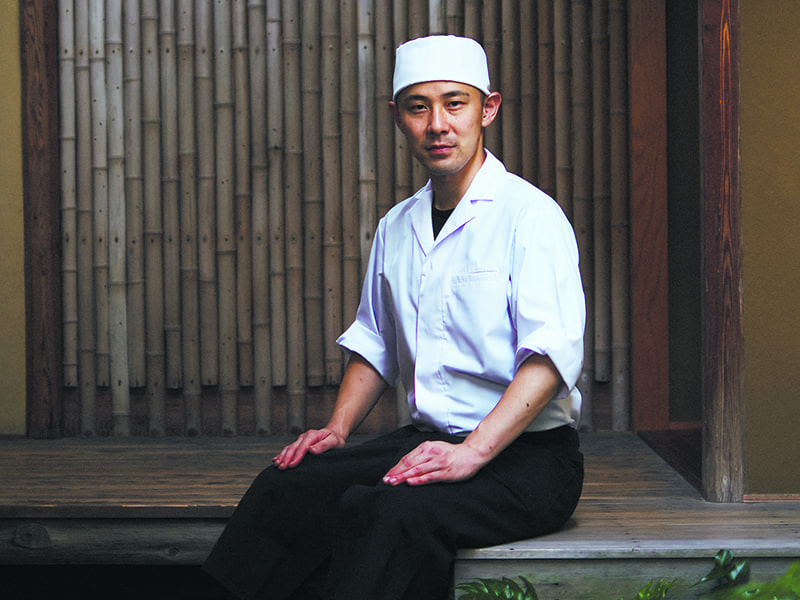 DAIGO SUGIYAMA
Daigo Sugiyama was born in Shizuoka Prefecture in 1984. He studied the tea ceremony in high school and after graduating began training at Wako, a restaurant in Tokyo's Mejiro district that was known for its chakaiseki cuisine (it has since closed). Six years later, he returned to his hometown and went to work with his father, head chef at Chakaiseki Onjaku. He later took over the restaurant and is currently head chef.
---
Sponsored by ANA
DESTINATION HOTELS
NIPPONDAIRA HOTEL
The Shizuoka hilltop of Nihondaira is a popular tourist destination providing beautiful views of Mount Fuji and overlooking Suruga Bay below. The Nippondaira Hotel stands in this scenic spot. First opened in 1964, the hotel was completely rebuilt and reopened in 2012.
In addition to its superlative design, the hotel is also noteworthy for its eco-friendly functionality.
Among its green features reducing the burden on the environment, it uses groundwater, natural light for much lighting, rainwater to irrigate its gardens, and a geothermal tunnel system beneath the building to moderate ambient air temperatures for both heating and cooling. This is truly an environmentally friendly hotel that is worthy of your stay.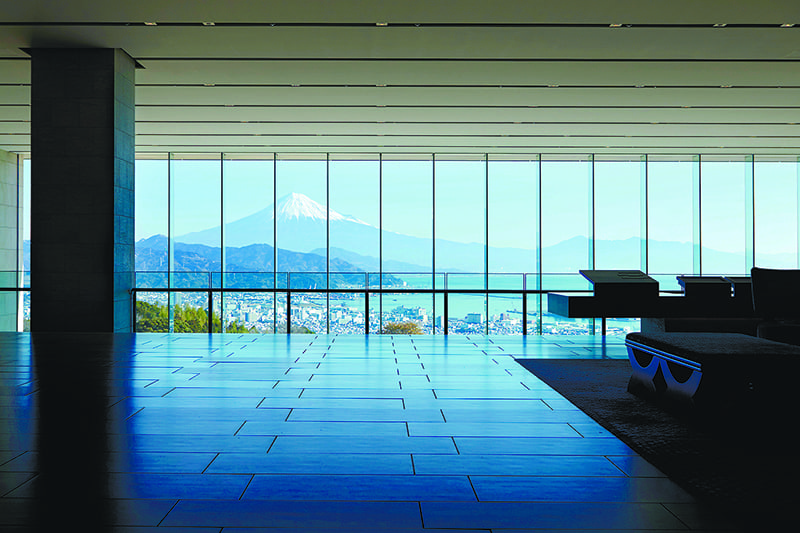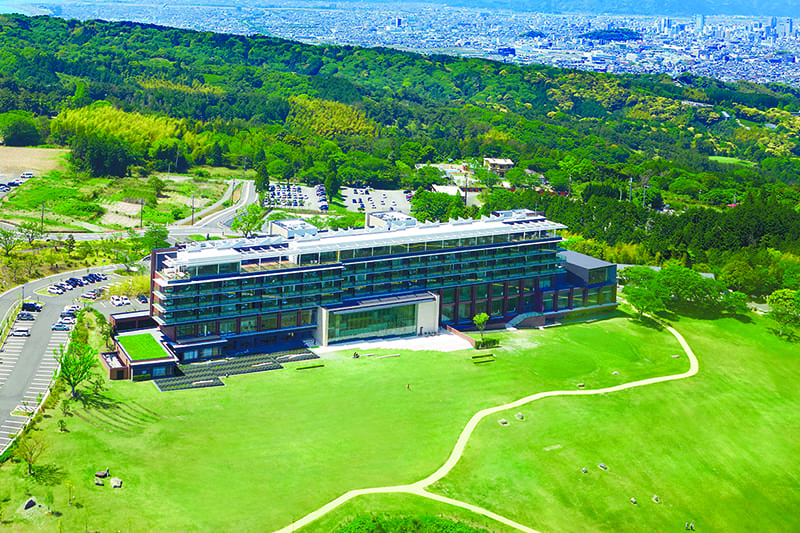 ---
名店からも支持される焼津の鮮魚店と2人3脚で作る茶懐石。
20世紀の終わり頃から、シェフが生産者を育てる時代が続いたが、最近では生産者側のリードによって、料理人が学び、育つケースが増えてきた。静岡・焼津〈サスエ前田魚店〉前田尚毅と〈茶懐石 温石〉主人、杉山乃互の関係はその好例である。「ずっと東京には敵わないと思って仕事をしていました」と杉山は言う。だが、前田とタッグを組み、同じ焼津にありながら全国屈指の予約の取れない店へと成長を遂げた天ぷら店〈成生〉を見て、「地元にいても都会に負けない店は作れる」とに気づいた。
以来、前田を師と仰ぎ、店を変えていった。まずは座敷中心の店から、ゲストの目の前で調理し、できたてを出すカウンター中心の店に作り替えた。
杉山が求める調理法に合う魚を前田が納入し、杉山は前田から教わる魚の状態や情報をもとに調理をする。スペシャリテは新鮮な金目鯛の鱗焼きだ。そんな料理が評価されるのは「命懸けで海の上で魚を獲ってくれる漁師さんをはじめ、静岡の先人たちのおかげ」と言い、「自分はまだまだ未熟」と謙遜する杉山の美味への探求はこれからも続く。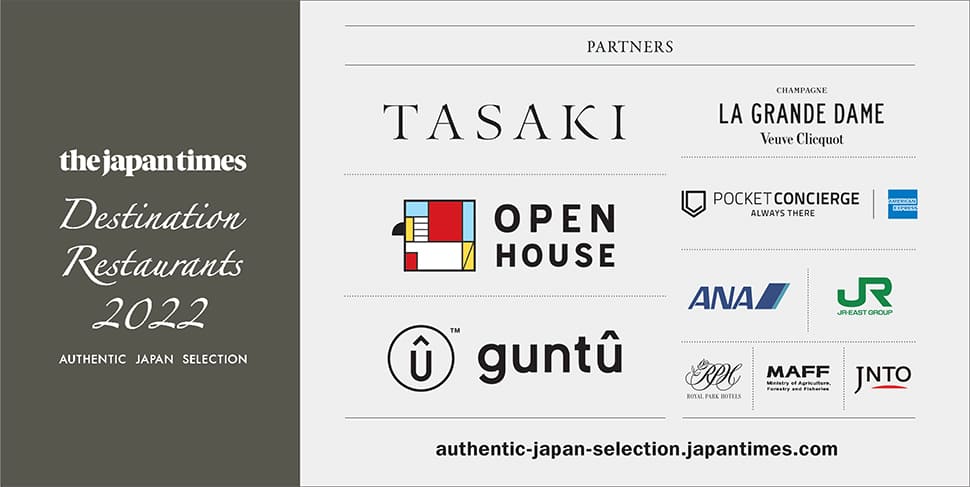 Return to Sustainable Japan Magazine Vol. 16 article list page