November 25, 2022
Hiroshima restaurant Akai subtracts distractions
Destination Restaurants 2022
By TAEKO TERAO, TRANSLATOR:WINIFRED BIRD
Hiroshima Prefecture's Itsuku-shima Shrine is a well-known World Heritage site. Ferries headed for the sacred island where it is located leave from Miyajimaguchi, a touristy neighborhood in the city of Hatsukaichi. Residential areas nestle closer to the foothills. The restaurant Akai occupies an 80-year-old house on a hill, just under 10 minutes on foot from the station.
Behind the eight-seat counter, Hiroshima-born chef and owner Kenji Akai brings his skills to bear. Following an apprenticeship at two well-known restaurants in France, he won the grand prix in 2017's RED U-35, a competition for chefs under age 35. For both lunch and dinner, an omakase menu is the only option. The first dish is always a lacquer bowl of okayu, a simple rice porridge. Every week, the chef drives 40 minutes each way to collect the famously delicious water that flows in the town of Yukicho, in which he simmers Hiroshima-grown rice. Both the serving bowl and the food it contains are quintessentially Japanese. Additions vary with the seasons; in spring the okayu is studded with peas or onions, in winter with daikon radish. For Akai, the okayu with fresh peanuts that he serves in fall is a particularly special dish.
"I first made it four or five months after we opened in May 2019, and it was a turning point for me," he noted. "Up till then, I used more ingredients in each dish, but this came together with hardly more than water, salt and the two main ingredients. I realized I didn't need any more than that. This one dish determined the direction of the restaurant."
The porridge is fragrant with fresh autumn rice and fresh peanuts harvested in October and November in Hatsukaichi. The simplicity of the dish leaves no room for culinary trickery, which is exactly why the quality of the ingredients — and the bounty of Hiroshima Prefecture — comes across so directly. Seasoned with salt and olive oil from Edajima, it pairs nicely with wine.
Akai keeps the focus on ingredients throughout the rest of the menu. Umazura hagi (black scraper), a white fish, is served as sashimi alongside a gelee with a dashi (broth) base. The savory custard of kōtake mushrooms and soft-shelled turtle broth is decisively a Japanese chawanmushi rather than a French flan. Fish and meat main dishes are grilled over charcoal. As fall turns to winter, wild meats such as onagagamo (northern pintail duck) caught in nets make an appearance. At the time of the interview for this article, Akai was serving ishidai (striped beakfish) from Yawatahama in Ehime Prefecture and ezoshika (Yezo sika deer) from Hokkaido.
"I use as many ingredients from Hiroshima as possible, but not because they're from Hiroshima. I use them because I'm satisfied with the quality," Akai said.
A French-style red wine sauce finally appears with the main meat dish.
"People often ask me about that," he said. "Since I'm aiming for a flavor that's not 'too delicious,' I almost never use French cooking techniques that concentrate umami. My cooking doesn't fit any category. If I had to categorize it, I'd call it my personal style."
Although the area is a famous tourist destination, until now it has had no gourmet restaurants. It is significant that Akai has chosen this area for his venture.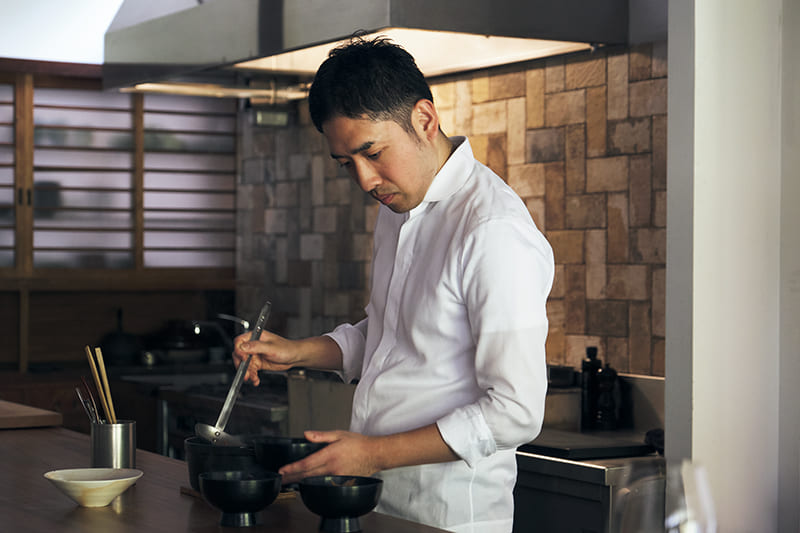 KENJI AKAI
Born in Hiroshima in 1983, Akai worked at Italian restaurants in Hiroshima and Fukuoka before heading up the kitchen of a wine bar in Hiroshima. Between 2012 and 2017 he made three trips to France, training at Le Relais Louis XIII in Paris and Maison Pic in Valence. In 2017, he won the grand prix at RED U-35, a competition aimed at discovering the next generation of talented young chefs. He opened Akai in 2019 in Hiroshima.
---
Sponsored by ANA
DESTINATION
Japanese Garden Ryokan Sekitei
In this issue we introduce Japanese Garden Ryokan Sekitei, a Japanese-style hot-spring inn located on an elevated site overlooking Miyajima, the "island of the gods," which is well known as a World Heritage site. The inn has just 12 guest rooms, scattered around a strolling-style Japanese garden. Detached accommodations constructed in the style of the tea ceremony room are imbued with traditional Japanese atmosphere and aesthetics. The main building's second-floor rooms boast superb views, while the independent two-story detached room, which features a private outdoor bath, has a spirit of playfulness. Every room has such distinctive character and charm that it is difficult to choose among them.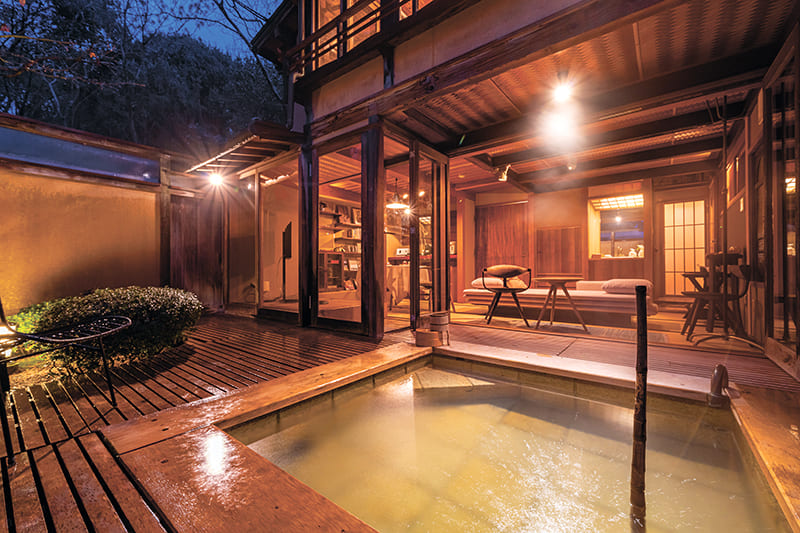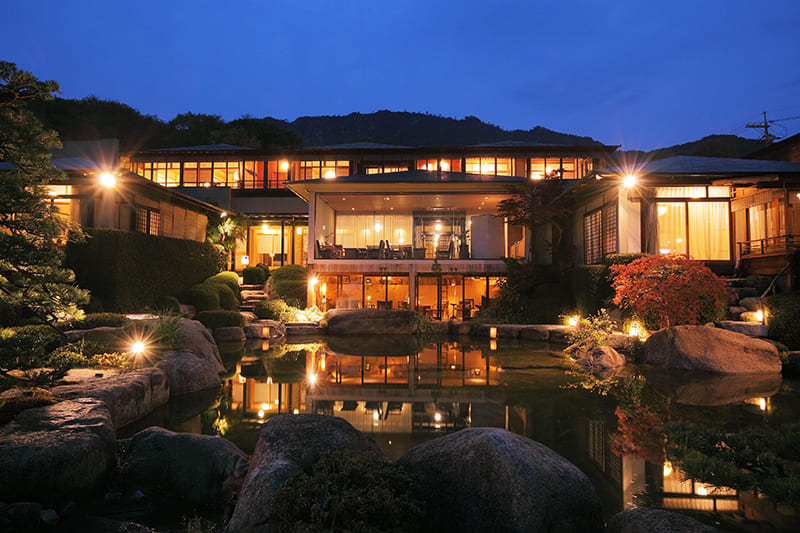 ---
素材が引き立つ引き算の発想が、広島・宮島口の食を変える。
世界遺産、厳島神社がある広島・宮島口に古民家を再利用したレストラン〈Akai〉は佇む。
広島で生まれ育ったオーナーシェフ、赤井顕治はフランスの名店で修業しているが、スペシャリテである生落花生のお粥は日本料理である。
「これはほぼ水と塩と素材だけで成立する一品。であれば、それ以上、素材はいらない。この一品で店の方向性が決まったんです」(赤井)
おまかせコースは素材を主役にした料理が続く。ウマヅラハギの造り、香茸の茶碗蒸し、治部煮に着想を得た地鶏の一品。メインの愛媛・八幡浜産の石鯛と北海道産の蝦夷鹿は炭火焼きに。この蝦夷鹿にようやく、フレンチの赤ワインソースが添えられる。
「"うますぎない"味を目指しているので、うまみを濃縮させるフレンチの技法はほぼ使いません。料理のジャンルはノージャンル、僕の料理です」
それは赤井が真摯に素材と向き合った結果だ。今後は宿泊棟を建てる計画もあるという。有名な観光地とはいえ、ガストロノミーなレストランがなかった土地で、赤井がチャレンジする意味は大きい。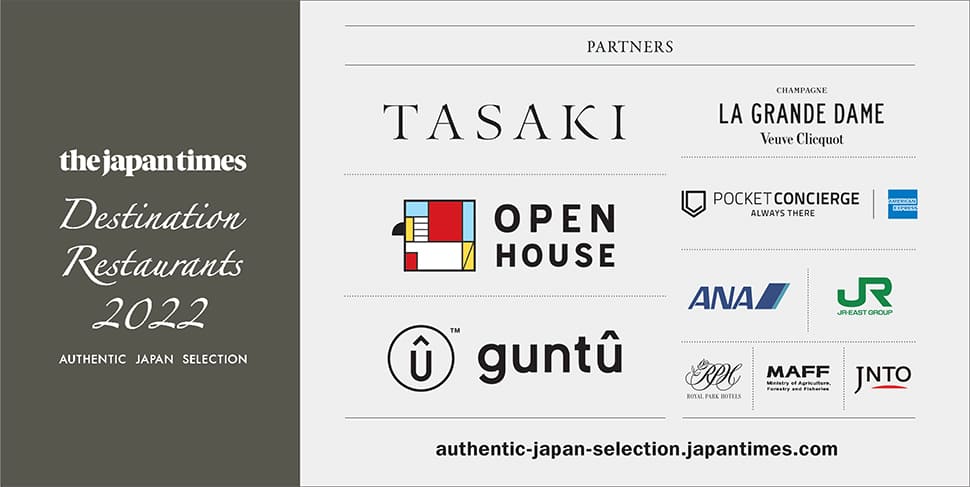 Return to Sustainable Japan Magazine Vol. 18 article list page