August 25, 2023
6 Six: Popular French restaurant on small Okinawa isle
Destination Restaurants 2023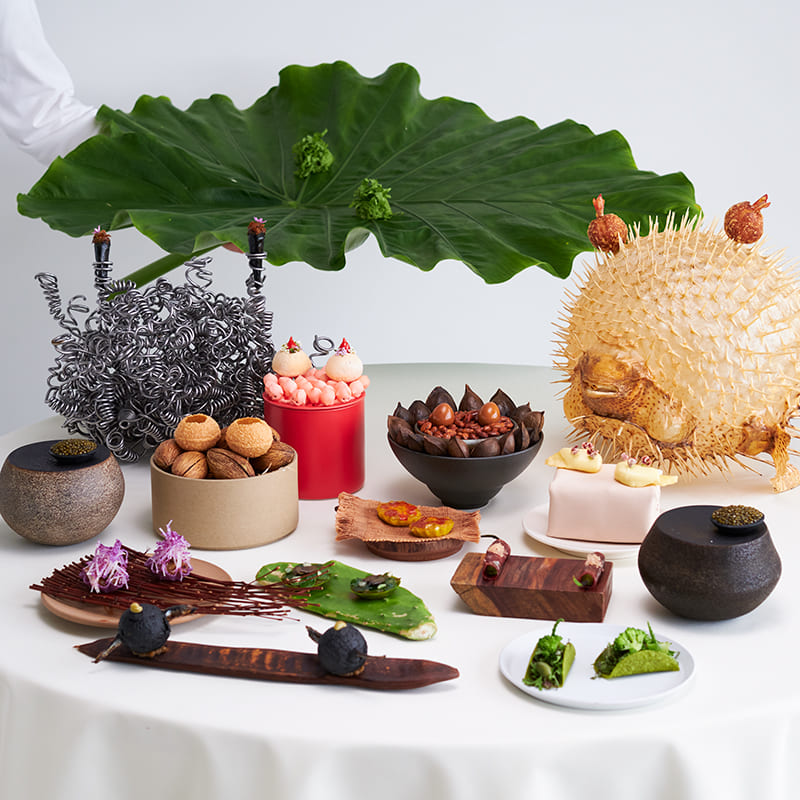 Situated in the southernmost part of Japan, Okinawa Prefecture is made up of four large islands — the main island of Okinawa plus Miyako, Ishigaki and Iriomote — and 160 small ones. The prefecture has a thriving construction industry and primary industries, and produces vegetables and fruits such as gōya and mango. A variety of fish are caught there, including maguro (tuna) and katsuo (skipjack tuna), hata (groupers), called mibai in the Okinawan dialect, and takasago (double-lined fusilier), known locally as gurukun. In addition, Okinawa is Japan's largest producer of mozuku, a type of edible seaweed. But the region's No. 1 industry is tourism. Until recently, travel agencies showcased regional cuisine like Okinawan soba and chanpuru stir-fry, but the past few years have seen an increase in luxury hotels with adjacent fine-dining restaurants, and tourism centered on gastronomy incorporating Okinawan food culture has started making its way into the limelight.
The island of Kouri, home of the French restaurant 6 Six (pronounced "shisu," like in French), is part of the village of Nakijin in the north of the island of Okinawa. Recently Kouri has been undergoing development and gaining attention as a new beach resort. With the ruins of Nakijin Castle (a World Heritage Site) located nearby, this is also an area where visitors can experience the history of the Ryukyu Kingdom period. Crossing Kouri Bridge (while taking in the spectacular ocean view) and ascending a mountain path brings you to the restaurant. Along with its cuisine, its location has made it a hot topic among gourmets throughout Japan.
Owner-chef Hiroyuki Kosugi moved to the area in 2018 after closing the doors of his restaurant in Nagoya, where reservations had filled up as much as eight months in advance. Kosugi then launched 6 Six. He had actually been thinking about relocating to Tokyo, but with the birth of his child he decided to start a restaurant in Okinawa, his wife's home region. He chose this location, which affords an ocean view from every seat. After the first two years, however, 6 Six was ¥18 million ($125,000) in the red. Just when Kosugi was thinking of closing, the COVID-19 pandemic changed the situation completely. More and more Japanese, unable to travel overseas, went to Okinawa instead. Many opted to eat at 6 Six — and the restaurant gained a reputation through social media.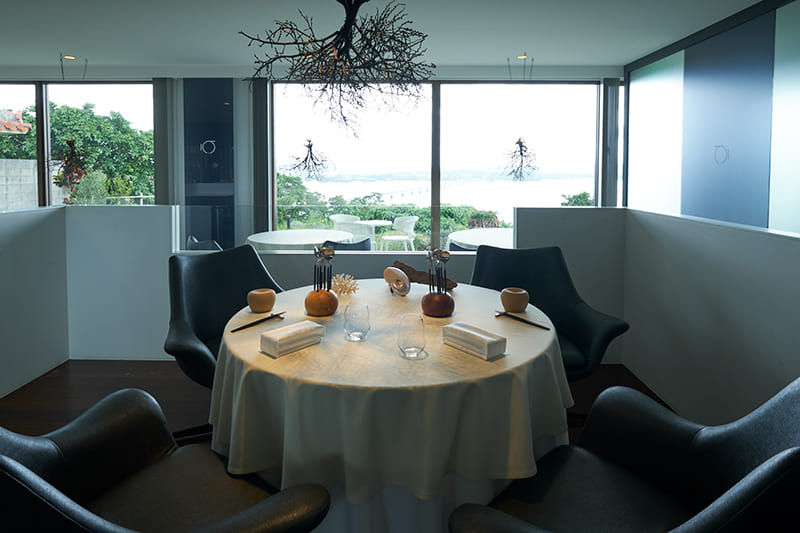 This isn't surprising, given how visually striking Kosugi's course menus are. "I aim for cuisine that won't be outdone by the ocean view," he said. "With everything I make, I start with a sort of fantasy vision — what if there were a dish like this? — and then bring it to life." He even gets messages from star-awarded chefs he has never met, saying, "Where do your concepts come from?" A succession of dishes is presented in highly original ways, such as arranging deep-fried breaded tiger prawns on a dried porcupinefish blown up like a balloon. At first glance it may look eccentric, but, as Kosugi explained, he has a reason: "What's there before my eyes is the sea, so even a porcupinefish can become a 'bowl.'" His appetizer of daikon radish sprinkled with colorful vegetable powders is a taste sensation, with the vegetable flavors spreading in layers over the taste buds. About 70% of the ingredients in these dishes are local products — including wild plants like katabami (creeping wood sorrel), which he gathers while walking around the island each morning before work. Kosugi said it took him over a year to persuade farmers to grow the ingredients he considered ideal and to get fishermen to yield up the types of fish he wanted for his dishes.
"Five years after moving here, I'm still an outsider," said Kosugi. "But there's no point in running a restaurant here unless I have good relations with the local people."
Incorporating local foods like jimami tofu and mozuku into French cuisine, Kosugi is working toward a synthesis with Okinawa.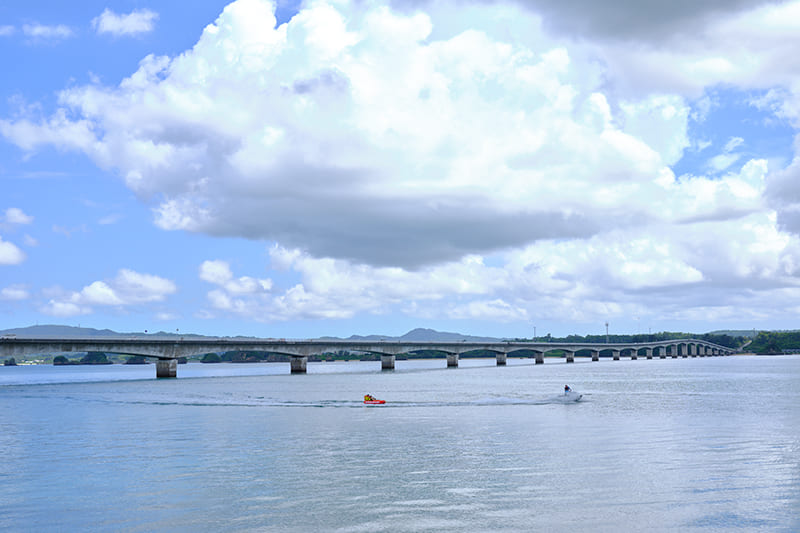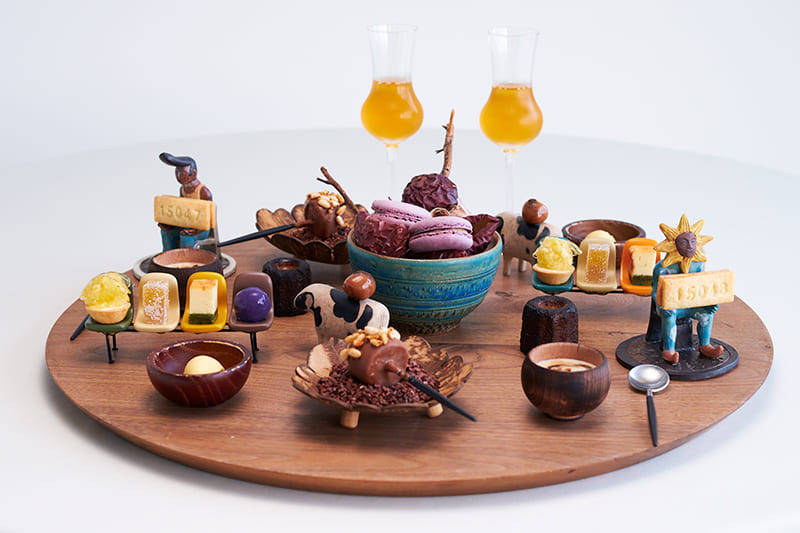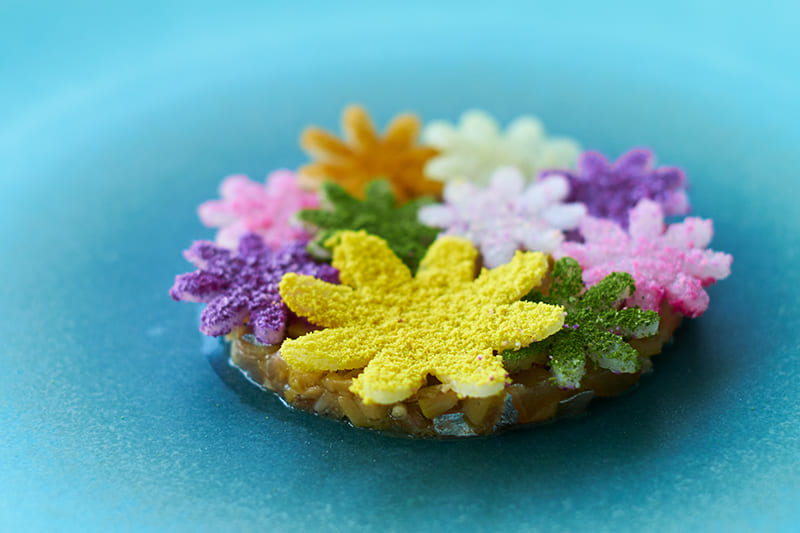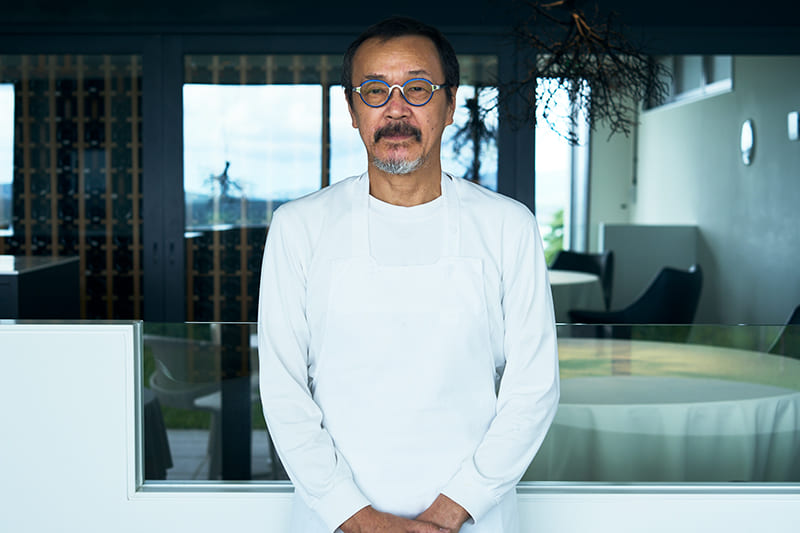 HIROYUKI KOSUGI
Born in Mie Prefecture in 1962. When he was 16, Kosugi started teaching himself to cook from old French cookbooks. At 22 he started a cafe in Nagoya, serving regional French dishes such as coq au vin. In 2008 he opened Chez Kosugi, a restaurant specializing in game meat, and in 2015 he reimagined the restaurant under the name Il etait une fois, offering a course menu of 18 to 20 dishes. In 2018, Kosugi moved to Okinawa Prefecture and opened 6 Six.
---
沖縄の、さらに島にある人気のフレンチレストラン。
沖縄では従来、郷土料理が観光の目玉だったが、最近では地元色を反映したガストロノミーも注目されるようになった。今回紹介するフレンチレストラン『シス』は、近年ビーチリゾートとして脚光を浴びる古宇利島にある。
オーナーシェフ、小杉浩之は2018年に愛知県名古屋市からこの地に移住。『シス』を構えた。最初の2年間で1800万円もの赤字を出したが、コロナ禍で状況が一変。海外旅行に行くことができなくなった人たちが店に来るようになり、SNSによって店の評判が広まった。
それも頷けるほど、小杉が手がけるコースは華がある。カラフルな野菜パウダーをまぶした大根の前菜は、その色の野菜の風味が味覚的にも意味を持つ。そんな料理の素材は小杉が朝、出勤するまでに島中を歩き回って摘んでくるカタバミなどの野草をはじめ、地元産が7割を占める。生産者から理想の食材を譲ってもらえるようになるまで1年以上かかったという。「地元の人と仲良くならないと、ここで店をやる意味がありません」。小杉の沖縄での挑戦はこれからも続く。
Return to Sustainable Japan Magazine Vol. 27 article list page