November 25, 2022
Okinawa modern artist explores conflict, future
ART
By FUMIKO SUZUKI, TRANSLATOR:EDAN CORKILL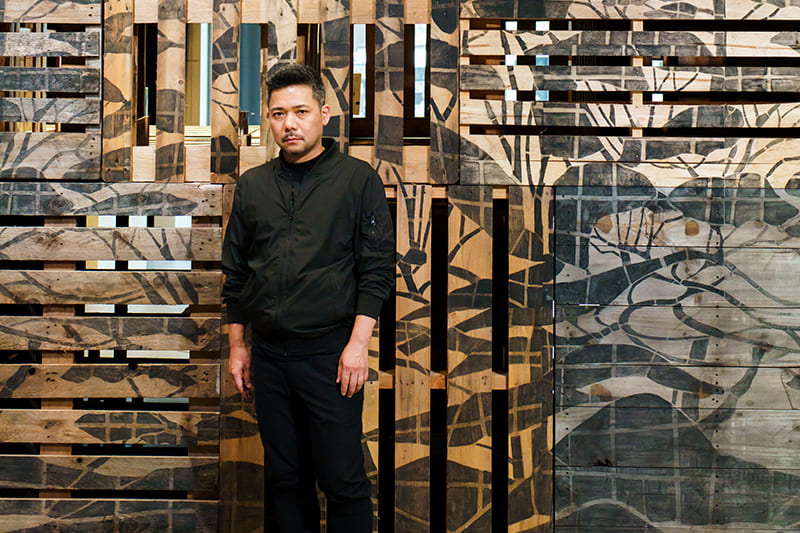 YUKEN TERUYA
Born in Okinawa in 1973. Teruya received his bachelor of fine arts degree from Tama Art University, Tokyo, in 1996, and his master of fine arts degree from the School of Visual Arts, New York, in 2001. He currently resides in Berlin. His major solo exhibitions include "CHORUS: History, Nature and Us" (Naha Cultural Arts Theater NAHArt, Naha, 2022) and "My Great Grandma is USA" (Ueno Royal Museum, Tokyo, 2021). He has also participated in many group exhibitions at the Pompidou Center Metz and other museums around the world, and at the Sydney Biennale and other international exhibitions.
Contemporary artist Yuken Teruya was born in Okinawa and now lives and works in Berlin. Born in 1973, the year after Okinawa reverted to Japanese control, he uses his art to explore the many issues currently facing Okinawa — including the long-term existence of U.S. military bases and the degradation of the local natural environment — as well as the future that lies ahead for the island. After graduating from an art university in Tokyo, he studied in the United States and launched his career as an artist in New York. Although he has lived abroad for more than two decades, he says the issues facing Okinawa have never been far from his thoughts.
To mark the 50th anniversary of Okinawa's reversion to Japan, a special exhibition of Teruya's art titled "CHORUS: History, Nature and Us" was held at the Naha Cultural Arts Theater NAHArt in the city of Naha in May and June. The exhibition took its name from a large new installation, "CHORUS," which was made by stacking 150 wooden pallets to a height of over 5 meters. Trees drawn on the front symbolically represent Okinawa's Yanbaru forest and utaki (sacred sites in the Ryukyu Shinto religion). Look closer and you can see English newspaper clippings with articles covering the Ukrainian war pasted on the pallets, while Ryukyu pottery and local banana-fiber cloth is placed in the gaps between them. In this way, nestled within "nature" are the activities of people from ancient times to the present day. Despite its simple appearance, the work is deeply thought-provoking.
The idea of a "forest" of pallets suggests a process of returning man-made objects (the wood used in the pallets) back to nature, and so it is no surprise that Okinawa's Yanbaru forest and natural environment in general are an important source of inspiration for Teruya. One of his best-known works is his "Notice-Forest" series, in which paper shopping bags from fast-food outlets and luxury brands have been delicately cut into the shapes of trees, creating the impression that a single tree has been planted inside the bag. The works strongly convey Teruya's stance of reexamining the relationship between consumerism and nature.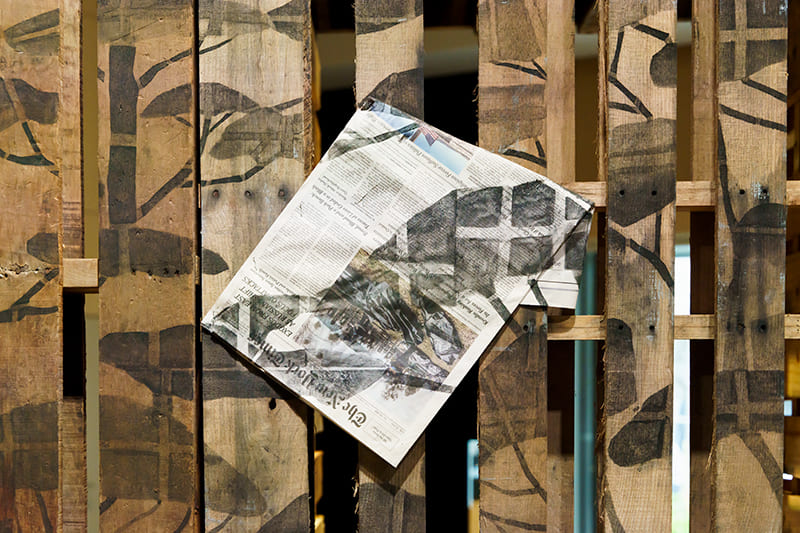 "I have loved the forest since I was a child. My mother was involved in protecting the environment, so I often heard about the importance of Okinawa's nature," he said. "The reason I use common items like pallets and paper bags in my work is because they serve as a bridge between the creator and the viewer. I think these man-made objects can help us reaffirm the nature inside us and the connections we all have to nature."
Another of Teruya's well-known series of works involves bingata, a traditional Okinawan dyeing technique. Bingata, which developed during the Ryukyu Dynasty (1429–1879), is known for its sophisticated designs and vivid colors. Teruya has created a multifaceted series of works in collaboration with bingata artist Koji Kaneshiro that depict the present-day reality of Okinawa using a traditional aesthetic. For example, "You-I, You-I" is a bingata-dyed garment shaped like a traditional Ryukyu dance costume or furisode kimono. It includes classical patterns and colors featuring flowers and birds, but it also skillfully incorporates topical and political imagery such as U.S. paratroops, Osprey military aircraft and endangered dugongs.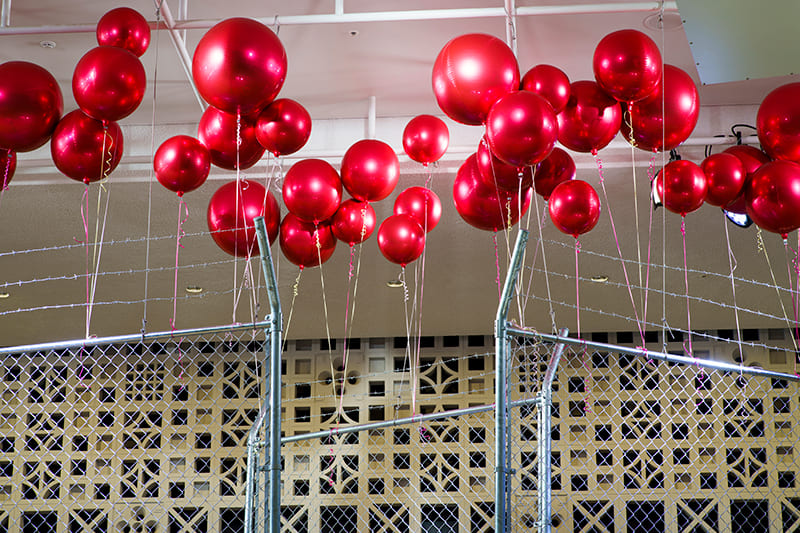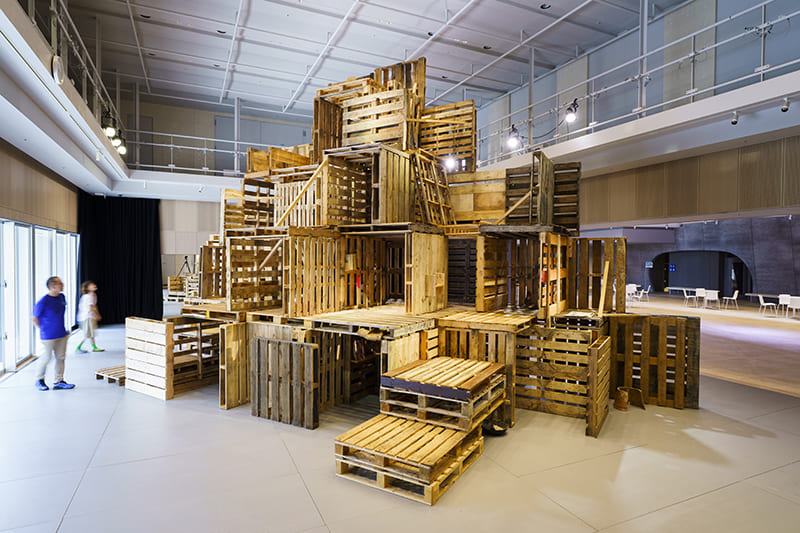 "Bingata is a traditional culture that is unique to the Ryukyu Islands. By using it to create art, I thought I could examine the present from the perspective of the past," he said. "Traditional bingata is not only beautiful, but also has a dignified strength to it. I thought that if I was to make my own bingata works then I also needed that kind of strength. The 50 years since Okinawa reverted to the mainland is a history of conflict. The beauty of bingata, the pride of the Okinawan people, is also a manifestation of their will to stand up once again in a difficult situation." "You-I, You-I" was exhibited in a group exhibition at the U.S. ambassador's residence in Tokyo in 2004. And at the request of the ambassador and his wife, it remained on show at the official residence for about a year afterward.
"If this had been a text-based or spoken message against U.S. military bases, I don't think it would have stayed in the ambassador's residence, which is essentially a political venue, for a whole year. It was the use of bingata that made this possible. I still clearly remember the ambassador's wife telling me during the group show, 'There is meaning in this work being exhibited in this place.'"
Another series of works called "Heroes" also make use of bingata dyeing. These are portraits of people made using bingata dyeing who are closely related to Okinawa, such as the singer Namie Amuro, the boxer and celebrity Yoko Gushiken, the television character Ultraman and the politician Kamejiro Senaga. Tetsuo Kinjo, who co-wrote the screenplays for the "Ultraman" TV series, was born in Haebaru, the same town as Teruya, in the southern part of the main island of Okinawa.
The pop sensibility seen in "Heroes" is a common thread in Teruya's work. Although he has a keen perception of the difficulties facing Okinawa, he says it is important not to resort to anger or shouting, but instead to occasionally use humor.
"If you keep repeating the same expressions of anger, the viewers get tired," he said. "So by not getting angry and instead adding in some humor, I hope my work is easily relatable. Rather than focus on criticizing the present state of affairs, I think it's the role of the artist to express what lies beyond that."
The work "To the Sky," which was included in the "CHORUS" exhibition, is an installation that looks like steel fences being held aloft in the air by dozens of balloons. The fences are a symbol of the division imposed by the U.S. military bases, and by raising them into the air, Teruya has created a space where people can come together beneath them and exchange opinions. The word "CHORUS" describes a situation in which several different voices are uttered simultaneously. Through many years of life in New York and Berlin, Teruya has become deeply aware of the importance of respecting diversity. Perhaps his greatest goal as an artist is to creating a space where diverse personalities and opinions can coexist without division.
"Division means that the world is perceived as a confrontation between friend and foe. Okinawa has various problems, but I hope through my work I will continue to accept a range of opinions and create a place where a broader understanding can be nurtured," he said.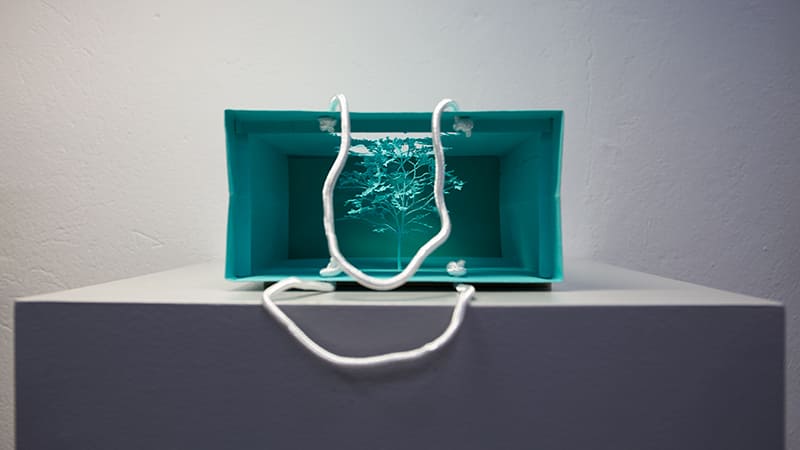 ---
現代アートで沖縄の現実と未来を軽やかに表現する。
沖縄出身でベルリンを拠点に活動する現代美術家の照屋勇賢。沖縄が本土に復帰した翌年の1973年に生まれた彼は、長年に渡って米軍基地の存在や環境破壊など沖縄が抱える多くの問題とその先に見据えた未来をテーマとした作品を作り続けてきた。
本土復帰50年に当たる今年の5月と6月、那覇市の那覇文化芸術劇場で彼の特別企画展が開催された。新作の《CHORUS》は150枚の木製パレットを積み上げた巨大な作品で、沖縄の森や聖地をシンボリックに表現している。「子供の頃から森が大好きで、自分にとって沖縄の自然は樹という象徴的なものに集約されています」
照屋の代表作品に、沖縄の伝統的な染色技法の紅型を用いた作品がある。紅型作家との協働で作られた一連の作品は、伝統的な美意識のなかに沖縄の現実を描き出す重層的な表現となっている。「古典的な紅型は美しいだけではなく、凛とした力強さがあります。沖縄の誇りである紅型の美しさは、厳しい状況のなかでもう一度立ち上がっていくという意志の現れでもあるのです」
Return to Sustainable Japan Magazine Vol. 18 article list page