March 31, 2023
Athlete, entrepreneur Carole Fuchs raises awareness
Kerry Furukawa Contributing writer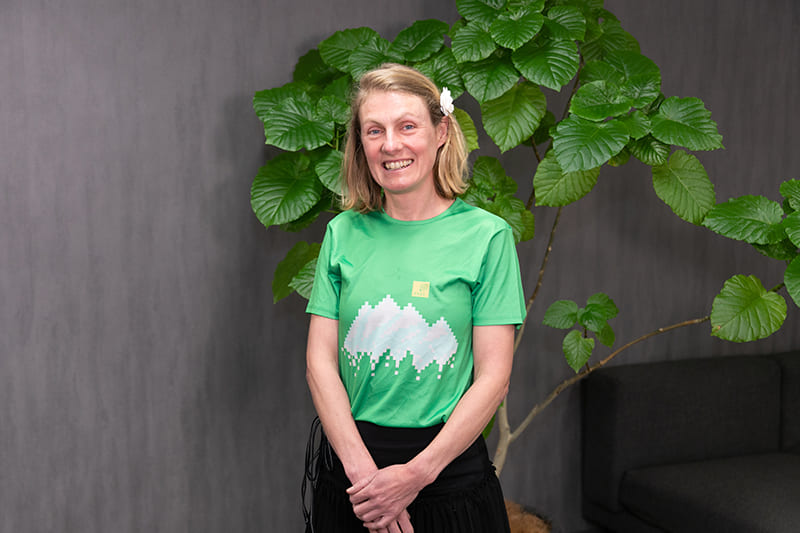 Carole Fuchs is always ready to climb a mountain. If she has had a bad day, she conquers a peak and forgets her worries. She has climbed Mount Everest, and now has an ambitious plan to trek the Great Himalaya Trail at the highest possible point over Nepal.
Fuchs is a self-described nature lover who was absorbed by adventure TV programs as a child and went on an expedition to the Sahara Desert when she was 16 years old. Her reason for being enamored with the outdoors is simple: It's natural.
"This is the place I'm the happiest on Earth, in nature," she said. "If I'm not in nature, I'm just literally dying. So yeah, I cannot stay in town too long. I think nature gives me energy.
"Maybe it's scientifically proven that when you are in the forest, trees and nature release some hormones [so] that we can just be like in harmony with them, and I really believe this is true, so this is my element."
Fuchs sat down with Ross Rowbury at The Japan Times Sustainable Roundtable 29 on March 16, discussing how her love of nature has led to lobbying, climate change activism and advocacy for more sustainability in sports.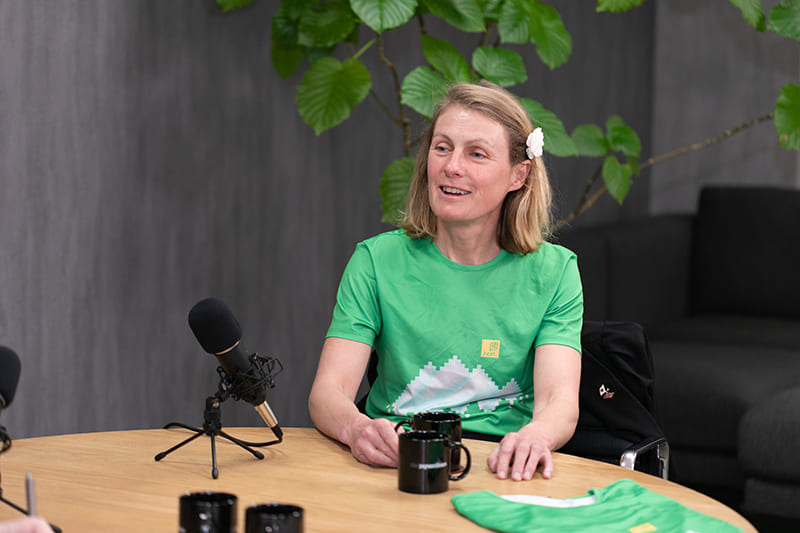 During the course of the conversation, while explaining her journey to Japan, Fuchs mentioned quite casually that she had climbed Mount Everest. The Japanese company that sponsored her climb later invited her to work for it in Tokyo. Prodded by Rowbury, she said Everest was an interesting, though not intimidating, experience.
"Actually, I'm training a lot, so I'm always more or less ready to go, so this was not so daunting. But I tried to be the first French woman to climb it without supplementary oxygen. And this was really stressful. This was a goal within the goal. So it was really hard." She did end up using bottled oxygen but also suffered eye edema on the way down due to having gone so long without it.
Five years after Everest, Fuchs has more alpine aims, and plans to merge climbs with raising awareness about climate change.
"I climbed mostly in the Himalayas and the highest mountain, so a few 8,000-meter peaks, 7,000-meter peaks. So I spent a lot of time there. And through my own eyes, and through the eyes of the local people I was talking to, I noticed the glacier dying, literally, so this is really obvious. The glacier layers are receding and the avalanches are more frequent," she said.
"It's also [evident in] the climbing seasons. For example, Mount Everest: The climbing season now is a bit confusing, so you can climb longer. Fifty years ago, the weather window was really like May, just one month. Now you can push a little bit further. So you have the winter expeditions — more and more people can succeed in climbing the mountain in winter. That was harder back in the day, so the seasons are changing."
To alert others to these changes in what she calls a 'positive way,' Fuchs wants to travel with a cameraman across the Great Himalaya Trail. Along the way, she intends to document the effects that climate change is having not only on the physical environment, but also on the livelihoods of people in some of the communities most vulnerable to its impacts.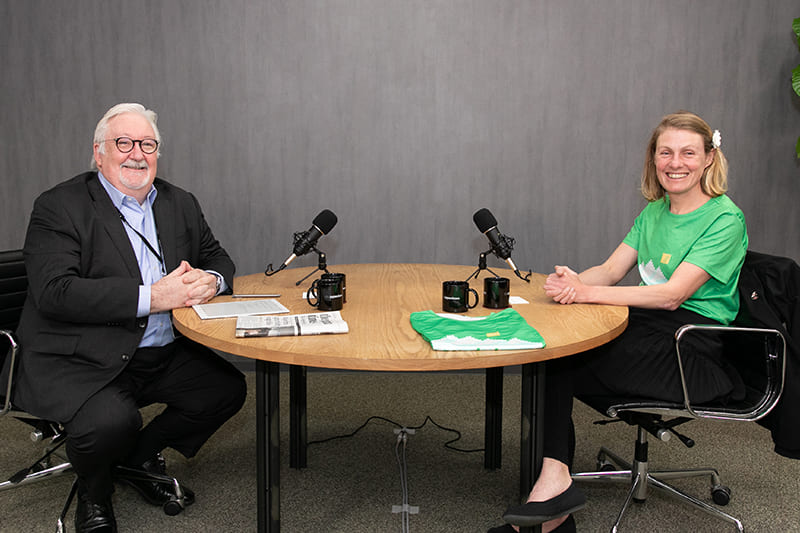 "It has to be double-sided. It's not just a Western girl going there showing things. It's also us interviewing the locals about what they are thinking, what's the voice, what they want to raise about their situation."
Fuchs' goal within the goal this time will be to become the fastest or one of the fastest women ever to make it across the trail.
Other aspects of her climate activism include her Green Athletes initiative, in partnership with the Kyoko-based nonprofit Kiko Network. One objective of the project is to document athletes' observations about climate change. The idea is that as athletes often witness firsthand the effects of climate change, their voices can help raise awareness of the problem.
Additionally, to address the volume of waste generated by clothing, Green Athletes is focused on creating sustainable sportswear. One of Fuchs' products, which she wore during the interview, is a T-shirt made of recycled plastic bottles and bamboo fiber.
"My idea is very simple, actually: just creating sports clothes made of recycled and natural elements," she said. "For example, making a T-shirt like this one. The textile is made of 50% recycled PET bottles and 50% of bamboo fiber. Why? Because, you know, we as athletes like to have technical gear, so the bamboo is actually very good — it's breathable but anti-odor, it doesn't stink, so it's great for sports.
"The full picture is like: this T-shirt, you get it, you buy it, then when it's damaged or when you don't need it anymore, you send it back. We recycle it and we give you another T-shirt. The T-shirt never ends up in the gomi (garbage). Basically, it's recycled and it just keeps circulating."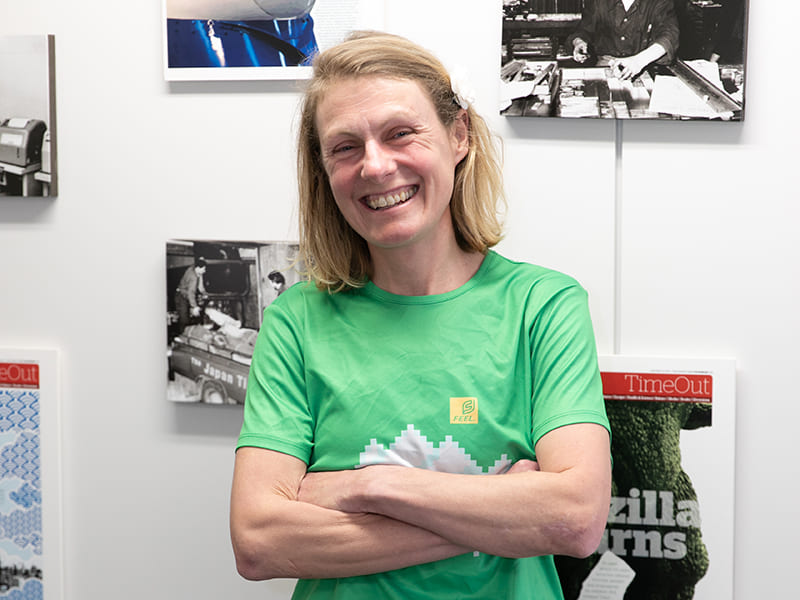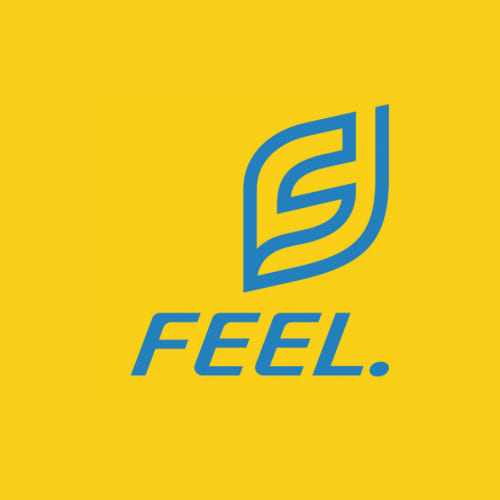 Even in her day job, as policy director at the British Embassy in Tokyo, Fuchs is engaged in work to protect nature — her best friend. Her post involves lobbying the Japanese government to align some of its climate policies with the U.K. government's. Fuchs believes government policies must provide a framework for individual action against climate change to be effective.
"Because if we do clean up, we can clean up all our lives. But if the government is not changing things like the packaging ending up in the rivers, it's like Sisyphus climbing the mountain with the stone, always falling and just climbing back up. So if we don't have the policy, then this is less impactful."
However, she acknowledged that it is not always easy to get countries within and outside the Group of Seven, of which Japan and the U.K. are members, to agree on environmental policies. One factor is countries' different economic situations, which influences their approaches.
"I think it is very important to constantly lobby each other, and this is helping us to raise our ambitions as a group (the G7)," she said. "We are, like, constantly kindly saying to each other, 'OK, what are you doing in this field?' 'OK, we are doing this, so why not work together to just improve the situation?'"
Public education about environmental issues can help people determine what actions to take. And Fuchs believes the biggest thing she or anyone can do for climate change is to think. For instance, she used to commute to Tokyo from Nagano by bicycle, stopping at shops along the very long journey for food. However, it occurred to her that perhaps there was a more sustainable way to travel daily. Not to mention that it was very demanding.
"Maybe if I have a vehicle powered by green energy, I will be more sustainable," she said. "The carbon footprint will be less than just riding my bike and eating plenty of carbs, and we are talking about sustainable agriculture — how the food is produced, the carbon footprint of food versus energy. So it's complicated. We have to make it like a game. For me, it's like a video game: OK, how can I save my carbon footprint today?
Click the link below to watch the interview