February 23, 2020
Proper data breakdown key to good policy
Japan Times Satoyama Consortium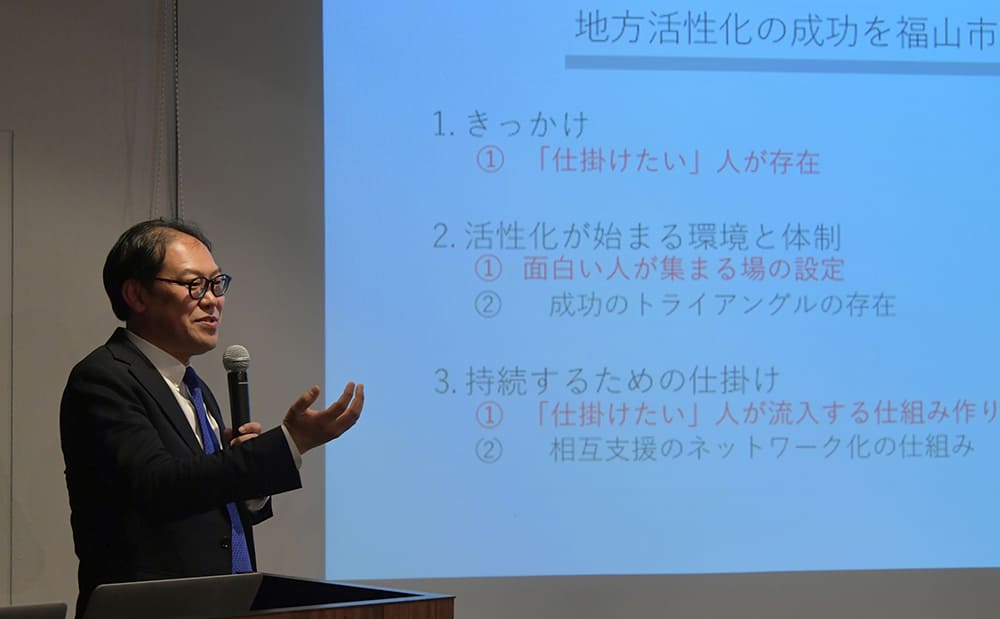 "Data forms only part of the truth. It does not explain everything," said Naoyuki Sawa at the 11th Satoyama Cafe held on Dec. 16 in Tokyo.
Co-hosted by the Japan Times Satoyama Consortium, the Chiiki Ouen (regional support) Bash community organization established by Gaiax Co. and Ouen Fes, the event was a chance for Sawa to express his views on the effective use of data in policy making and regional development.
Sawa is representative director of Community Future Design, a firm that specializes in providing consultancy and support to local governments and enterprises on regional development and policy making. "If you focus only on data, you may miss other important factors," he said.
Sawa indicated that generally speaking, people involved in regional development tend to be overly optimistic. Random collections of data are mistakenly thought to provide solutions.
"The correct procedure is that we set a target first, and then collect and analyze the kinds of data necessary to achieve this target," Sawa said.
Sawa, who studied mathematics at the University of Tokyo, worked for the Ministry of Posts and Telecommunications (now the Ministry of Internal Affairs and Communications) for 25 years. While there, he worked across various domains from product development and finance to management planning and strategy. He also visited the country's 47 prefectures as part of his work.
In his final years working as a ministry official, Sawa engaged in the privatization of postal services and helped Japan Post Holdings Co. get listed in 2015. That was also the year when Sawa quit his job and founded his own organization.
Over his career, Sawa came to realize the importance of evidence-based policy making. Before reaching this point he had often stressed that people needed a clear understanding of exactly what data is and how it should be used.
"Many people working in regional revitalization believe that decreases in a region's population can be halted by making the local high schools more appealing," Sawa said. There is data to suggest this and many examples also support such ideas. However, Sawa noted that what this really means is that if regional efforts can be made to make local high schools appealing, then conditions are ripe for other initiatives to make and keep the region vibrant, which comprehensively solves the problem of population decline.
"Correlation and causality are two different things. You need to think about the reasons behind the data. If you don't and make policy decisions based simply on reading data at face value, you will be making false policies," Sawa said. He explained that data helps people narrow down the range of where "correct answers" may be found. Data, however, does not tell them what exactly such answers are.
At the Satoyama Cafe event, Sawa presented an example of how data is being used effectively to improve various events held in the city of Fukuyama, Hiroshima Prefecture, where he acts as a policy adviser.
"Simply counting the number of an event's visitors — which municipalities tend to do — would not be very useful," he said. Therefore, in Fukuyama, workers broke down the kinds of data collected during an event to gather figures such as when during the event had most and least visitors; how many seats were vacant, and if there were any differences in attendance for free versus charged events. Although such breakdowns in data could not exactly pinpoint what indicated a good event, "It gives you an idea of what to expand or to discontinue in order to improve the event itself and the efficiency of its planning," Sawa said.
Offering a few more examples of regional revitalization in the cities of Gotsu and Unnan in Shimane Prefecture, and the town of Suo Oshima located on an island in the Seto Inland Sea, Yamaguchi Prefecture, Sawa stressed that successful municipalities tend to have three common characteristics.
Firstly, there exists a person or a group with a strong sense of crisis. Secondly, the welcoming environment and structure are favorable toward facilitating revitalization. Thirdly, there are effective mechanisms to make revitalization sustainable; for example, a system to secure and develop leaders and entrepreneurs, and a support system for such people.
"Some of these successful municipalities have taken in new residents, including second- and third-generation residents who had once left their hometowns," Sawa explained. "The first and second generations don't always get along, but people tend to be supportive of the third generation, making it easier for young people to try new things."