July 26, 2020
Japan alliance hopes to recycle 100% of plastic products by 2050
Japan Clean Ocean Material Alliance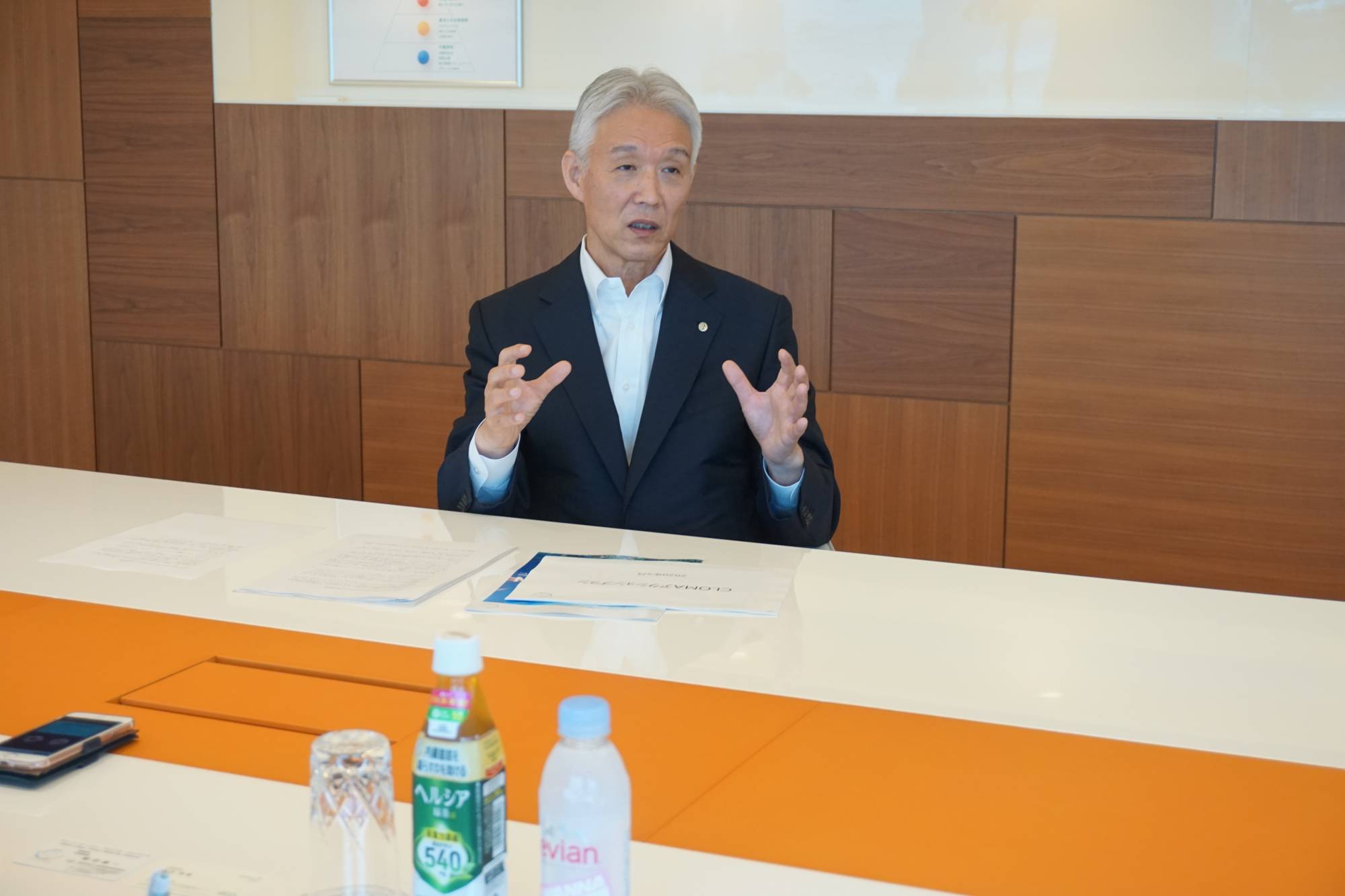 With 2015 research led by University of Georgia professor Jenna Jambeck revealing that approximately 8 million tons of plastic waste flows into the ocean every year, combating marine plastic litter has emerged as a major global challenge.
Since the challenge is too immense for a single company to tackle, the Japan Clean Ocean Material Alliance (CLOMA), an alliance of cross-industrial companies, was established in January 2019 and aims to achieve 100 percent recycling of plastic products such as containers and packaging by 2050.
In a recent interview with The Japan Times, CLOMA Chairman Michitaka Sawada said that CLOMA will combine the powers of technology, collaboration and execution of the participating companies to take concrete actions to achieve the goal rather than just share information and build common awareness.
"We want to make CLOMA a group of proactive companies that put ideas into actions," said Sawada, who is also the representative director, president and CEO of Kao Corp., a major Japanese consumer products and cosmetics manufacturer.
In May, CLOMA announced the action plan that includes five key targets. Those are the reduction of plastic usage; the enhancement of material recycling, which means reprocessing used plastics into new plastic products; the development and social implementation of chemical recycling technology through which waste plastics are chemically processed into raw materials for industrial use; the development and use of biodegradable plastics; and the development and use of paper and cellulose materials.
CLOMA will pursue these key actions in specific demonstration experiments. It boasts 342 member companies as of June 25, and those members constitute the value chain of the production, utilization and disposal of plastic products. The member firms will take part and contribute in pursuing those key actions and demonstration experiments.
The experiments that will kick off this year include collecting used polyethylene terephthalate (PET) bottles to increase the recycling rate from the current 85 percent, material recycling of packages of toiletry products that often come with residual liquid, making compost or biogas out of biodegradable plastics and recycling paper-plastic composite material waste.
Experiments starting in 2021 will include reducing plastic use in mouthwash containers by thinning the material and other means and chemical recycling of multilayer, composite plastics and seriously contaminated or stained plastic containers and packages.
The purpose of the experiments is to find potential challenges that need to be addressed before proceeding to the second phase of the action plan involving submitting requests to the government to implement new systems and proposing new social systems.
"We plan to use successful examples of Japan to support global communities," Sawada said.
With so many member companies, there are more than a few in each business sector that are usually competing with each other in the market.
But Sawada thinks that there are technologies that can be standardized and shared to benefit many stakeholders beyond competition. He also encourages the creation of licensing businesses through collaborations among member companies. That way, companies can protect themselves as licensers while they also benefit from technologies developed by other companies or joint projects as licensees.
"If we try to conduct our activities only in noncompetitive domains, our achievements will be very limited,'' Sawada said. "The important thing is how we can link our activities with business advantages in competitive domains, motivating member companies to actively engage in our activities."
Even before the announcement of the action plan, CLOMA had already been serving as a platform for collaborative efforts among member firms to tackle plastic waste issues collectively. Within only about a year and a half, it has produced a number of successful instances of business matching that resulted in the creation of new solutions to reduce, reuse and recycle plastics.
One example is the collaboration between Toppan Printing Co. and GSI Creos Corp. to create biodegradable plastic bags. By combining Toppan Printing's film manufacturing technology with GSI Creos' biodegradable resin Mater-Bi made of plant-derived polymer and corn starch, they managed to create biodegradable bags that have been sold since December last year.
Similarly, Kaneka Corp. and Seven-Eleven Japan Co. jointly developed biodegradable straws. They started to introduce the straws at Seven Cafes across the country in November last year, with an aim to replace plastic straws with biodegradable ones at 10,000 stores.
Another example of business matching is between Kitamura Chemicals Co. and Nippon Paper Industries Co. They cooperated with each other on matching foam barrier trays developed by Kitamura Chemicals and paper barrier lids produced by Nippon Paper Industries. As a result, they were able to reduce plastic usage by 40 percent compared to conventional combinations of containers and lids used mainly for food packaging.
Sawada noted that such business collaborations that benefit both companies involved, as well as society, are the ideal ESG (environmental, social and governance) initiatives.
"It's not sustainable for companies to bear too much of the costs of making ESG efforts," said Sawada, stressing that the key to continue social contribution is to do it in a way that makes sense from a business perspective. "Such continuous efforts will result in long-term returns for companies in the form of higher corporate value that leads to increased profit," said Sawada.
Sawada hopes that there will be as many business collaborations as possible, not only among the member companies, but also between member companies and academic institutions.
"We are not making the most of academic achievements yet. If we can create a framework where new technologies can be shared while companies and academic institutions can be connected, I am sure we can create more successful examples," he said.
Accumulation of successful examples of creating and implementing new solutions to reduce plastic waste will help accelerate the global expansion of CLOMA's activities.
"We are working with the Indonesian government as a start. Indonesia is still at the initial phase of taking measures against marine plastic pollution," Sawada said.
This initial phase involves Indonesia starting with raising awareness and installing trash cans in various places where people have been throwing garbage on the street because there were previously no places to dispose of it properly.
"Waste has to be collected before it is processed. We can apply Japan's successful examples where they would fit, but we also need to consider circumstances and policies unique to the country," he said, adding that the knowledge and experience CLOMA gains from cooperation with Indonesia will be useful for future projects with other countries.
"With various new means available such as remote meeting systems nowadays, it is easier than ever before to carry out international projects," Sawada said.
Sawada is confident that CLOMA will be a platform where stakeholders can make collective efforts in creating, using and promoting new technologies.
"Plastic products have been around for decades. The issue of marine plastic waste is not something we can solve in a year or two. How fast we can do more than just restoring the environment depends on technologies and continued efforts," he said.