August 25, 2019
Businesses aim for increased sustainability
Japan Times ESG Consortium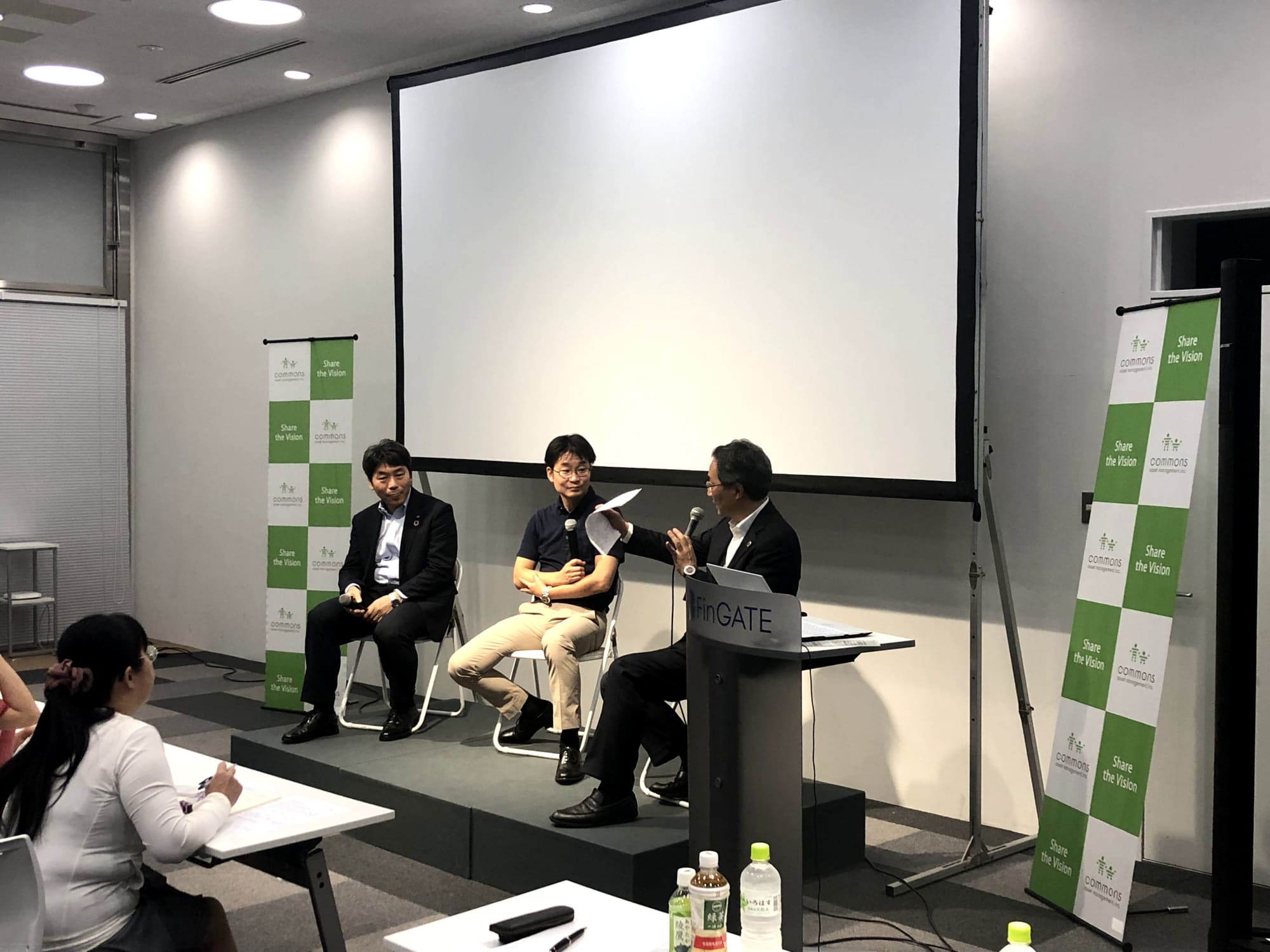 In response to the increasing problem of plastic waste worldwide, Commons Asset Management Inc., which focuses on long-term investment, organized a seminar themed around recycling plastic on July 26 in Tokyo.
At the seminar, two private sector representatives gave presentations about their recycling efforts. They were Satoshi Sato, senior officer of the Sustainability Development Department of Seven & I Holdings Co., and Masaki Takao, CEO and co-founder of Jeplan Inc., a company dedicated to creating a recycling-oriented society through its green technologies.
To start the event, Commons Asset Management Chairman Ken Shibusawa introduced the two speakers, saying, "I thought these two companies, one that is a major retailer whose change of plastic use would have a great impact on many industries, and the other that is an environmental venture, could be an interesting match if they could find a way to work together."
Sato from Seven & I Holdings, which has 69,200 stores in 18 countries and regions, said approximately 64 million people visit their stores every day.
"With so many people shopping at our stores, we are aware of the environmental burden we create," he said.
To combat this, the company launched its "Green Challenge 2050," a declaration designed to address four environmental themes — food loss and recycling, measures against plastic, reducing carbon emissions and sustainable procurement.
Of the four areas, Sato stressed that Japan in particular needs to take initiative in reducing plastic waste.
"Many of the headquarters of consumer product manufacturers are in European countries, while Asia is one of the major consumers. Japan ranks second in the world after the United States in terms of the amount of plastic waste per capita," Sato said.
One effort devoted to reducing plastic waste involved setting up polyethylene terephthalate (PET) bottle collection boxes in convenience stores; used bottles were processed to produce new ones at partnered recycling manufacturers' plants.
"We motivated our customers to return used PET bottles by adding Nanaco points to their Nanaco cards or Nanaco's mobile application as a reward for contributing to the PET bottle recycling," Sato said. "About 18 million people have participated in the program so far."
Nanaco is an electronic cash card specific to Seven & I Holdings stores.
Meanwhile, Jeplan's Takao, who launched the company in 2007, stressed the importance of making recycling a fun experience in addition to creating a new consumer culture based on recycling.
In this vein, Jeplan was created with the idea of turning used clothes into biofuel.
"Most of the used clothes people throw away are either burned or end up in a landfill," he said. "I thought that it might be possible to make biofuel from them by dissolving cotton fiber using enzymes to extract glucose."
Takao's idea proved to be true — Jeplan succeeded in separating glucose from cotton fiber and producing bioethanol by heating a mixture of extracted glucose and yeast typically used for baking bread.
"We created the technology and a plant to make biofuel, but the next challenge was to collect used clothes as efficiently and stably as possible," Takao said.
The company went on to collaborate with lifestyle goods company Ryohin Keikaku Co., better known as Muji, by placing collection boxes at storefronts across Japan in 2010.
"However, it was difficult to get people to take interest, and we failed to gather enough clothes to keep the plant going. We realized we needed to provide some kind of motivation for people to bring their old clothes to the collection boxes," Takao said.
This motivation came in the form of a surprising — yet effective — event designed to give people a taste of cinema science fiction in the real world.
"In the 1985 movie 'Back to the Future,' the version of the DeLorean time machine that came from 2015 can run on fuel made from garbage. Isn't that exactly what we were doing?" Takao said.
The event encouraged individuals across Japan to donate used clothes toward the ultimate goal of seeing a DeLorean powered by the company's biofuel cruise through Tokyo on Oct. 21, 2015 — the exact day the car travels to in the sequel. It was a success.
Jeplan's other achievements include developing a chemically based method of breaking down used polyester to a molecular level that can be repurposed into fabric for new garments. The company has also built a cutting-edge plant that processes used PET bottles into new ones with almost no impurities.
"It is always the consumers who have the ingredients for recycling," Takao said. "We hope to help consumers realize that their actions can change the world."