February 17, 2019
Companies awarded for financial supports
Japan Times ESG Consortium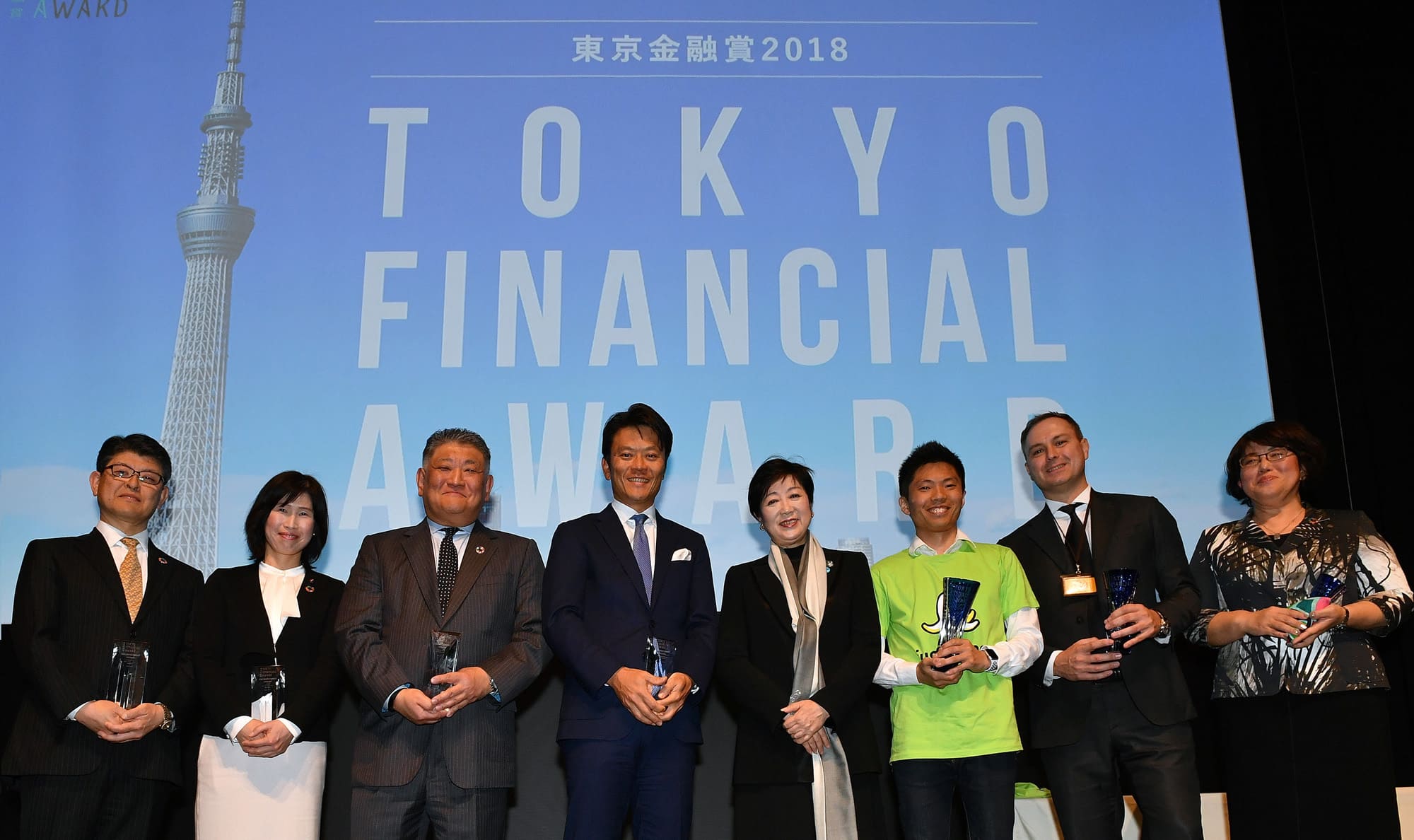 Seven companies received the Tokyo Metropolitan Government's inaugural Tokyo Financial Award in recognition of their excellent contributions to ESG (environmental, social and governance) investments or products and services aiding Tokyo residents' financial service needs.
ESG investment is a practice of investing in companies based on the level of their ESG-related contributions, rather than their financial performance exclusively, as well as using their shareholder status to get them more engaged in ESG activities with the belief that ESG-conscious companies will increase their value in the long term.
The metropolitan government created the award to make Tokyo an attractive international financial center as part of the "Global Financial City: Tokyo" vision, which it announced in November 2017.
"The world is changing rapidly and Tokyo must win in competition among cities in the world and thus must be a driving force to move the Japanese economy forward. For that, Tokyo must have power to earn money, and financial service is the core for that," Tokyo Gov. Yuriko Koike said at the award ceremony on Feb. 5. "We would like to make Tokyo a city where talents, money, information and technology gather."
The award is divided into two categories. Four companies won the award in the "ESG investment" category and three were honored in the "resolution of Tokyo residents' needs" category.
Neuberger Berman East Asia Ltd., Robeco Japan Co., Sompo Holdings Inc. and Sumitomo Mitsui Trust Asset Management Co. were the winners in the ESG category.
Based in New York, Neuberger Berman began its long history of ESG investment in the early 1940s. The international fund-managing company boasts significant levels of engagement in companies it invests in with regard to ESG activities. It has also made sizable contributions in terms of sharing the concept of ESG across the financial industry; this was achieved via collaborating with various industry associations, such as Principles for Responsible Investment.
The Japanese body of the global financial giant was founded in 2008 and provides investment opportunities to Japanese investors and information on global ESG trends in Japanese.
Robeco Japan is the Japanese subsidiary of Dutch asset management company Robeco, which is part of Japanese financial group Orix.
The Dutch company has long focused on ESG investment and worked on raising awareness of ESG. RobecoSAM, a sustainability investment arm of Robeco, launched the Dow Jones Sustainability Index with Dow Jones and assesses ESG activities of companies whose shares are part of the index.
RobecoSAM also established its own RobecoSAM Sustainability Award for corporate sustainability and has granted it to 23 Japanese companies.
Sompo Holdings, an insurance group, has various financial products, including those related to ESG. One such insurance product is climate index insurance, which provides financial support to farmers, mainly in Southeast Asia, when worse-than-expected temperature, precipitation and other weather conditions have caused harvests to deteriorate or be subject to other adverse impacts.
Another product is insurance to give financial support to municipalities that spend money on establishing evacuation centers, setting up systems to send evacuation alerts to residents in an adequate manner, disseminating emergency food supplies to evacuees and other efforts to mitigate disaster risks to residents.
Sumitomo Mitsui Trust Asset Management has been actively involved in promoting ESG investment by joining various international initiatives. The company's themes this year are climate change; water resources and marine pollution; reforms on governance; and promotion of ESG information disclosure. For example, the Japanese asset management company requests global consumer goods makers it invests in to take action on water scarcity, pollution and other kinds of threats.
The winners of the award in the resolution of Tokyo residents' needs category are, from first to third place, justInCase Inc., Toranotec Inc. and Glory Ltd. The four winners of the ESG investment category were not ranked.
The Tokyo Metropolitan Government collected opinions from Tokyo residents regarding their needs for ESG investment and financial services in July and August. It then began accepting applications from award candidates from September to November and received applications from 95 companies, about half of which were foreign firms.
There were 40 applicants in the ESG investment category from 10 countries and 55 applicants in the resolution of Tokyo residents' needs category from 16 countries. Judges selected the winners during a period that lasted from November to January.
"We would like more companies to apply for the award this year," said lead judge Kiyoshi Hosomizo, president of The Center for Financial Industry Information Systems.