February 18, 2022
Taking Japan's 'undiscovered gems' nationwide and beyond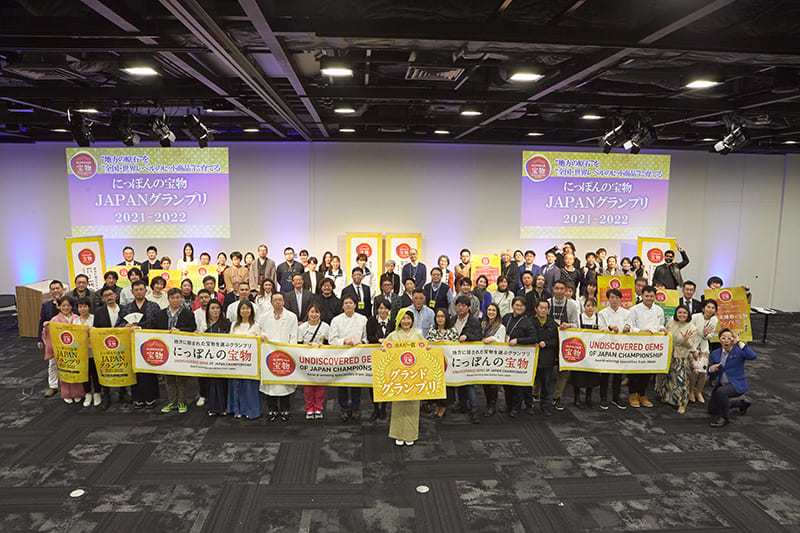 The competition for Undiscovered Gems of Japan 2020-2021 was held in Tokyo's Chiyoda Ward on Feb. 11 and 12 to recognize and promote innovative and creative products gathered from across Japan. The grand prize went to Karato Sweets Sake Monaka, a snack made of traditional Japanese pickles and pickled cream cheese sandwiched between colorful, crisp, light-as-air rice wafers, made by Imanari Tsukemonoten, a century-old pickle maker and store in the Niigata Prefecture city of Uonuma.
Yoko Imanari from Imanari Tsukemonoten explained in her presentation speech that rice, one of the major local products, is the key ingredient in Karato Sweets Sake Monaka. The type of pickles (tsukemono) they make is yamagazuke, a kind of kasuzuke — vegetables pickled in sake lees, whose main component is rice. "We thought that it should go very well with monaka shells, which are also made of rice," she said. To minimize waste, they use the sake lees that remain after vegetables are pickled, which normally are discarded, to also pickle cream cheese — something that would not have existed in Japan when a forebear of Imanari started making yamagazuke more than a hundred years ago.
"Imanari Tsukemonoten had been making only yamagazuke since it was established, so Karato Sweets Sake Monaka is our first new product in 100 years. I devoted myself to making it with all the support I received from our experienced workers, whose average age is over 60, because I wanted young people to know the taste of real tsukemono," Imanari said, revealing that she herself did not realize the richness of the food culture of her own hometown until she came back from Tokyo, where she had lived for 20 years.
Takuya Hane, executive producer of the event, who during the screening session tasted three types of monaka served with a glass of sparkling sake, commented: "The taste and smell of fermentation is so rich and deep. It goes perfectly with sake." One of the judges fancied the appearance of the bite-size, pastel-colored monaka, saying they look like macaroons.
The unique thing about Undiscovered Gems of Japan is that it is not just a competition but a platform that turns ideas into new products or services through learning and collaboration with business owners and companies from various areas. The "active learning" method devised by Hane, a former Harvard instructor specializing in human development who founded Active Learning Inc., is incorporated into the seminars. Imanari said: "We are only a small tsukemono maker, but I realized that we start to see a different view when we think out of the box and get the courage to take on new challenges without being defeated by the pandemic situation. This is something I learned through the seminars."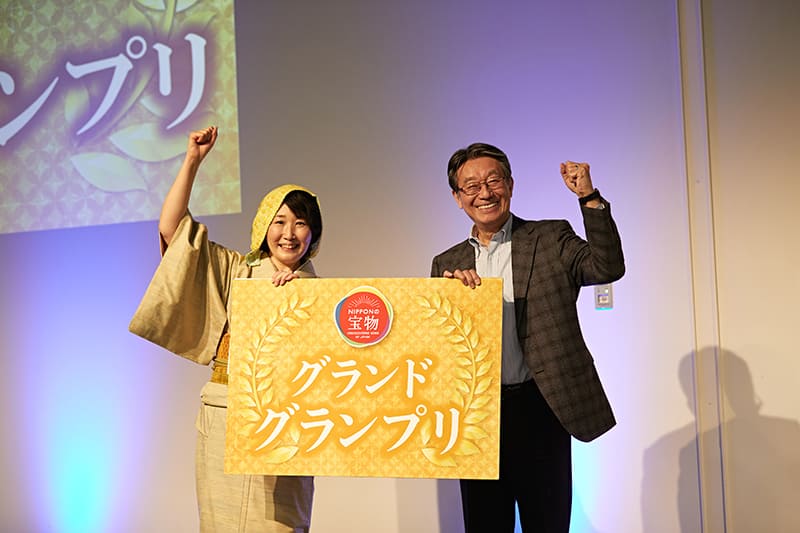 The process starts with regional seminars where participants discuss how to develop ideas into products or improve existing products, and what kinds of collaboration are possible in order to realize or accelerate their commercialization. Kyukyoku no Arita-yaki Purin (ultimate pudding in Arita ware cups), the runner-up in the 2020-2021 competition, is the fruit of collaboration between Arita Porcelain Lab and Ryokan Oomuraya, a hot spring inn in Saga Prefecture. Over 1,200 participants, representing 1,031 companies, attended the regional seminars held in eleven areas as well as online for this round.
Then eight regional competitions were held, narrowing 95 entries down to 54 for the all-Japan competition. Entries are not limited to food products. Categories are determined by the regional competitions' organizers — local governments, chambers of commerce and financial institutions — based on keywords that best represent or promote their area, such as woodwork in Nara Prefecture, knives and metalware in Hyogo or tourism in Hiroshima.
The judges of the national competition consist of chefs and owners of renowned hotels and restaurants, media figures, influencers and so on. This can be helpful for participants in expanding their sales channels, according to the secretariat of Undiscovered Gems of Japan. Hane also has a broad network both in Japan and overseas, helping for example a Kochi Prefecture tea farm whose annual sales had been very small earn more than ¥100 million ($850,000) a year by introducing it to an overseas cafe run by a famous entrepreneur whom Hane is acquainted with.
A world competition is planned to take place in Singapore this summer, inviting the top finalists of the Japan competition to collaborate with Singapore chefs and stores as the first step to venturing into the global market.