June 24, 2022
Chef Kobayashi changing Japan's restaurants
INTERVIEW
By TAEKO TERAO, TRANSLATOR:CARRIE EDWARDS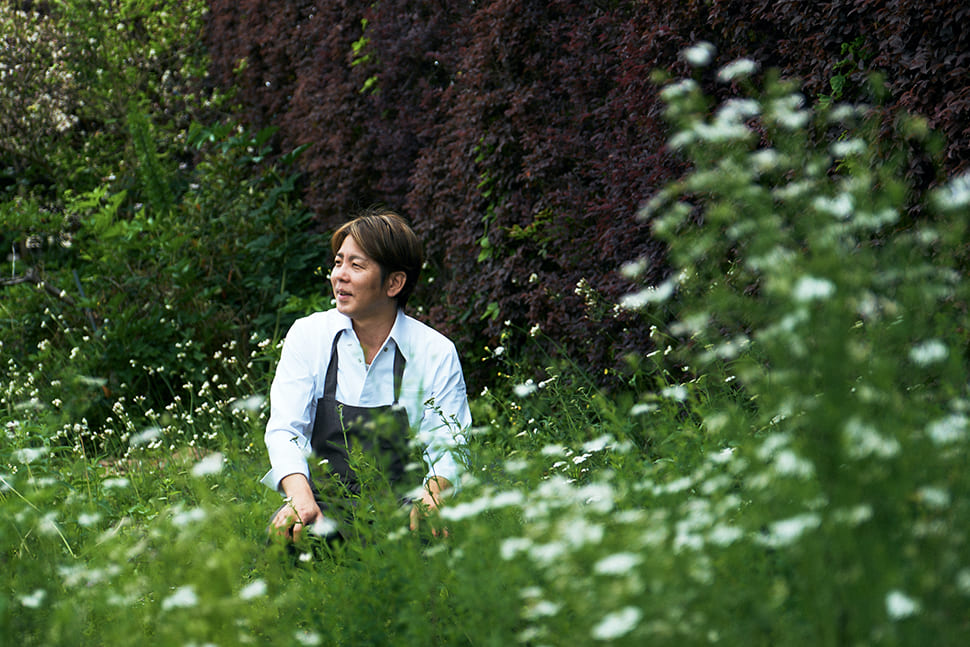 KANJI KOBAYASHI
Born as the eldest son of a part-time farmer in Iwade, Wakayama Prefecture, Kobayashi traveled to Italy in 1994 and learned about the attitude of earnest engagement with local ingredients. In 1998, he cleared his family's field and opened Ristorante Aida. When he and the restaurant's manager and host, now Yumi Kobayashi, married in 2007, they added an accommodation facility and renamed the establishment Villa Aida. Since 2019, Kobayashi has been visiting various regions, making connections with people, and reflecting these experiences in his cuisine while continually proposing new possibilities for farm-based restaurants.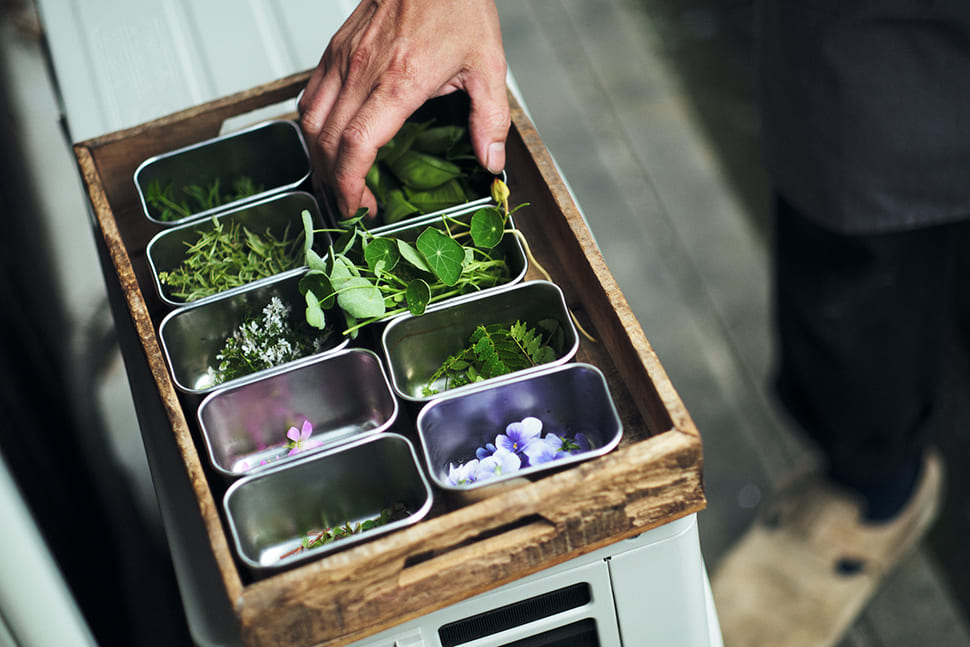 The restaurant Villa Aida has been unanimously selected as Destination Restaurant of the Year 2022. Its culinary philosophy holds the power to change the values of Japan's chefs and food producers.
Vegetables comprise 80 percent of the ingredients used by Villa Aida's owner-chef, Kanji Kobayashi. He and his wife, Yumi Kobayashi, grow nearly all the produce themselves in a 0.7-hectare area that includes the fields immediately surrounding the restaurant and three greenhouses within a few minutes' walking distance.
Kobayashi said: "For about the first three years after opening the restaurant, I used ingredients imported from Italy and served dishes patterned after the cuisine at the starred restaurants in Italy where I'd trained. At the time I wanted to attract local people and made dishes that were quite 'fancy,' but business gradually decreased. I realized I couldn't keep going that way, and changed my approach. I thought about the restaurants where I'd trained in Italy — restaurants like Don Alfonso, outside Naples. They were all located one or two hours by car or train from urban areas but drew customers from around the world. So I decided to use food products from the Wakayama region and try to attract people from cities. Since I turned my attention to local ingredients and started growing crops to save on storage costs, I made a shift to using lots of vegetables, including herbs."
These vegetables have uncommonly high sugar content even by international standards, and are very different from the uniformly shaped produce generally distributed in Japan.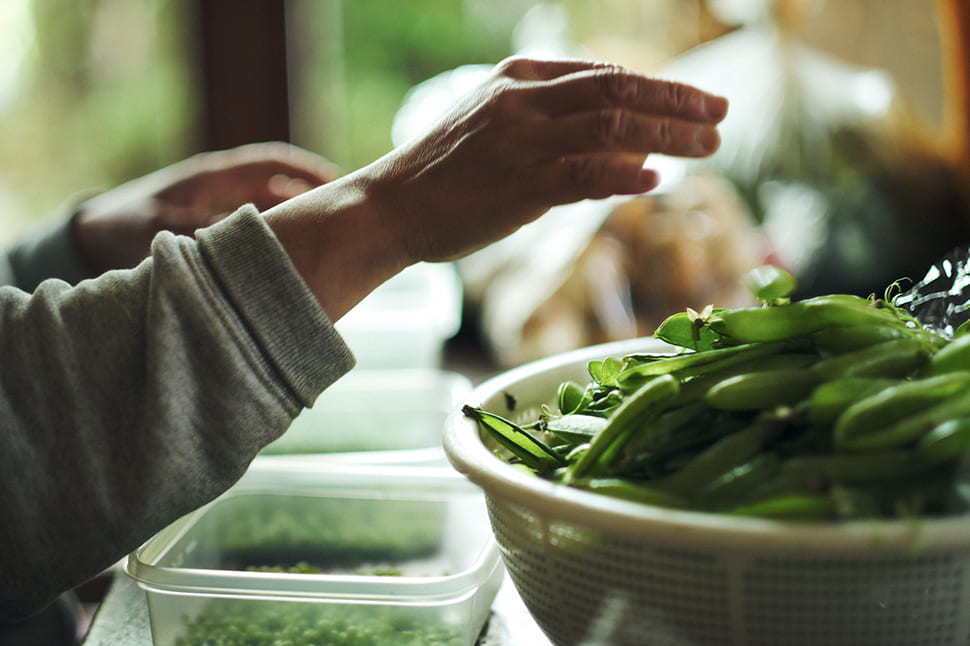 "I think many urban restaurants buy directly from growers, specifying vegetables' size and sometimes even sugar content," said Kobayashi. "This is good for growers' business, and it's certainly one way of thinking, so I won't say it's wrong. But after growing produce for about 20 years, I've realized that vegetables have different aromas and wonderful flavors at every stage — when they're not fully mature and still a bit unripe or, on the contrary, when they're a little overripe, or even when they occasionally grow shoots or flowers. How could I not use them? Currently we grow about 150 types of vegetables, including herbs, but considering that we use them in different stages of growth, there are actually hundreds."
While his process is simple, the rich flavors of Kobayashi's cuisine can truly be called nature's bounty. But things aren't all on the plus side — agricultural work involves many hardships, too. When a typhoon comes, for instance, the crops can be destroyed.
"You might say we're able to keep going because our work is so rewarding. How to combine the things that are currently growing in the fields, how to cook them — nature teaches us everything. It always turns out to be something original. I don't need to rack my brain. There's the land of Wakayama, the ingredients and the culture — what I'm combining with them is not so much technique as my own experience, including my time in Italy."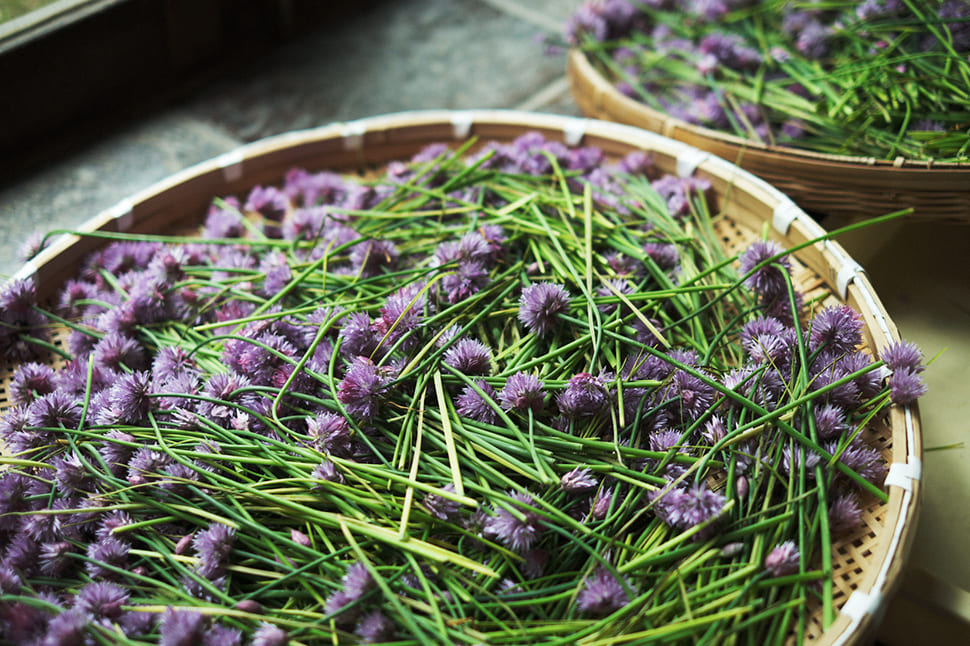 Kobayashi said there was a time when they raised ducks and kept bees themselves and aspired to be completely self-sufficient. But they realized that creating their own self-contained world would keep them from engaging with other people. Since then, they have endeavored to live and work with the local community.
"I also grow blueberries and figs, but for other fruits like citrus and peaches — and things we haven't had much success in cultivating, like root vegetables — we use other farmers' products. We also obtain fish, game meat like deer and boar, farm-raised boar-pig hybrid, Kumano beef and other foods from local producers."
Recently, with the attention his restaurant has garnered, Kobayashi has had more occasions to meet with urban chefs.
"When I introduce chefs from Tokyo and Kansai to producers in this region, I organize get-togethers and invite young local chefs, too. There are young chefs who want to pursue careers in the region but don't know how to go about it, so I hope to create situations that inspire them to think, 'This is what I want to do.' Going forward, I'd also like to travel around different areas, including other countries, and create dishes in collaboration with local restaurants."
Chef Kobayashi lives with the land, and his culinary philosophy will surely spread to lands across the sea.
---
和歌山にこだわるからこそ都会のゲストを集客できる
「Destination Restaurants 2022」のベストオブイヤーには『ヴィラ アイーダ』が全会一致で選ばれた。オーナーシェフ、小林寛司が扱う食材の8割は野菜だ。そのほとんどを店に隣接する畑で妻の有巳とともに育てている。「開店当初は地元客向けに、修業先であるイタリアの星つきレストランのコピー料理を出していたのですが、都会の人をターゲットに変更。地元食材に目を向け、仕入代を浮かせるためにも畑を始めました」
彼らがつくる作物は日本で一般的に流通している野菜とは様相を異にする。「未熟なものやトウが立ったもの、さまざまな段階での風味、おいしさがあることに気づいたのです」100%の自給自足を目指した時期もあったというが、周りとの関わりがなくなることに気付き、地元の生産者からも食材を仕入れ、共生を目指す。また、最近では都会のシェフたちとの交流も増えてきた。そんなときは地元の若手シェフたちにも声をかける。今後は海外も含め、各地を回って、料理をつくるのがシェフの夢だという。
Return to Sustainable Japan Magazine Vol. 13 article list page