October 22, 2021
Could sustainable space exploration help mitigate natural disasters?
SATELLITE
By KAORU TASHIRO, TRANSLATOR:EDAN CORKILL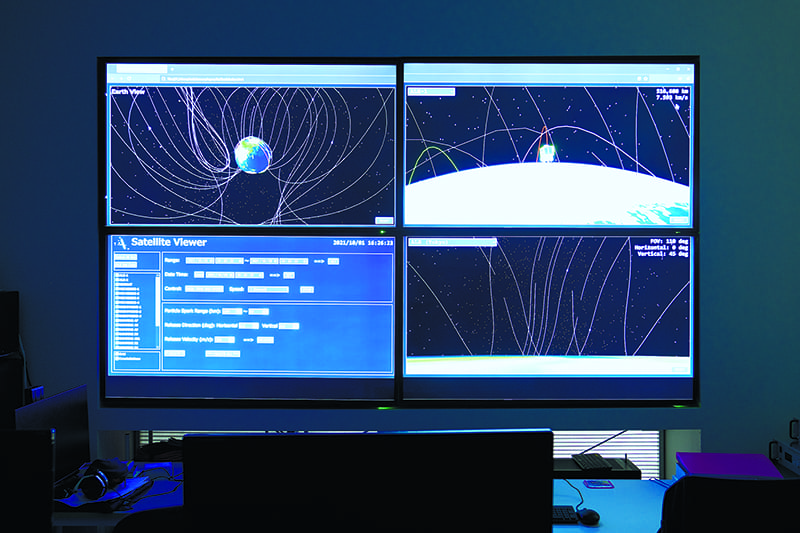 Weather forecasts in Japan are generous in their range. They don't just predict the weather but also pollen levels, the risk of heat stroke, the blooming of cherry blossoms, the appearance of autumn leaves and even how likely your laundry is to dry. But the forecasts requiring the highest level of accuracy are for heavy rains and typhoons. Those can mean the difference between life and death.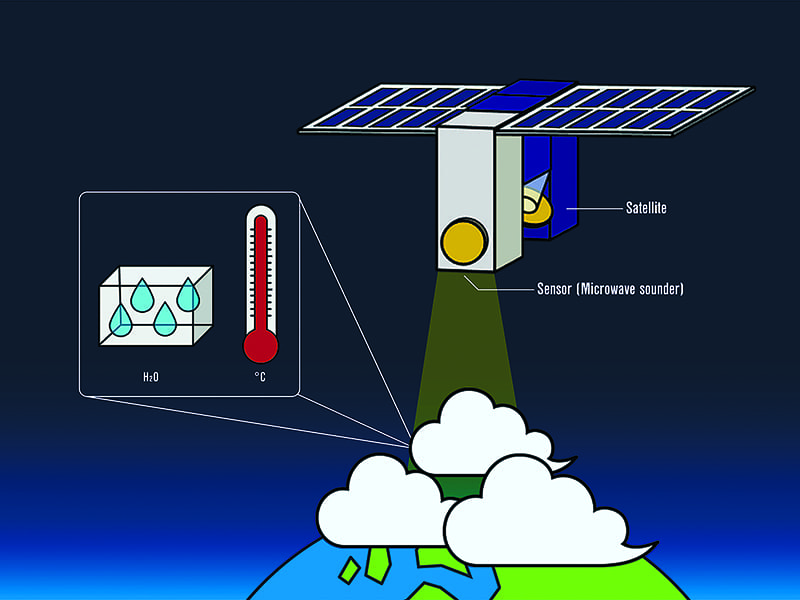 Globally, the number of natural disasters has been rising over the last four decades, with disasters related to climate change such as storms and floods being the most prominent. And in a ranking of each country's total economic losses attributable to natural disasters from 1997 to 2017, Japan comes in at No. 3.
So what is needed to reduce the damage caused by natural disasters? Newshounds may have noticed an interesting story on this front in late September: the launch of Aether, Japan's first project aimed at demonstrating the efficacy of civilian meteorological satellites.
The Aether project is led by ALE, a company whose mission is to "Make space closer. For all of us. Together." This young startup signed a contract to conduct joint research and experimentation on Aether with NTT, Riken and the National Astronomical Observatory of Japan. Each brings to the project its own strengths, and the group has developed its own small sensors for Earth observation, which are attached to meteorological satellites to collect atmospheric data from space. Using that data, the Aether partners hope to improve the accuracy of weather forecasts and ultimately deliver the kind of weather information that would mitigate the damage from natural disasters around the world.
On the day we visited ALE President and CEO Lena Okajima at her office in Tokyo's Minato Ward, a typhoon that had been forecast to pass the city by was still lashing it with strong winds and heavy rain. We wondered if this was an indication of shortcomings in Japan's weather forecasts.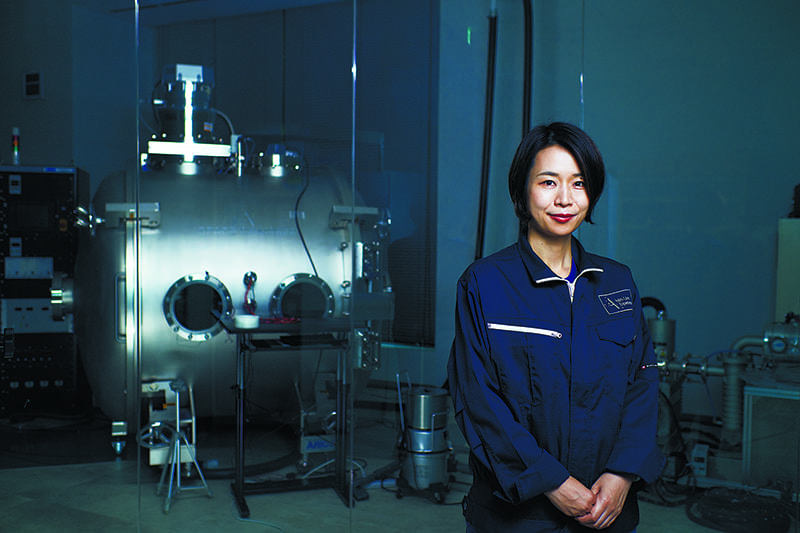 Lena Okajima
Lena Okajima is president and CEO of ALE Co. Ltd. She holds a Ph.D. in science from the Department of Astronomy in the Graduate School of Science at the University of Tokyo.
After working at Goldman Sachs, she began researching artificial shooting stars in 2009 and established ALE in 2011.
In September 2021, she launched Aether, Japan's first project to demonstrate the viability of commercial weather satellites.
"I think the current weather forecasts in Japan are highly advanced," she said. "They are probably in the top rank, but perhaps not the very best. In Europe and the United States, private weather satellite businesses have been launched, and governments now purchase private data to improve the accuracy of their forecasts."
"I think the Aether project will make it possible to improve the accuracy of how we forecast sudden downpours and also the path and coverage of typhoons in Japan. This information could be the difference between life and death."
ALE started from the space entertainment business, with a project to artificially generate shooting stars (the first launch is scheduled for 2023). The small satellites developed for that work now form the basis of the Aether project.
At the same time, there is growing concern about the proliferation of space debris due to increased space exploration activity. Space exploration must be sustainable, and ALE is now also developing the world's first device to prevent space debris together with the Japan Aerospace Exploration Agency (JAXA). They are conducting technological research into how artificial satellites might be brought out of orbit after they are no longer in use.
Okajima, who founded ALE, has a talent for inspiring people with the fascination of science. We asked what drives her.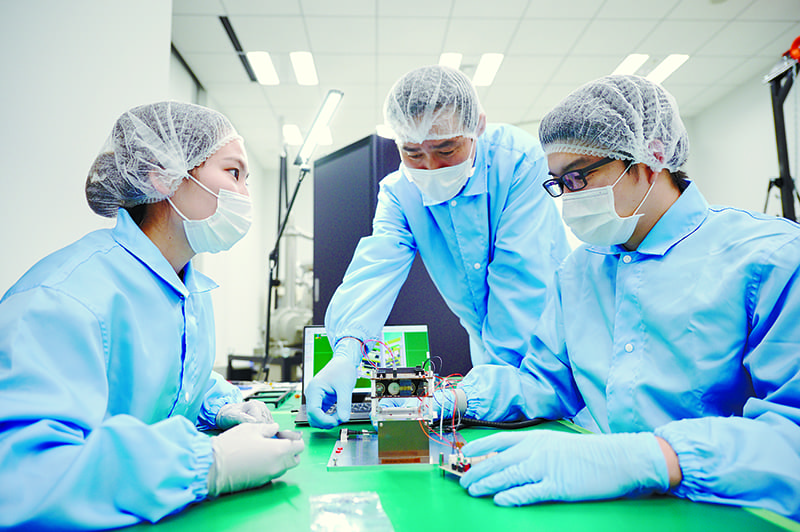 "In recent years, there is a tendency for academia to focus on useful things, and for people and budgets to coalesce in areas where results can be achieved immediately," she said. "But I don't agree with that. Science begins with curiosity, the desire to know. If you can understand things first, you can apply that knowledge in a good way and drastically change people's lives. People often disparage basic science as useless. My starting point was a desire to change that perception. Likewise with sustainability — we don't need to return to the Stone Age; science can solve these problems."
And thus a new project that started with Okajima's desire for knowledge is now ready to break down stereotypes about science while at the same time helping the natural environment and the humans who depend on it. The Aether project hopes to demonstrate its viability within five years. We look forward to the results.
---
宇宙を持続可能に活用し、自然災害被害を減らす試み。
過去40年間、自然災害の発生件数は世界的にみて増加傾向にある。その筆頭が風水害によるもの。過去20年間(1997-2017)の経済的損失額から見ると日本は世界第3位の規模だ。
より正確な予報により自然災害被害を減らそうと、民間気象衛星の宇宙実証を目指す日本初のプロジェクト「AETHER(アイテール)」が発足した。AETHERはスタートアップ企業「ALE」が中心となり行うプロジェクト。NTT、理化学研究所、国立天文台と共同研究を行い、地球観測用小型センサーを独自開発、それを搭載した気象衛星で気象予報の精度向上を図る。
そんな「ALE」CEO岡島礼奈の原動力は知りたいという欲求だ。「最近は、すぐに成果が出やすい分野に人も予算も集中する傾向がありますが、私はそうは考えていません。科学の始まりは好奇心です。物事を解明できれば、それを良い方法に応用して人々の生活を変えることもできる。持続可能性についても、その問題・課題を解決できるのが科学の力だと思っています」。
Return to Sustainable Japan Magazine Vol. 5 article list page