February 25, 2022
Fourth Imperial Hotel will build on many pasts
ARCHITECT
By JUN ISHIDA, TRANSLATOR:ELEANOR GOLDSMITH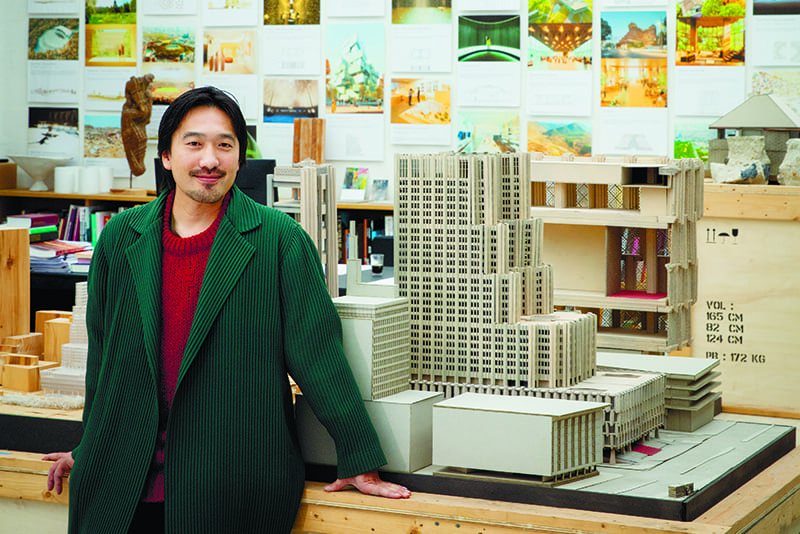 TSUYOSHI TANE
Tsuyoshi Tane is a Japanese architect based in Paris. He founded Atelier Tsuyoshi Tane Architects in Paris after being co-founder of DGT. Tane's work is guided by the concept of building the future from the memories of a place — "Archaeology of the Future." He is best known for the Estonian National Museum (2016), the Hirosaki Museum of Contemporary Art (2020) and the Al Thani Collection (2021) and currently is working on the fourth incarnation of the Imperial Hotel in Tokyo, to be completed in 2036. See www.at-ta.fr
It was in 1890 that the Imperial Hotel first opened in Tokyo's Hibiya district. Financed by the Meiji government and a group of powerful business leaders, among them pioneer industrialist Eiichi Shibusawa, the hotel was designed as a symbol of the imperial capital's ambition to Westernize by Yuzuru Watanabe, who had studied architecture under Josiah Conder, designer of numerous public buildings in Tokyo.
A new building designed by Frank Lloyd Wright opened on the site in 1923. The Great Kanto Earthquake struck on the very day of its opening, Sept. 1. As the ground on which the hotel stood was soft, Wright had adopted a unique construction method known as a "floating foundation." Thanks to this foresight, the structure suffered minimal damage.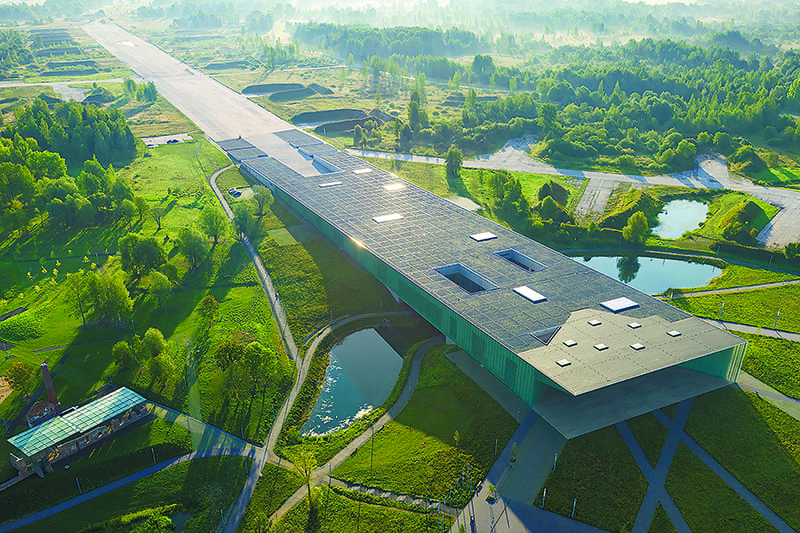 Despite this rocky start, the second incarnation of the Imperial Hotel was extolled as the "jewel of the East" and hosted distinguished guests from across the globe. Between 1923 and its demolition in 1968 to make way for a new building, it welcomed countless notable visitors, including Babe Ruth and Marilyn Monroe. The lobby and courtyard of the Wright-era hotel can still be seen today, as its materials were used to re-create the central structure at Museum Meiji Mura in Inuyama, Aichi Prefecture.
Wright's design used carved Oya stone and sudare bricks fired in Tokoname for both the interior and exterior. Now able to be viewed in its entirety only in photographs, the architectural style is reminiscent of remains from the Maya civilization, which Wright was fascinated with at the time he was designing the hotel.
The third and current Imperial Hotel building, designed by Teitaro Takahashi, was completed in 1970. And illustrations for the fourth generation of this Tokyo institution have now been unveiled. Paris-based architect Tsuyoshi Tane has been appointed as the design architect. Aged just 42 — considered young in the world of architecture — this will be Tane's first major building in Tokyo.
Tane was 26 when he came to prominence in the architectural world. In 2006, while working for British architect David Adjaye's firm, Tane won the Estonian National Museum competition in partnership with Dan Dorell and Lina Ghotmeh, who were both employed at another architectural firm. Their design for a building that seems to rise out of the runway of a former Soviet military base became a talking point and was the catalyst for the three architects to go independent and set up their own firm. In 2012, Tane reached the short list of the process to select the new National Stadium of Japan for the Tokyo 2020 Olympic Games, with a design inspired by Japan's ancient kofun tombs. The plan, which would have seen an immense verdant forest planted in the outer precinct of Meiji Shrine, stunned even the Japanese architectural community and brought Tane's name to prominence in Japan. Tane set up his own firm, Atelier Tsuyoshi Tane Architects, in 2017. Since then, he has been involved in numerous projects, mainly in France and Japan, including the Hirosaki Museum of Contemporary Art, which opened in the Aomori Prefecture city in 2020.
Tane's design for the Imperial Hotel's fourth incarnation, revealed at a news conference last October, features a staircase-like setback tower atop a 31-meter-high base that serves as a platform. The exterior — the product of research into the palaces built by a variety of civilizations — introduces elements that hark back strongly to the Maya influences of Wright's second-generation Imperial Hotel. Guided by the concept of building the future from the memories of a place, Tane develops his designs on the basis of "archaeological research derived from objects and anthropological research focused on legends that leave no physical form," he said. For this particular project, Tane zeroed in on the history of both palaces and high-rise architecture in his research.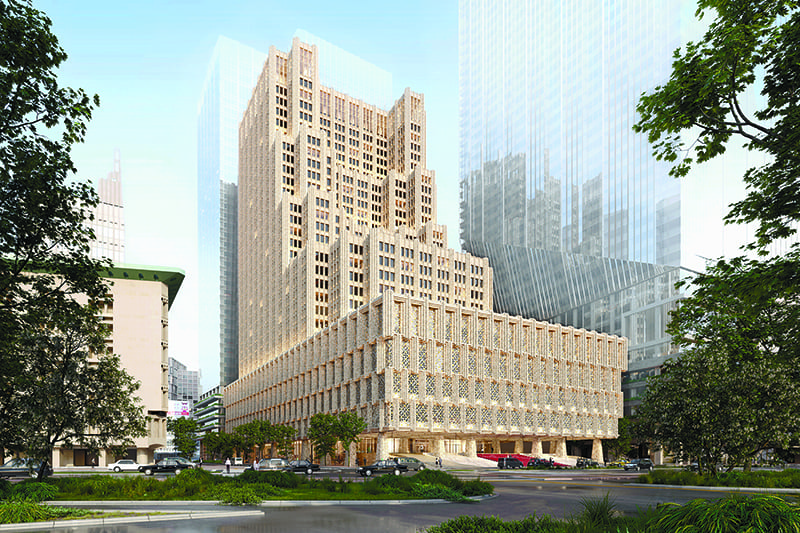 "The Imperial Hotel was built in the Meiji period as a state guesthouse to welcome visitors from across the globe, especially Western countries, at a time when Japan had just emerged from centuries of national isolation under the shogunate," Tane explained. "Rather than being merely an accommodation facility, it was a place for entertaining guests, engaging in social interaction and holding an array of events. To consider the visuals of a place that would fulfill those roles, I researched palaces of all kinds throughout history, from the ancient Mesopotamian and Mayan civilizations to modern Europe. I also investigated the history of high-rise architecture. Tall buildings began to mushroom between the end of the 19th century and the beginning of the 20th, with the Chicago School — characterized by external walls made of stone — initially holding sway. One leading exponent of the Chicago School was Louis Sullivan, who was also Wright's mentor. For this project, I went back and conducted in-depth research into the origins of high-rise architecture, in whose construction the use of stone has now come to an end."
Asked what kind of research he undertook concerning the Museum Meiji Mura's reconstruction of the Wright-designed Imperial Hotel lobby, Tane disclosed that he actually only visited Meiji Mura after winning the competition. When he saw Wright's building for the first time, he was astonished.
"I can only say that its architecture is nothing short of miraculous," Tane enthused. "It defies understanding that a single architect could create something like this. I can't describe it as anything other than a marvel. I was overwhelmed by Wright's architecture as an experience something akin to a symphony, with its dramatic spatial composition and use of light and furnishings."
Tane also noticed the modernity of Wright's design.
"Wright was ahead of his time with his use of local materials and incorporation of natural cycles (passive energy) into the design — these are all things that the architectural world is now trying to do today, 100 years later. The Wright Building integrates structure with fixtures. In contemporary architecture, air-conditioning systems and lighting are installed in ceilings and walls afterward, but Wright solved this problem by integrating lighting, ventilation hatches, wiring and piping into decorative pillars. While Wright's architecture has a fierce individuality, his approach was based on giving each building its own distinctive characteristics, rather than forcing the architect's style on them, and that's something that carries through to architecture today."
While he did not use Wright's design as a point of reference, Tane shares his forerunner's interest in ancient civilizations, taking inspiration from them and using them as the starting point for considering the building.
"I think the reason why Wright's architecture doesn't get old is that he wasn't pursuing novelty in the first place," Tane explained. "The new will always eventually become old and be forgotten. To avoid that fate, we can uphold the legacy of the past and use those memories to create the future. Architecture created in this way has the power to transcend time."
The Tane-designed Imperial Hotel is due to be completed in 2036. We are already looking forward to seeing whether it will eclipse even Wright's design.
---
F.L.ライトの意志を引き継ぎ蘇る、帝国ホテルの建築。
現在の帝国ホテルは、1970年に竣工した3代目の建物。これに続く4代目ホテルのイメージが発表された。デザイン·アーキテクトはパリ在住の建築家、田根剛。そのイメージは高さ31mの基壇部とセットバックしたひな壇状の高層部から成るものだ。様々な文明の宮殿をリサーチしデザインしたと言う外観は、マヤ文明の影響を色濃く残すライトによる2代目帝国ホテルに通じるものがある。〈博物館明治村〉に移築されたライト設計の帝国ホテル玄関部分に対して聞くと、意外にも明治村を訪れたのはコンペに勝った後だったそうだが、このライト設計の建物を初めて見て、田根は驚愕したという。「ライトは、ローカルな素材を使ったり、自然循環(パッシブエネルギー)を取り入れるなど、今建築界が試みていることに、100年前から取り組んでいる。ライトの建築が古びないのは、新規性を求めていなかったからだと思います。新しいものはいつか古くなり、人は忘れてしまう。過去にあったものを継承し、記憶から未来を作ってゆく。そうして出来た建築物にこそ、時代を超える力があります」。
Return to Sustainable Japan Magazine Vol. 9 article list page