May 27, 2022
Iwate event brings traditional dance into present
TONO
By KOHEI HARUGUCHI, TRANSLATOR:WINIFRED BIRD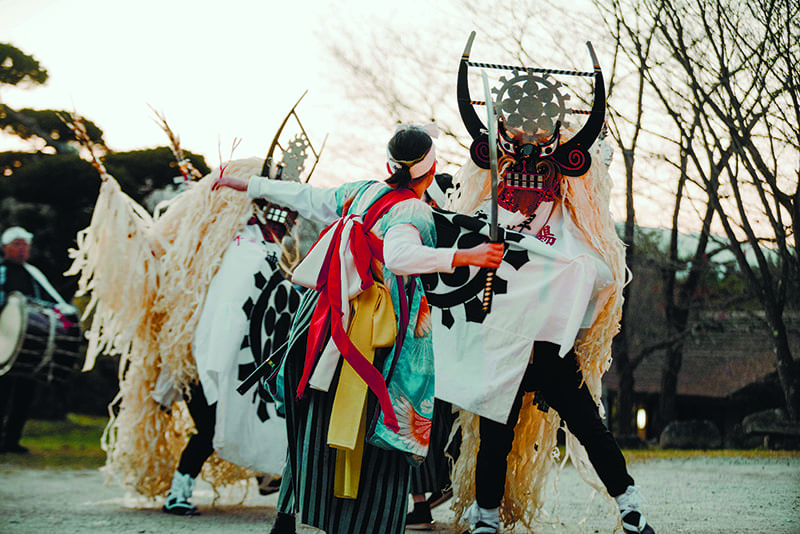 In the Tohoku region of northeastern Japan, the traditional performance art called shishi odori originated four centuries ago as a ceremony by hunters to honor the animals they killed. At some point, this expression of thanks and remembrance for the spirits of all living things came to encompass human spirits as well. The dance is performed at the village festivals that take place in summer and fall.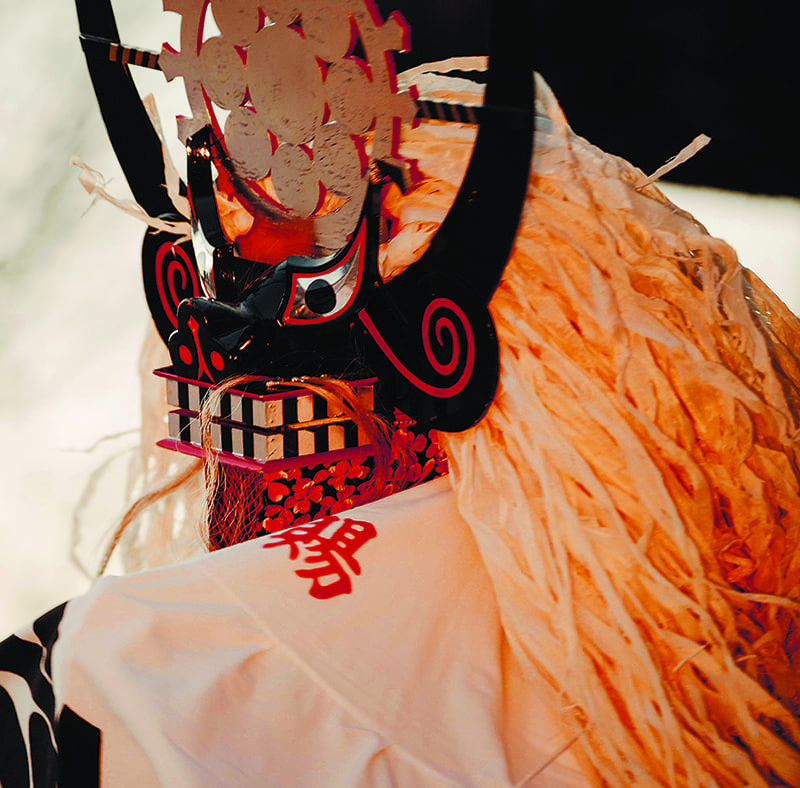 The city of Tono in Iwate Prefecture has its own variation on the shishi odori dance. It was the centerpiece of the Tono Meguritoroge art festival, a tour-style event held for the first time in November 2021 that integrates contemporary art and music and gives participants an up-close window on local culture. Weaving together folk culture, performance art, food, music and other cultural traditions of Tono, the event offers many new opportunities to get involved in carrying on these local traditions.
At a typical art festival, artists converge on a chosen location to create artwork on a curated theme. While artists were invited to Tono for the Meguritoroge festival, they were asked to delve deep into the culture and history of the Tono region. The festival was thus envisioned as a means of sustaining local culture and connecting traditional performance art with contemporary culture.
Festival co-organizer Gaku Tomikawa left an advertising career in Tokyo to move to Tono in 2016. Today he is a tour guide and exhibit and event planner working to share Tono's rich cultural heritage with a broad contemporary audience. "Shishi odori captivated me when I moved to Tono, and I became a dancer myself," he said. "The dance represents the balance between people and nature, with one dancer playing the sacred beast and another playing a person with a sword. These days humans often try to control nature, but in shishi odori, the human is overpowered by the beast. I feel like this attitude of facing nature head-on can offer insight for how to interact sustainably with the present-day world."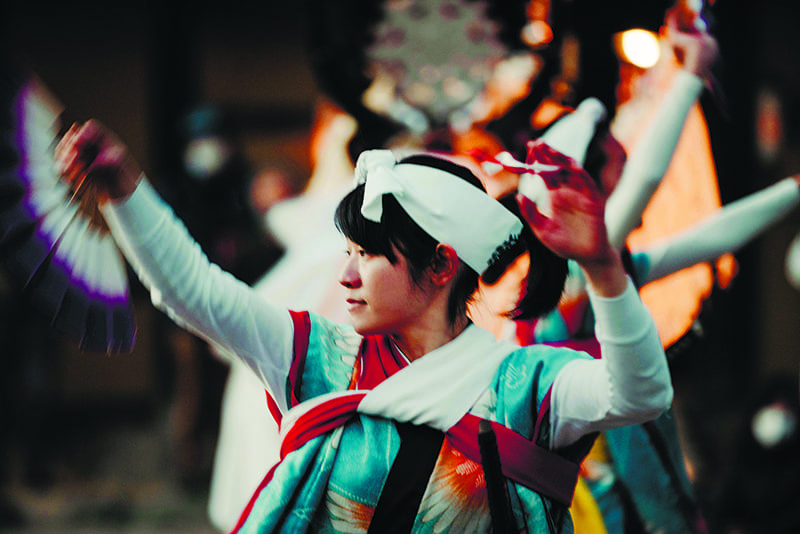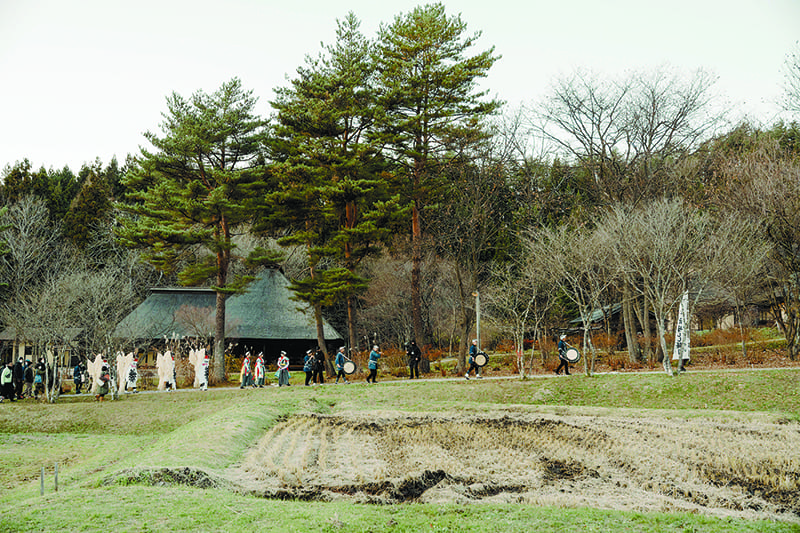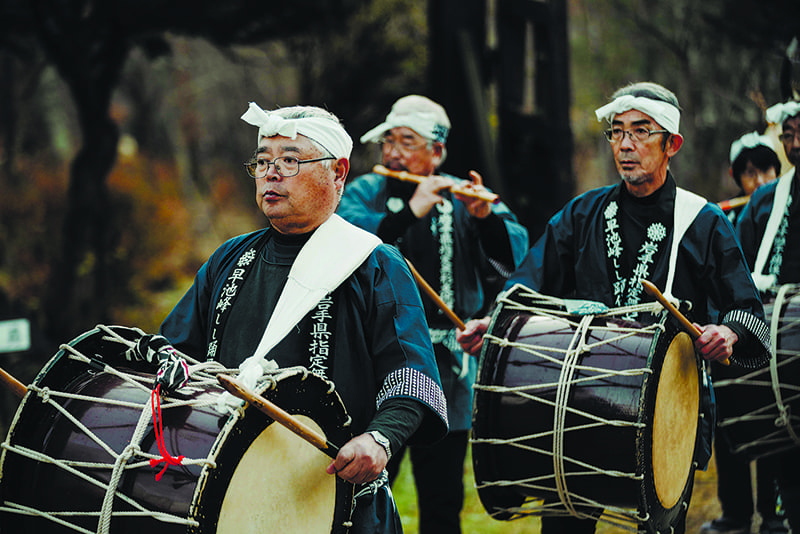 Watching the shishi odori was a highlight for participants joining the festival's three days of tours around Tono. In addition, artists put on live performances inspired by the dance. In one, an artist used melodies from the shishi odori in an original composition.
Tomikawa suggested that by presenting a traditional performance like shishi odori as "art," the Tono Meguritoroge festival has opened up a new avenue for cultural transmission. "All over Japan, fewer people are carrying on local performance arts, and some groups can't even afford to repair their costumes," he said. "In the midst of this crisis, everyone is searching for new ways to get people from outside the local communities involved in traditional performance arts. In that sense, I think the work we put into creating opportunities to enjoy the dance as a part of contemporary culture rather than as something old will help us connect with a wider swath of people." In fact, he said, the festival has already inspired new dancers to join the shishi odori troupe.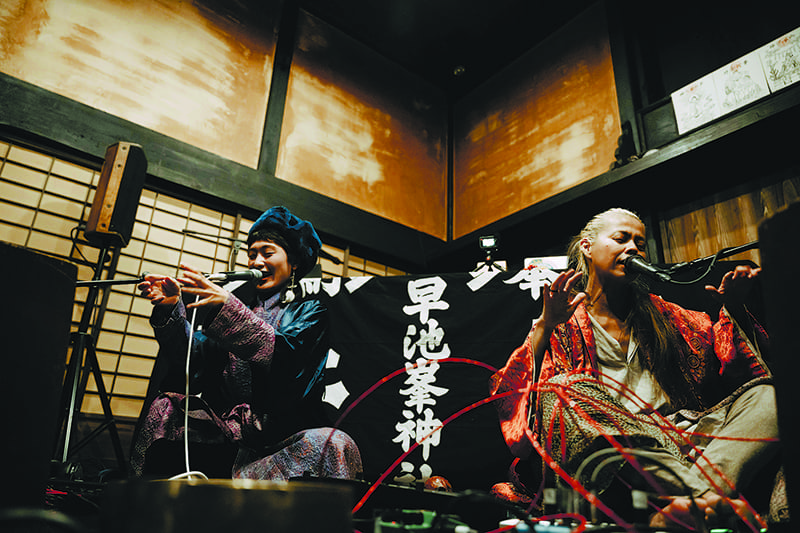 "It's important to pass on history and culture to the next generation, but not everything should be kept exactly the same over time," he said. "All sorts of changes have probably taken place in these traditions over the course of history. As people living at this particular point in time, I think the important question is how sincerely we can work to keep alive the traditions that we want to see continue."
The Tono Meguritoroge festival will take place in September this year. Organizers say they plan to hold it every year, forging new connections between traditional and contemporary culture.
---
伝統芸能と民俗文化を現代と接続する
岩手県遠野市には、400年続く伝統芸能「しし踊り」がある。この芸能を中心に据え、現代のアートや音楽と融合しながら、地域文化を深く体験するツアー型芸術祭「遠野巡灯籠木(トオノ メグリトロゲ)」が2021年11月に開催された。
3日間のツアーで遠野をめぐる参加者は、イベントのハイライトとしてしし踊りを鑑賞。さらに音楽家がしし踊りに触発されて制作したライブも行われた。これは遠野という土地の文化や歴史を深く掘り下げることで、地域文化の持続性を保持し、伝統芸能と現在の文化をつなぐ試みだという。特にしし踊りをひとつのアートとして位置づけることで、文化継承における新たな側面を見出している。なぜなら、全国の郷土芸能は後継者が次々と減少し、地域外の人々も関わることのできる新たな活路が期待されているからだ。
遠野巡灯籠木は今年9月に開催予定。今後も毎年の開催を通して、地域文化と現代のカルチャーとのつながりを生み出し続けていく予定だという。
Return to Sustainable Japan Magazine Vol. 12 article list page