April 21, 2023
Hiroshima tower of hope with message of peace
INTERVIEW
By MINAMI NAKAWADA, TRANSLATOR:EDAN CORKILL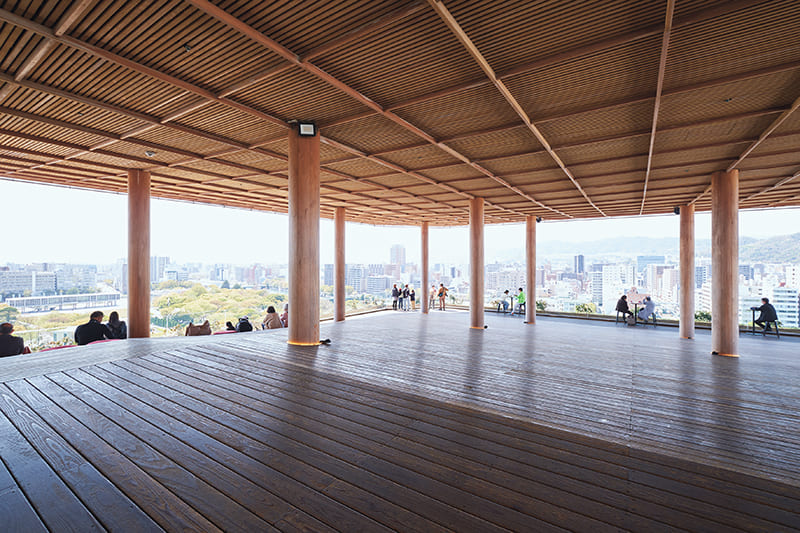 Hiroshima Orizuru Tower
Address: 1-2-1 Otemachi, Naka-ku, Hiroshima City, Hiroshima Prefecture
Tel: 082-569-6803
Open from 10 a.m. to 6 p.m. (admission to the observatory is until 5 p.m.) Closed irregularly and hours are subject to change, so please check in advance. Observatory entrance fee: ¥2,200.
Website: https://www.orizurutower.jp/
'Ifelt it was my mission to show this view to people." So said Tetsuya Matsuda as he stood on the rooftop of the Hiroshima Orizuru Tower looking out over the city of Hiroshima and its famed Peace Memorial Park. Beside the tower stands the Atomic Bomb Dome, and visible in the distance are the Hiroshima Peace Memorial Museum, designed by architect Kenzo Tange, and the cenotaph. Matsuda was born and raised in this city, and as any local would know, his name immediately associates him with the founding family of automobile manufacturer Mazda, renowned for developing the rotary engine and the top-selling two-seater convertible sports car, the Mazda Roadster (known internationally as the MX-5 or Miata).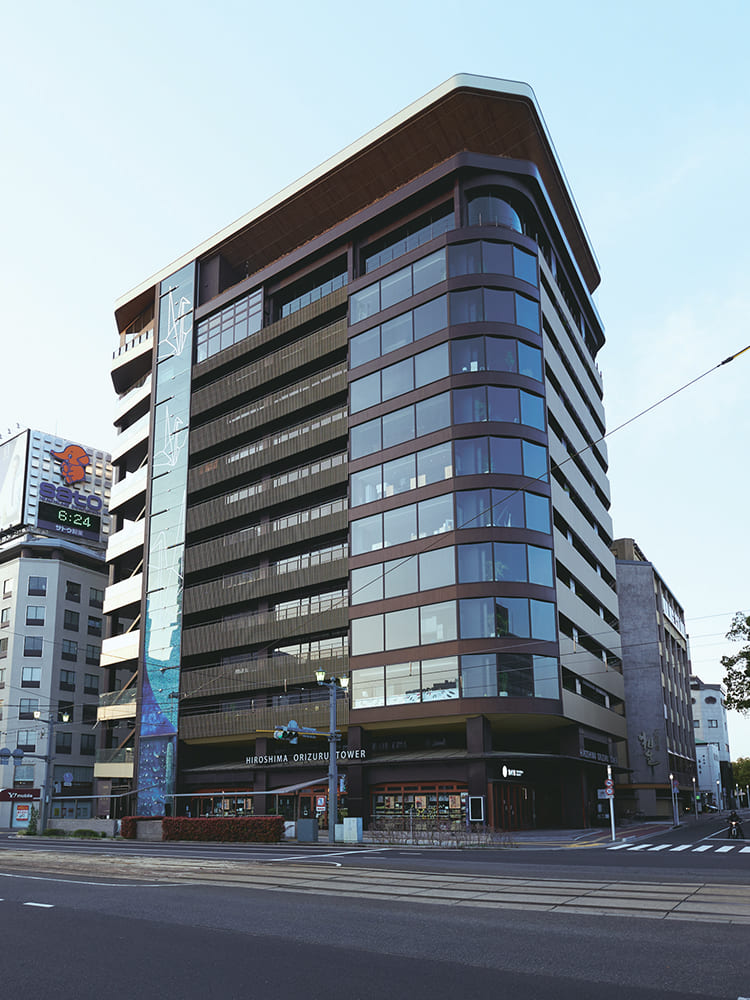 Matsuda's great-grandfather Jujiro Matsuda effectively founded Toyo Kogyo Co. Ltd., known today as Mazda, in 1920. His grandfather Soya Matsuda, Jujiro's second son, founded the first Mazda dealership, Hiroshima Mazda, in 1933 near where the dome stands today. On Aug. 6, 1945, when the bomb dropped, the building was destroyed and everyone inside died, including Soya. It is said that everyone from Hiroshima lost family members and relatives to the bomb, and Matsuda is no exception. Fortunately, his father, who was 8 years old, had been evacuated to the countryside and survived. This is the history that drives his desire to "show this view" to the world.
The Hiroshima Orizuru Tower, named after the word for an origami crane, is a 12-story structure that originally was built in 1978 for an insurance company. Located across the road from the former Hiroshima Municipal Baseball Stadium, the building was well known among locals. It was put up for sale in 2009. Matsuda attended a private inspection without intending to purchase it, expecting it to be too expensive, but changed his mind the moment he caught sight of the view.
"The first surprise was being able to see the Atomic Bomb Dome from above," he said. "For everyone, including me, the Atomic Bomb Dome was something viewed from below, a symbol of peace that loomed overhead. And yet from above, you could see inside the building's skeletal remains, and it appeared somewhat small and sad. At the same time, I was fascinated by the rich view beyond the Atomic Bomb Dome. Even though we were told no plants would grow here for 70 years, there was a beautiful cityscape surrounded by green mountains spread out before me. Until now, Hiroshima did not have a tower that overlooked the city, and I felt this view should be seen by people all over the world, and not just by the building's workers and maintenance people. I wanted to make this view accessible. That was my only thought."
If the building were to be replaced, then Hiroshima City ordinances would forbid it from rising more than 25 meters above the dome. So Matsuda chose to renovate it instead. He commissioned Hiroshi Sambuichi, a Hiroshima-based architect whom he had known since high school, for the job. Sambuichi worked on the Inujima Seirensho Art Museum and Naoshima Hall on the well-known art islands of Inujima and Naoshima in the Seto Inland Sea. He likes to emphasize natural air flow and the surrounding environment. Initially, Matsuda envisioned an open-air observatory, but Sambuichi's proposal for a roofed observatory was adopted. Instead of windows he also decided to surround the observatory with wire mesh, creating a unique experience.
TETSUYA MATSUDA
Chairman and CEO of Hiroshima Mazda. Born in 1969 in the city of Hiroshima. In 2009, he served as chairman of the Junior Chamber International Hiroshima (Hiroshima JC), and in 2013 served as chairman of the Hiroshima Young Entrepreneurs Group (Hiroshima YEG). In addition to Hiroshima Mazda, he is involved in smartphone application, apparel and hotel businesses. Orizuru Tower was acquired in 2010. The renovation plan was announced in 2013 and construction began in 2014. A pre-opening was held in July 2016, and a grand opening was held in September.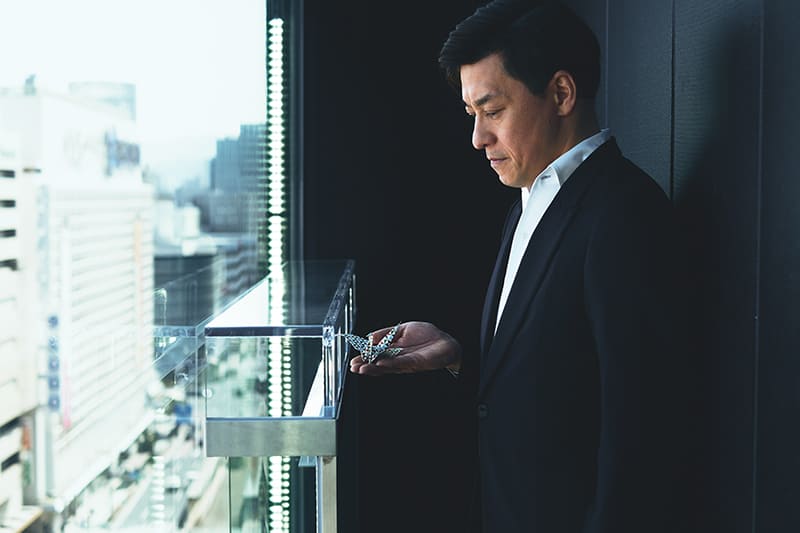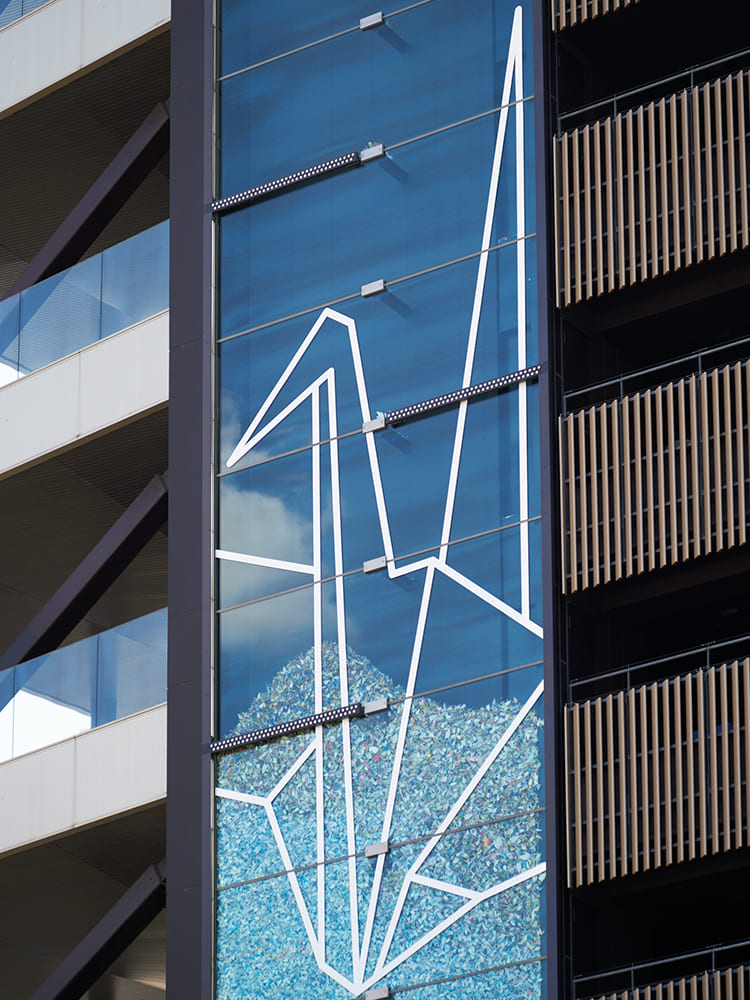 The observatory is not the tower's only attraction. On the northern facade, facing the street, there is a large image of an origami crane printed on glass panels. Look closer and you can see that behind the panels is a thin space that is gradually being filled up with origami cranes dropped from above. The Orizuru Wall, as it is known, extends from the second floor up to the 12th floor (one floor below the observatory), where visitors can fold their own cranes and drop them inside. Origami cranes are now a symbol of peace in this city, and citizens young and old fold them to remember the victims of the bombing and to wish for the abolition of nuclear weapons. It is estimated that the Orizuru Wall now contains about 800,000 paper cranes, and they currently reach up to the sixth floor.
"In general, when we think of a wall, we think of something to climb, tear down or surmount, like the Berlin Wall," Matsuda said. "But this wall is different. It's a wall that combines everyone's strength as it is built up. When U.S. President Barack Obama visited Hiroshima in 2016, he folded four paper cranes and presented them to local junior high school students, and they became an icon of the wish for a peaceful nuclear weapons-free future. On the 12th floor, there is a place for visitors to fold their own cranes, with instructions available in Japanese and English, and also in Chinese, Korean, Spanish, French and Arabic. And there is a glass-floored area where you can stand and watch as your crane flutters down once you drop it through a special hatch. At Orizuru Tower, not only can you enjoy the beautiful scenery from the rooftop, but you can also play a part in this collective wish for peace.
"Until now, Hiroshima has only had facilities that look back on the past, like they are trying to show only Aug. 6, 1945," he added. "For Hiroshima locals, the atomic bombing is a very important event, but there is more to it than just the anti-nuclear, anti-war message for peace. When foreigners visiting Hiroshima see us living in this city smiling and enjoying a fulfilling life, that's when they feel a real sense of peace and hope. Orizuru Tower was created from this desire for people to feel the future, not just the past." Matsuda's strong sense of purpose seems to suggest that peace is something we all make together.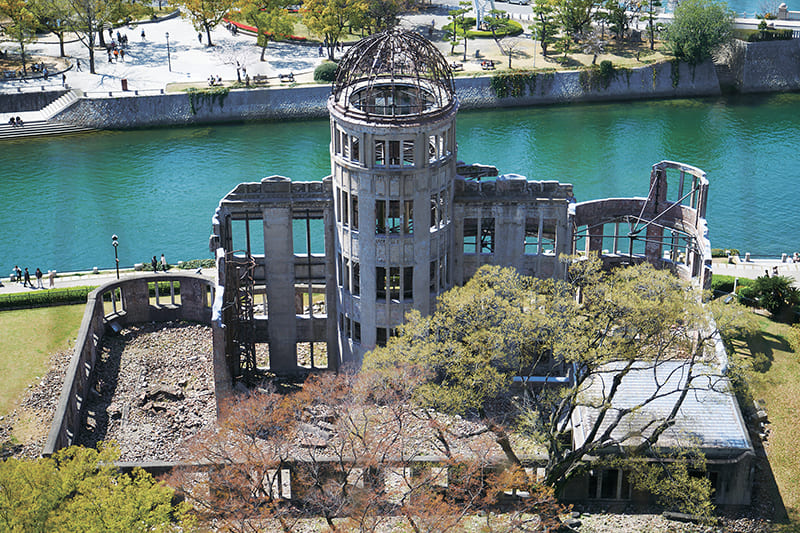 ---
平和を生み出す、未来に向けた希望のタワー。
「この風景を見せることこそ、私の使命だと感じたのです」。〈おりづるタワー〉の生みの親である松田哲也は、このタワー屋上で、眼下に広がる平和記念公園を見ながら言った。広島で松田と言えば、そう、自動車メーカー〈マツダ〉ファミリーの一員である。この会社は彼の曾祖父・松田重次郎が事実上の創業者で、その次男でマツダ車のディーラー〈広島マツダ〉創業者・松田宗弥は哲也の祖父に当たる。その〈広島マツダ〉は1945年の原爆で社屋は倒壊、松田宗弥も他の社員と共に全員亡くなった。「この景色をたくさんの人に見せてあげたい・・」。松田哲也がそう思ったのには、このような背景がある。
「今まで広島には過去を遡る施設しかなく8月6日だけを見せようとしていた。でも私は反核・反戦=平和だけではないと思います。広島の地を訪れた海外の人が、この街に生きる私たちが笑顔で豊な暮らしをしていることを見て、そこに平和や希望を感じる。過去だけではなく、未来を感じて欲しいと思う原動力が〈おりづるタワー〉をつくったんです」。松田哲也は語る。
Return to Sustainable Japan Magazine Vol. 23 article list page